Nintendo Hints at Upcoming 'Smash' Title but Might Have Lost a Few Fans to other Games
Hang on for a minute...we're trying to find some more stories you might like.
Nintendo hit gamers with a big surprise last month with their latest reveal: the Nintendo Direct. The Nintendo Direct seemed to follow the normal fashion of having the larger properties held to the end. The video ended with a demonstration on what would be a major update of Nintendo's shooter IP, Splatoon 2. This trailer was, for many fans, a disappointment, but at the last moment one of the "squidkids" turned and a signature fire can be seen in the eye. The Smash Bros symbol covered the eye.
The video then changed tone from the upbeat pace always used in Splatoon material to something slower and more brutal. A group of characters can be seen underneath the flaming symbol that represents the Smash series. The silhouettes match some of the regular cast, but their are some changes and new additions. Coming with the announcement of a port of Undertale to the Switch is the speculation of Sans being added to Smash. It is also believed a new Link will be added, but with the two already in the game, will it just be a re-skin or will one of the original Links face the chopping block?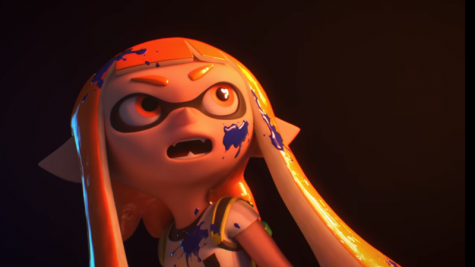 The news of a Smash release on Switch coincides with news that Masahiro Sakurai is a lead designer on the project. Fans were worried because of Sakurai's tendency to drag his feet on Smash sequels. Rumors have been spread that Sakurai came back for the current installment because of a promise of an experienced team of fighting game developers.

With Sakurai and Nintendo's hesitation, however, competition has popped up. Brawlout claims to be a faster paced, more arcade style game than Smash. More recently, a PC only title popped up called Icons by Wavedash Games that markets itself to be a Smash killer. Wavedashing is an old element of Smash's high skill player base implying this game may be developed in an attempt to steal the melee Smash followers. Melee has long been lauded as the most polished competitive scene of the franchise, but if Icons can release before Smash manages to, Icons may be able take this part of the community. It would be difficult to take down one of the most popular fighting franchises, but if Icons caters more to the competitive scene it has a chance.