Ticketmaster Prices and Policies Frustrating Fans and Artists
Ticketmaster, the world's largest ticket marketplace, has received controversy over the past couple of months after many fans are dissatisfied with how the company handles its ticket sales. It started in November 2022 when Taylor Swift, an American singer-songwriter, announced her first tour in over five years, The Eras Tour. Many other artists have had issues with Ticketmaster as well. Over two dozen "Swifties" have filed lawsuits against Ticketmaster for fraud, misrepresentation, and antitrust violations over its botched Eras Tour ticket sale. The fans reported long waits and computer glitches while trying to snag tickets. 
Swift fans headed to court in Los Angeles starting March 27th to face off against Ticketmaster after the ticket company fumbled hard with online sales to the megastar's latest tour. One of the plaintiffs claimed that the company violated antitrust laws. 
"I tried 41 times that first day to get tickets. It kicks you out into the queue, and you're back in, and then I kept getting errors," claimed one of the lead plaintiffs in the case.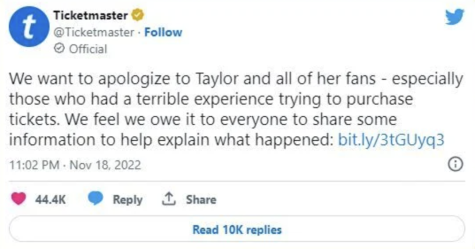 They request Ticketmaster to award them at least 2,500 dollars each in damages. Others are just asking for another chance to see their favorite artists. 
"Ticketmaster is a monopoly that is only interested in taking every dollar it can from a captive public," according to the lawsuit. 
Swift stated, "It's truly amazing that 2.4 million people got tickets, but it p***** me off that many of them feel like they went through several bear attacks to get them."
Ticketmaster and its parent company Live Nation are to reprimand for the price gouging, astronomical fees, and withholding of tickets. The costs for each ticket can be as high as 78% of the ticket price. This is solely Ticketmasters doing, and fans need help understanding. Ticketmaster also holds back as many as 90% of the tickets for the secondary market. Meanwhile, resellers buy others in bulk and use bots to resell them at a markup. That is precisely why some fans are finding seats for over 3,000 dollars. 
Taylor Swift fans aren't the only ones having issues with Ticketmaster. Other artists like Harry Styles, Drake, Morgan Wallen, and Chance The Rapper are experiencing trouble. Wallen announced his One Night At A Time World Tour in December and guaranteed fans a chance to get on the "Verified Fan" list, with access to better tickets at a lower price. When tickets went live for those verified fans, so many of them got approved that Ticketmaster crashed and ended up with tickets selling out within hours. This ruined the chance of tickets going on general sale afterward, leading Ticketmaster to start price gouging. Finding tickets for his tour within a reasonable price range is nearly impossible.
Ticketmaster is currently under investigation by the federal government along with a group of lawmakers proposing legislation that would change how Ticketmaster does business. They argued that Live Nation has too much control over the industry and urged the government and its administration to investigate the ticket broker's burgeoning monopoly. For now, fans' ability to enjoy their favorite artists live remains challenging.