MCHS Celebrates the 18th Annual Cubby Awards
On May 6, 2023, the big finale for the 2022-2023 Madison Theatre Season took place, the 18th Annual Cubby Awards. Students nominate and vote for their classmates for various awards, including Best Actor/Actress, Best Dancer, and Best Song Performance. This year, Karson Couch hosted the evening, and the show took place in the Opal E. Sherman Auditorium. 
The opening number occurred after the annual red carpet, where students, faculty, alums, and parents took pictures in their best attire. Various theatre students danced and sang to a new rendition of "Nicest Kids in Town" from Hairspray the Musical. After that and a short introduction from our host, the awards began.
The night's first winner was Emma Reilmann for Best Supporting Actress for her role as Matron Mama Morton in Chicago. The nominees for Best Song Performance are Izzy Jett for "I Don't Need a Roof," Saba Chabukashvili for "Fight the Dragons," Emma Reilmann for "When You're Good to Mama," and Sophie and Lilly Guirguis for "Evil Woman." Later in the show, the winner of this award was Izzy Jett for her performance as Sandra in Big Fish.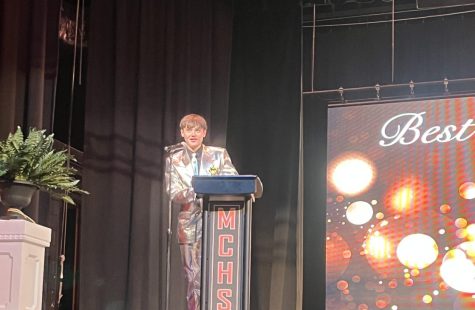 Various vital members of the community presented each award, including theatre parents, our superintendent Dr. Teresa Brown, and Madison Theatre alums. More winners throughout the night include Jack Heckler for Best Supporting Actor, Andie Royce for Most Dedicated Cast Member, Owen Schmidt for Most Dedicated Crew Member, and Lincoln Sheets as Best Orchestra Member. 
As the night progressed, more performances and two games took place. Two teams of theatre students competed in guessing poorly written show summaries and another two competed in a game of Say It or Spray It, themed after the game popularized on The Tonight Show with Jimmy Fallon. 
Niece of Jon Menke, notable Madison Theatre Alumni Eva Lohrig, an avid Madison Theatre fan, presented the Jon Menke Award for Hidden Talent to Sophie Guirguis for her role in Xanadu. Clint Hearne won Most Improved (Xanadu), Kolton Lock won Best Chorus Member, and Izzy Jett and Saba Chabukashvili won Best Stage Couple.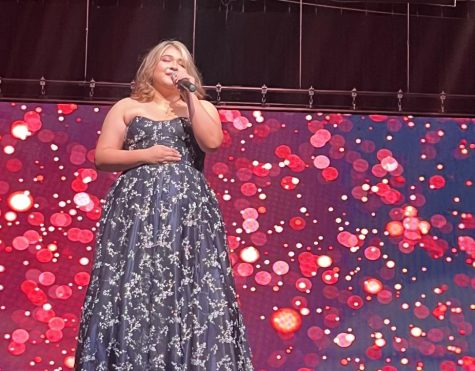 In the middle of the evening, Thespian Society President and fellow Cub Reporter Mia Mires gave a heartfelt farewell speech for this season. All thespian society seniors were granted their honors stoles to wear at their graduation ceremony, and many new members were inducted into the Thespian Society by Mr. Kelsey. The next award was the Honorary Thespian Award. This is given to an adult that students nominate who they felt went above and beyond in volunteering for Madison Theatre throughout the season. This year, the award went to Madison Theatre parent Bill DeVries, who spent countless hours building the beautiful sets for each production in the prop shop. He also announced that even though his stepdaughter Andie is a senior this year, he will continue volunteering with sets for one more year. 
The next set of awards was given to Karson Couch and Haleigh Pyles for Best Male and Female Dancers, Saba Chabukashvili for Best Dramatic Performance, Lilly Guirguis for Best Comedic Performance, and the Spirit of Thespis award, which goes to a student who is thought to be the kindest and most loving of the company. Mia Mires took home the Most Likely to Be a Star award, and Preston Kuppler was awarded Best Characterization for his role as Karl, the Giant in Big Fish.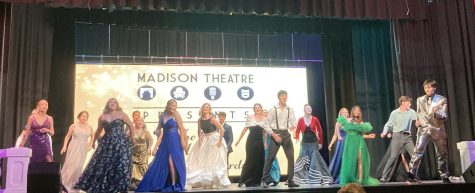 The final awards for the evening were presented by Madison Theatre alumnae Vanina Kelsey and Ethan Mack. This was for the Irene Dunne Award for Best Actress and Best Actor. These were given to Zoe Bullock and Saba Chabukashvili. 
Host Karson Couch wrapped up the evening with a heartfelt performance of "Seasons of Love" from the musical, Rent alongside the Best Actor and Actress nominees. Finally, Mr. Kelsey announced the Best Musical winner for the 2022-2023 season, Big Fish. 
Overall, the 18th Annual Cubby Awards was a fantastic way to wrap up another successful season with Madison Theatre.