What College Applications Are Like for Performing Artists
*Zoe Bullock is a current MCHS senior and aspiring performer. She was recently accepted by The American Musical and Dramatic Academy (AMDA) in New York City.
College applications can be stressful but exciting for many seniors like myself. However, for those applying for majors in the fine arts, an extra step is added, college auditions. 
Currently, I am auditioning for the Musical Theatre program at many different colleges, including the University of Cincinnati, Marymount Manhattan College, The American Musical and Dramatic Academy, New York University, and Ball State University. Many of these schools have been holding college auditions for several years. New York University, for example, has been administering college auditions since the beginning of its program in the 1980s, according to Director of Admission and Recruitment Robert Hoyt. For these schools, Musical theatre programs require students to memorize and perform one to two monologues, one to two songs that differ in either style or period, and a dance call. 
Many college Musical Theatre programs are incredibly competitive, only offering admission to about 15-20 students each academic year. Some programs, such as the University of Cincinnati, start with prescreens. Students send in videos or self-tapes of their material, and the university will then offer a callback or final audition for admission to select students. Other schools offer in-person auditions or digital auditions through self-tapes or on Zoom.
Robert Hoyt, Director of Admissions and Recruitment for New York University's Tisch School of the Arts, writes, "For Tisch Drama, the artistic review process is extremely important because this is where we discover who YOU are! What type of theatre-maker are you, what type of theatre-maker do you strive to become, and if we can help you achieve that. (sic) Where are you in your own artistic growth? – we're not comparing you to each other – and wherever you are in your artistic development is great! We just need to know where that is, and the artistic review (YOU!) is what tells us this."
Students must be at their best for their college auditions; this is the chance for programs to notice you and see what you can do. I have been preparing songs with my vocal coach for almost a year and researching and choosing monologues since this summer. But college auditions are also a way to show people all you have to offer and the hard work you have put in to perfect your craft. 
 Senior Mia Mires, who is also auditioning for the Dance program, explains, "For me, college auditions were something I knew I would have to do in order to prepare for the next chapter. At first, I found them extremely overwhelming, but with the guidance of my mentors, I was able to accomplish them. The hardest part for me was deciding what I wanted to showcase in my auditions. In my auditions, I wanted to make sure I showed the admissions teams and programs who the authentic Mia is through my dancing."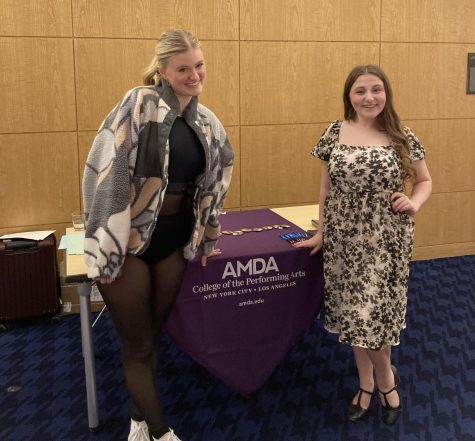 Still, the college audition process is much more than the minutes in front of an administrator or filming self-tapes. Prospective performing arts students must create a theatrical resume, headshot, letters of recommendation, and essays, but that doesn't compare to the administrative side.
Hoyt explains, "From an Admissions perspective, it's a lot of paperwork! Collecting information, organizing, scheduling, making sure everyone from applicants to evaluators are prepared, in the right place at the right time, ready to work: that's why it's extremely important for applicants to complete their paperwork, submit required materials, and schedule their artistic reviews by the posted deadlines in order for this 'machine' to run smoothly – not just for Tisch Drama, but for any institution you're applying for."
Senior Izabela Jett, who is auditioning for Musical Theatre, remarks, "College auditions can be kind of rough, but afterward, I always feel so accomplished."
The process can seem incredibly daunting, but I was lucky enough to have great mentors to support me. The mentors helped me perfect my material, gave me advice when needed, and helped me when I felt overwhelmed and defeated.
If you are considering going to college for the performing arts, my advice is to remember that colleges are not trying to put you down or compare you to others but to see who you genuinely are. 
Hoyt explains that NYU looks for "Creativity, passion, enthusiasm, collaborative spirit, authenticity, risk, preparation, following instructions, and the ability to articulate all this thoughtfully. With Tisch Drama, it's not 'what do you want to see?' but more of 'what do YOU want to SHOW with US? What do YOU want to show us?'"