The Teenage Mutant Ninja Turtles are back. Produced by Jeff Rowe, Evan Goldberg, and famous Canadian actor Seth Rogan, this iteration finds the "Lean Green Mean Fighting Machines" in New York City, where a villain known as Superfly has been stealing equipment for a device that will rid the world of humans. The heroes in a half-shell spend most of their time helping their father, Splinter, by getting groceries for their home in the sewers and wondering what the world is like outside the sewers. The turtles debuted in a comic sketch by Kevin Eastman and Peter Laird in 1984, where the titular characters and a rat come into contact with the "Ooze," giving the turtles and the rat, known as Splinter, human characteristics and leading to the development of their ninja fighting skills.
Leonardo, Donatello, Raphael, and Michelangelo (named after the famous Renaissance artists) hear about the Superfly and want to stop him, hoping for acceptance from humanity. They eventually run into Ninja Turtles' regular friend and accomplice, April O'Neil, to stop the Superfly and his evil machine to save humanity and the day.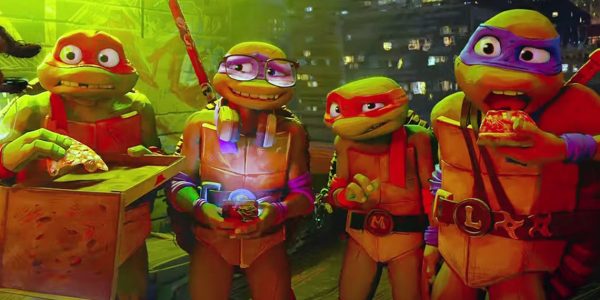 Their new movie Teenage Mutant Ninja Turtles: Mutant Mayhem gave everything a beautiful redesign, likely based on Sony's popular Into the Spider-Verse animation style. Voice actors Nicolas Cantu, Micah Abbey, Brady Noon, and Shamon Brown Jr. take the roles of the turtles and have nailed the essence of the turtles. It is incredible because each TMNT movie in the past has gotten one thing wrong: the turtles need to speak and act like teens. The movie has countless recognizable actors aiding in the production, such as Jackie Chan, Ice Cube, John Cena, Seth Rogan, Paul Rudd, Post Malone, and many more. The action in the movie was phenomenal, showing each of the turtle's skills while fighting, and how they worked as a group. The slick editing led to fun and engaging action scenes.
However, the movie could have slowed down the pace. I often caught myself rushing to think about various plot elements. Another criticism, without giving away too much, is the original backstory of the turtles changed from the old movies and traditional stories. While the voice actors did a commendable job, the details of the turtles' personalities lacked the conventional traits that audiences and fans have come to recognize and love. Donnie wasn't a tech-savvy guy, and Mikey wasn't a party dude. Leo didn't show leadership, and Ralph was more aggressive when fighting enemies than his brothers. In many ways, the Turtles felt like the same person and not as different in their attitudes.
Overall, the movie was spectacular and original to the animated genre of film. Even though a fan might not immediately recognize this version of our pizza-loving heroes, there's enough to satisfy fans of the fearsome foursome and newbies alike. Its action-packed scenes gave me an experience original to film.
8.5/10.