MCHS Introduces New Dean of Students
The MCHS administrative team is pleased to announce hiring of Mr. Brandon Frye, the new Dean of Students. Frye is originally from Indianapolis, Indiana. He moved to a small town on the opposite side of Indiana called Oaktown, where he attended North Knox High School and graduated in 1999. Frye went to Indiana State University, majoring in business education and obtaining his bachelor's degree in 2004. Shortly after graduating from ISU, Frye got a business and yearbook teacher job at Southwestern High School, where he would stay for 18 years. Frye returned to school to further his education a few years later and obtained his master's degree in business administration from Ball State University. 
Frye loved being a teacher at Southwestern and loved his students even more, but he wanted to step into administration. When the job of Dean of Students became available at Madison, he jumped right in. 
"Although Madison and Southwestern were rival schools when the opportunity came to me, I knew I wanted to take it. I am now a Cub."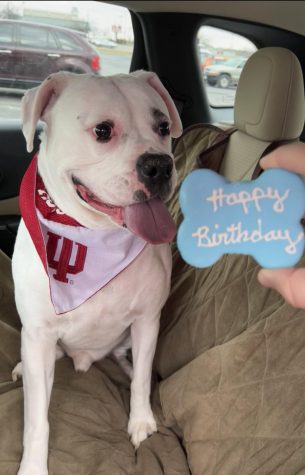 Frye's first official day was Wednesday, January 4th, and he is still taking in everything while trying to build relationships with students and teachers. His main job right now is disciplinary issues and attendance. His most significant focus for Madison is building culture and expanding the spirit within the school and making things as lively as he can. He thrives on bettering students daily and will do everything he can to help them succeed. 
"The interaction with students outside of the classroom is a lot different. I'm slowly getting used to the new role," said Frye. 
Frye does not have any family currently living in Madison, but he does have two "amazing" sisters and three nieces. He is a proud dog dad to Bruno the Boxer. He also enjoys watching Indiana Basketball. His favorite current player is Trayce Jackson Davis, but his all time is Victor Oladipo. 
Devin Brierly, MCHS's new Assistant Athletic Director, has had a special bond with Frye for a long time. She is delighted to welcome Frye because he was Brierly's keyboarding teacher when she was a student at Southwestern. Their friendship started to bloom when they both worked at Southwestern together. Frye even came to support Brierly when she had a softball or basketball game in high school and even traveled down to watch her at Bulter University, where she also participated in softball and basketball. 
"Mr. Frye is a person that is passionate about education and helping students of all kinds. He is one of those people where you can genuinely tell that his heart and soul is in education, and he wants to make a positive impact wherever he can," said Brierly.