MCHS Boys Golf is Looking to Rebound after Heartbreaking 2021
The Madison Consolidated High School boys golf team is looking at another promising season with the hopes of bringing home a sectional championship. While relatively young, the Cubs are trying to rebound after a heartbreaking sectional loss to their new rival, Austin High School, in 2021. However, the Cubs are poised to continue the storied history of Madison boys golf with some returning talent and incoming freshmen.
Despite losing a few seniors, including Berry College signee Luke Ommen,  the team has several talented returning golfers and new faces looking to contribute. Two incoming freshmen, Henry Ashley and Landon True, are among those golfers who have begun to solidify their place near the top of the starting five.
Hearing from several players and MCHS boys golf head coach Chris Conner, the team's main goal is winning the sectional tournament. In 2019, the team placed first with a score of 319. In 2021, they placed second to Austin High School, scoring 322. MCHS fell to Austin by two strokes, breaking their sectional championship streak at eight.
Conner said, "We are young and have several new kids to the game. It will be an uphill battle that will require time and hard work. Most likely, we will have several long practices."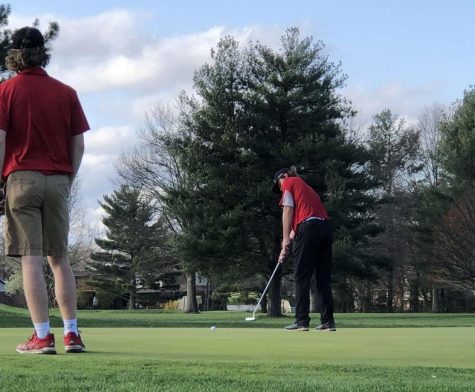 So far in the season, they have a few matches. The team's scores vary between the rounds but are improving every day.
"This is a young team with a high ceiling," said Conner.
Currently, seven kids are battling it out for the top five spots. Like basketball, only five players can play at one time. However, unlike in basketball, there are no substitutes players. The top seven players vying for spots include Ashley, True, Luke Barron, Jackson Lynch, Clayton Benkert, Burk Shelley, and Brayden Ricketts.
Conner himself is unsure who will be his final squad.
"Who will overcome the pressure and earn a spot in the top five?" he asked.
Lynch, Benkert, and Shelly all agree that winning sectionals is something they all would appreciate.
Shelly said, "I want to shoot under 80 all year, and I'm looking forward to sectionals."
During practice, the team works on many things such as golf etiquette, rules, chipping, putting, ball striking, and course management like ball placement, club selection, and decision-making.
Conner said that the team's short game is probably the biggest struggle collectively, but the team is very successful with depth. The team will be able to absorb illness, injuries, or other unforeseen circumstances without much drop-off.
Conner said, "I have a deep team. I can play multiple guys and still have around the same score."
Conner will end practices with little initiatives to keep the team motivated and encouraged. For example, the player who shoots the lowest score can pick where they eat after a match.
Conner said, "Bragging rights amongst team members means a lot to kids. At the end of practice, we have contests, sometimes chipping and putting. So, when you are the contest winner, you can go home, and then we do it again to see who gets to leave next."
Conner said that having fun is essential to having a successful golf team, and he is "excited to have the opportunity to teach and inspire these young men."
The Cubs' golf team is already starting to gel, evidenced by their recent play. On April 12th, MCHS hosted eighth-ranked Silver Creek and Jeffersonville at Sunrise Golf Course. The Cubs shot 152, besting Silver Creek by eight strokes.