MCHS Band Marches Their Way to Third in the State
The Madison Consolidated High School Marching Band recently placed third in the 2019 Marching Band Scholastic Class Finals in the Class B section. The MCHS marching band placed 14th for the 2018-2019 school year. The marching band comprises of students of all grades from MCHS, and the competition consisted of fifteen bands total who had qualified from eight different regions from around the state.
To get to state, the Marching Cubs had to get a gold rating at the ISSMA Prelims. They also had to have the dedication and be willing to put in the hard work described by MCHS Band Director Katie Zolvinski.
"I (also) think your students have to have drive and dedication. If they have that, they can get themselves there no matter what I tell them. Madison has a great core of students. We talked pretty often about what kind of band we wanted. They wanted to be competitive, and so I pushed them to be the best competitive band they could be," Zolvinski said.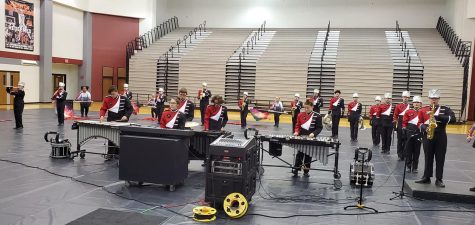 Many of the band members said they were in shock and denial, as some didn't even expect to make it to state this year, let alone place third.
"It was pretty stressful with the bus breaking down and our times being moved and the whole thing being moved inside but it was still a lot of fun being able to suffer with my band family," one band member stated.
"I couldn't believe it, I was actually speechless, especially because we've had better performances than that. I just can't help but wonder what would've happened if it wasn't raining and we preformed our show to the best of our abilities," another member said.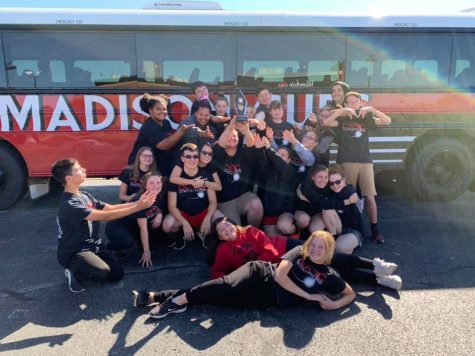 A graduating senior said they hope the band can continue to grow in both numbers and a strong sense of leadership. Other members of the group hope to improve on visual and marching as one member recalled not doing so well in the past.
One thing nobody expected that day was that the bus broke down before they got to the state competition, and the weather forced it inside. In spite of the hardship, the marching band was still able to perform admirably.
The MCHS Marching Band would love to continue to build on this year's success improving on many of the skills it takes to be a successful marching band like visuals, staying motivated and determined, timing, and growing the program's number of participants.