Getting ready for the election season, voters are starting to pre-register and put in their votes. Madison is preparing for that voting season with the upcoming mayoral election. Incumbent Mayor Bob Courtney and challenger Dan Dattilo are excited to see the election results on November 7th. The Madisonian has decided to take that chance to ask the candidates what they have planned for Madison to get a handle on their respective visions for Madison's future.
Question: Why should (a resident) vote for you as mayor over your opponent? 
Dattilo: "You should vote for me for mayor because of the job that I currently have, which is under the director of counseling at Southwestern High School. My whole job is geared around listening to people and understanding their problems and their jobs. So I strive to do that, and that's my goal as mayor. To bring those skills to the city and ensure people's voices are heard here."
Courtney: "Well, we have set some key objectives over the past four years and focused on improving many areas in Madison. And the three key executives, I call them pillars, created dozens of different types of executives for the staff. Focusing on public safety, creating economic opportunity that lives, works, or visits Madison, and central to all those three pillars and dozens of initiatives is investing in the community. We have to bring in other investments that have made our economy work, but it has been lacking for a long time. So, over my four years here, we've created multiple private partnerships that have generated probably close to three (hundred) to 400 million dollars in new investment across the city in all sectors of our community. And of those three pillars, we can invest and ensure it's a safe investment for our community. We have created new jobs, and I'm here to ensure the quality of life is better. So why should you vote for me as mayor? Because I'm focused on you."
Question: We (think) historical Madison is more of a retirement town. How do you position Madison to have more white-collar jobs that pay more than 15-20 dollars an hour?
Courtney: "I'd be shocked if a lot of people in Madison only make 15-20 dollars an hour. Being a retirement community, that might be an observation because of the old buildings, but we are not just a national landmark in Indiana. We are the largest national landmark in the country, so we have invested in removing blight from our neighborhoods. There was a lot and still is blight in many of our historic districts. We are not a retirement community. If you look at statistics, it's fascinating because we have almost just as many young people as we do older people. And what I mean by that is if you look at under (the age of) 50. I'm over that now, but if you look at under 50, it's still very active and young, about 40% of our population.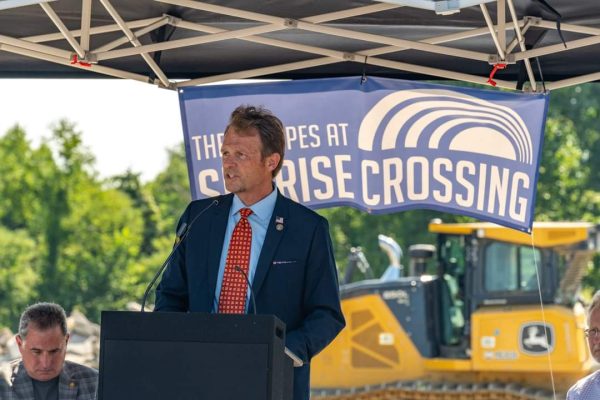 A smaller percentage of that is, you know, it's 70 and older, so Madison is a beautiful place to live and work, and it is getting younger because we are making suitable investments. Like giving people things to do and high quality of life, we are taking advantage of remote workforce opportunities because it is a great place to raise a family, it's a safe community, and a lot of our efforts toward blight elimination brought new housing to the market because we have abandoned vacant buildings that have sat there for twenty or thirty years without a plan and then what we did was we created powerful incentives but also an enforcement effort that is holding people accountable for taking care of their properties we still have a lot of work to do.
Our initiative is about a clean, safe, and beautiful Madison, and to accomplish that, you have to look at all ends of a spectrum, which is incentives all the way over to enforcement. And they don't work insolation from one another; you have to have them both to get the right intentional outcome. It's becoming a younger and younger community every day, and even our older adults are becoming increasingly active adults. So, we are a very walkable community; we have a tremendous network of trails and sidewalks that you can get anywhere downtown, on the hilltop, or vice versa. It's elementary, and you can do it on foot, on a bike, on a golf cart, or in a car. I'm proud of our community's direction, and it's becoming younger and more active, which is good for us. 
So bringing in those types of national companies is a huge deal where we're asking other people and companies to invest in us and to attract that capital investment, we have to also invest in ourselves. To track that capital investment, we have to also invest in ourselves, and that is we have to create the environment that is conducive for others to want to open a business here or support the bank probably being a 50-million-dollar development. So we had other things. It eliminated a blighted corner that had become dilapidated and unsavory drug activity. We also embedded a massive stormwater detention basin there to help the people on North Walnut Street mitigate the risk of flooding in the future that they've been played with that's caused people from their homes.
There's a lot of retail happening, but the things that we're doing there, like our neighborhood market downtown here or the retail up there or a new restaurant or investing in our parks and playgrounds or adding streets, all of that is to attract more investment. We have mostly I'd say manufacturing jobs in the city of Madison. However, there are still a lot of other employment opportunities such as manufacturing jobs that happen in the town of Madison, but there is still a lot of other employment from sectors such as healthcare, healthcare education service-oriented businesses, and tourism. And when we invest in the things that we're talking about, like Sunrise Crossing and Culver's, we are also attracting new residents to the community because we have more to offer, so when Grote Manufacturing is looking for an executive, they bring them to our community. Now, there are amenities that executives or V.S.G, Arvin Sango, Norton Healthcare, for example, our community is more welcoming because there's more to do.
We're also very ideally located, so what makes Sunrise Crossing so important is its mixed juice, making that area safer and more vibrant, creating more of a destination environment that benefits all of Madison and our workforce development efforts here. It's also illuminating the unsavory parts of dilapidated and undeveloped property. When we let stuff go, the town starts to go downhill. Honestly, pick a neighborhood and a street. The same thing happens. So, it elevates all of the city of Madison. Our focus is to develop housing opportunities. We need more housing opportunities. From entry-level to apartments to modern income housing. The city has not done an excellent job over the last 30 years. A plan for those things, getting behind them, attracting developers to do it, and drawing the demand for people wanting to live here. As compared to my opponent. My opponent is finishing his eighth year on the city council and has yet to bring any plans to the campaign or during his time there. So, we have set ourselves apart by being very vision-oriented and data-informed and making good decisions using that data. And I also have a very professional staff. Madison's never had a mayor with my skill set or education or a team that I have who's so professional it's never had a mayor, which is why we're accomplishing so much. So we will keep doing more of the same: build out infrastructure, improve the quality of life, make sure our community is safe, and continue to track outside capital to come in and invest in Madison.
Dattilo: "Madison Indiana is often known as a retirement area, but I think it is filled with many young, vibrant people. Our major problem is that we have a real lack of housing in Madison when it comes to supplying homes to more white-collar jobs. There's not an opportunity for a lot of home purchases here. So we have to do something about that. To get more great paying jobs, and don't get me wrong, there are some good paying jobs here, not that I think all of them could do better, but I think what we need to do is to enhance businesses here by showing them that we have people here who want to work, and also you know that goes along with the quality of life.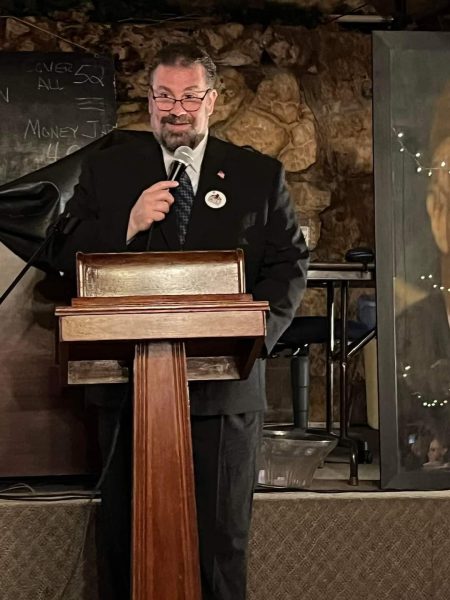 We must ensure our young people go out and get amazing degrees in various areas (and) feel comfortable coming back to Madison. We sometimes get the best of the community trained, and they do well at local colleges or colleges in the area, and then we lose them to large cities or other competing cities. You have to make sure our young people know this is a place to be so that we can get businesses and jobs here. Maybe they attend college in the area, like IU, West Lafayette, or Hanover. They get a degree that they know could be useful to Madison, but for whatever reason, they don't see the opportunity Madison has to offer. We don't need to focus on more ordinances and laws. We have plenty, and they're effective.
I believe that Mayor Courtney is using data to push forward his agenda for the city, and I would say the city is going in the right direction. Still, I would also say that Madison has had years of mayors before us who have worked hard to get the city where it is, and Madison as we know solely the administration has built it. It was done by years of mayors and working council members to build what it is today, and I'm just hoping to add to that. He also stated that he's never seen a mayor with his skill set or education. I think he's alluding to his financial background, and that's fantastic, but there's more to running a city than just a financial background. You need to have skills where you're listening to people and getting input from different groups that want to be told. What they want to tell us and what they want done right.
The most important thing I can tell any young person, and I don't say this at my school right now because I'm running for office (is) I don't want to have any people interpret and interfere with that. Still, the most important thing we can do is get young people registered to vote and tell them how important it is because we need to work and grow our public transportation. It has to improve as well as Madison can improve. We don't have much public transportation here in Madison, and just getting public transportation from one side of the town to the other, and going back to why I'm running for mayor.
I've always been interested in running for mayor. Twelve years ago, someone asked me if I would be interested in running for (the) City Council. My mom had run for County Clerk many years ago, and I just thought, you know what, I'm going to give this a shot. So, I ran my first election 12 years ago and lost. I was so sad and beat up. I had worked so hard and ended up losing the election. Then, a year or two later, one asked me again to run for mayor, and I reluctantly agreed to, and I won that election. It's become a passion of mine as a counselor. Counselors are in the helping field. We help people, and I could also do that as mayor. Mayors, they're in the helping field as well. Their job is to help people. So I believe it's a natural fit for me, and It's just something that's instilled in me. I'm proud of my time on the city council and how this campaign has gone. Great people are helping me, and I am excited for November 7th."
The 2024 Madison mayoral election is on Tuesday, November 7th.
Early Voting is at the Jefferson County Courthouse Commissioner's office (1st floor). Early voting dates and times are:
October 16 – November 3. 9 a.m. – 4 p.m.
Saturday, November 4th. 8 a.m. -3 p.m.
Monday, November 6th. 9 a.m. – noon
You can find Jefferson County voting and election information here.