This year, MCHS will begin upgrading safety features for our campus. One of the newest features is the Cub Checkpoint. The Cub Checkpoint is the guard shack at the entrance by the football and baseball fields. This checkpoint will be used by students and parents leaving and entering the high school parking lot. 
MCHS is adding the checkpoint "(to) increase safety and security for the school," said Brad Warren, the new Cub Checkpoint attendant.
The checkpoint's primary goal is to provide the school with an extra layer of security. 
Warren said, "A few isolated incidents last year that could've compromised safety and security, so it's just an extra added bonus to have someone out here to kinda be the first line of defense to hopefully fort that before it happens."
Warren will work at the checkpoint to check in any car or person entering the high school parking lot.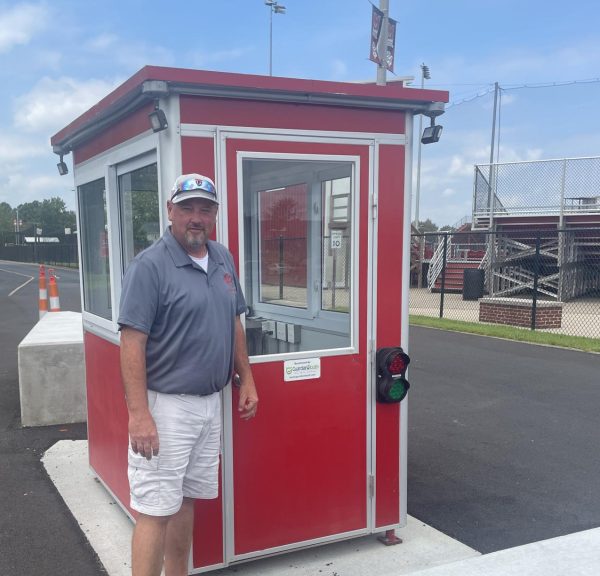 The checkpoint will change how students leave and enter the school parking lot. All students who have to leave school early will need to show Mr. Warren at the checkpoint a pass from the school to leave. 
Parents or guests picking up their kids before the end of the day must enter from the checkpoint and ask for their student. MCHS has requested that parents pull through the middle lane of the parking lot and loop around to door four, where they will pick up their student. 
Any student who drives to the junior high campus during the day will have to leave through the checkpoint.
Kallie Eder, a senior at MCHS, said, "It wastes a lot of gas going between buildings." 
 Students who have to leave campus because of their schedule will receive a student ID. They will need to show the checkpoint this ID to leave. Landon True leaves every day for Ivy Tech.
True said, "I get to see Mr. Warren every day and he's always in a good mood, so it affects me in a good way." 
If guests visit MCHS, they must check in at Cub Checkpoint. Student drop-offs in the morning will stay the same. However, at 8:50 after the morning bell, all gates around the east side of the high school will be closed. After that time, you must enter from the Cub Checkpoint. 
Madison Consolidated High School always seeks ways to create a safer student environment. Cub Checkpoint is just the start and may look to improve.