Winter Homecoming Results are in as Cahall becomes Third Sister to Win the Crown
Madison Consolidated High School celebrated its 2023 basketball homecoming game on February 17, 2023. MCHS Student Council sponsored Madison's homecoming spirit week and the game. Students showcased their school spirit through dress-up days, the annual pep rally, and the homecoming basketball game against the Columbus East Olympians. The MCHS Homecoming Court presentation occurred between the junior varsity and varsity games. The court comprised twelve seniors, including six boys and six girls, and two representatives from the junior, sophomore, and freshman classes. MCHS Students nominated their class representatives and collectively voted for the new Homecoming King and Queen. 
The homecoming couples that represented the senior class include (in their presented order) Chip Cox and Annie Zhang, Peyton Ford and Casey Dyer, Holden Gluba and Haleigh Pyles, Drew Forner and Callie Anderson, Gavin McMahon and Cameran Cahall, and Van Skinner and Izabela Jett.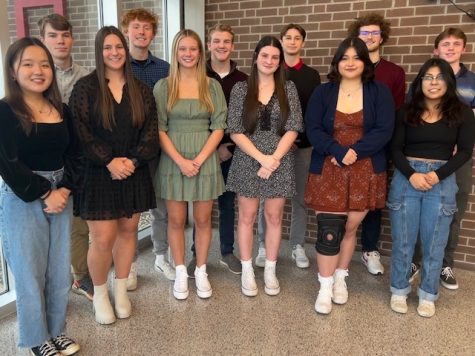 Senior Representative Holden Gluba was delighted to have this opportunity at MCHS.
Gluba stated, "I had a lot of fun and thought it was really cool to get dressed up with a good group of people." 
The underclassmen were represented by freshmen Jaden Wooldridge and Mylee McQueary, sophomores Landon True and Skyy Brackin, and juniors Clayton Benkert and Bridget Cline.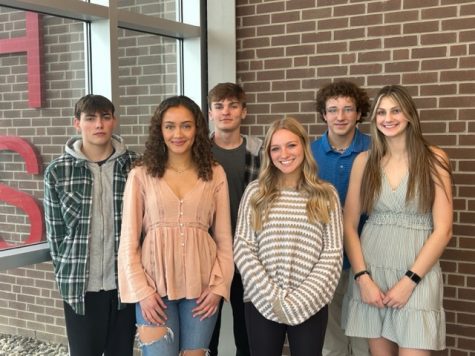 Cline loved sharing the floor with her fellow classmates and celebrating with one another.
"I enjoyed the uncanny feeling while waiting on the basketball court for the king and queen to be affirmed. Everyone was blushing and beautiful. It was charming to see people dressed up when you usually see them in their school clothes."
During the homecoming ceremony, 2022 Winter Homecoming Queen Keara Eder returned home from Marian University and crowned our new royalty: Winter Homecoming King Van Skinner and Queen Cameran Cahall. 
Cahall is the third of her family to be crowned Winter Homecoming queen. Cahall's sister Morgan received the honor in 202o, while Brett won the crown in 2021.
Cahall said, "I wasn't expecting to win because of the other people on the court, so when I heard my name, it was a surprise. I am so thankful for this opportunity to represent the class of 2023."