Fantastic Frosh, Ayler, Begins Soccer Career with Season Goal Record
Freshman Lady Cub soccer player, Kyra Ayler, may have only been in high school at MCHS for three months, but her impact on sports is something that takes many athletes all four years of their high school career to achieve. As a freshman, Kyra found the back of the net 31 times throughout 17 games in the regular and postseason. The 31 goals were a single-season MCHS women's soccer record. Having a player that makes such a significant impact does not happen by luck but by hard work in the off-season. 
Like most prolific high school athletes, Ayler's love of the sport began early and blossomed into a passion. "I started playing soccer when I was six. I first wanted to play when watching TV and saw an episode of Caillou playing soccer. I don't know what it is about the sport. It just draws me in. The next thing I knew, I was standing on the U6 field over at JSCA  for my first soccer practice."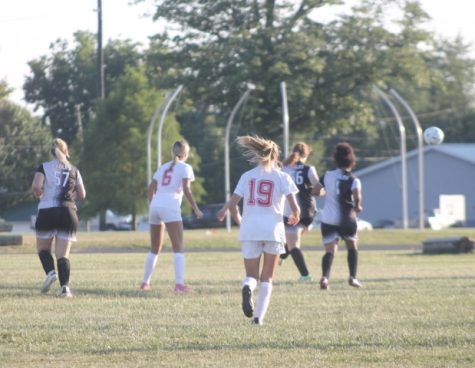 Ayler spends six out of the seven days outside, rain or shine, practicing her skills. "Growing up, my parents were the most supportive people. They always bought me equipment for the skills and were trying their best to learn the skill as I progressed with the sport," Ayler said.
Inspiration is one of the main components that keep an interest in any activity.
"Growing up, I can't remember my first role model, but I was always looking up to my parents, but when I entered middle school, I joined my first all-girls soccer team. That's where I met my current teammates, Iyana Phelps and Molly Armbrecht. They were both so good at the sport, and I wanted to be like them. They were both so much fun to be around. After both of them left for high school, I was eager to go to high school so I could play with them again. And here I am now, playing with my two role models."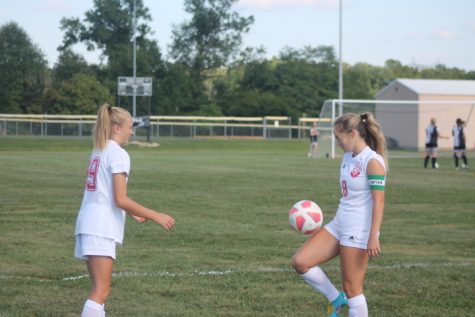 Even though high school ends for all students at one point, Ayler goes plans to lengthen her soccer career as long as possible. "I plan to play soccer throughout my entire high school career, and I want to perform as best as I can to be noticed by colleges. I hope to play collegiate (soccer) in NCAA Division soccer, and it would be an absolute dream to become a professional athlete."  
As the Lady Cubs' season was wrapped up against Franklin County on October 6th, Ayler finished her freshman season. Many people in the community are eager for the upcoming season to see Kyra Ayler back in action and are excited to see what the sport has in store for Ayler as her career progresses. "I'm grateful for the opportunity to play. As I get older, I want to be a role model to younger girls like Iyana and Molly were to me."