Colin Yancey's Career Was about More Than Receptions
 As each football season ends, it's hard to picture the next season without our seniors. For the last four seasons, Madison Consolidated High School gridiron standout Colin Yancey has been a leader on and off the field. Not only will Yancey's on-field production be missed, but so will his leadership and desire to win. Like most athletes, Yancey's trajectory started early with youth sports and a supportive family. 
Yancey's football career started when he saw his older brother, Cooper Yancey, play flag football and, later on, tackle football. His parents, Kevin and Jodi, took him to see the Indianapolis Colts play a few times, and these things sparked a love of football for Colin.
"He went to many of Cooper's sporting events when he was too young to participate. He was always anxious to get out there and play himself," said Yancey's mother, Jodi.
At the age of five, in kindergarten, Colin started playing flag football, and right away, he and the teams he was on were great.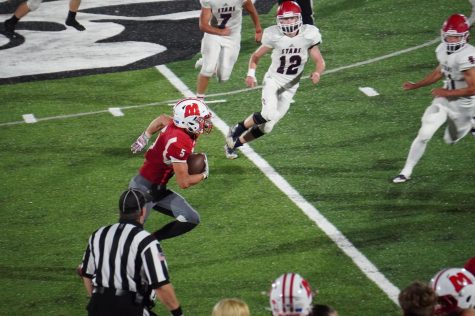 "Colin has always enjoyed football, and when he was little, he loved being able to tackle on defense. Growing up, he was always on teams that were very successful. In his little league years, it was very rare for them to lose a game." Mrs. Yancey said.
However, Colin's success didn't stop in the little league; during his seventh and eighth-grade years at MJHS, the football team was undefeated.
"He was able to contribute to those wins and help make them successful. I think he has always enjoyed being a part of a team and trying to meet the challenges that football provides. Many of his close friends also played football, so he enjoyed being able to spend time with them." Mrs. Yancey continued.
During this past season, Colin broke a record for most career receptions with 186 catches, breaking a 30-year record held by former MCHS standout Danny Gibson. On top of the record, he was second in school history in receiving yards (2,758) and second in receiving touchdowns with 24. 
Yancey's senior receiving stats took a hit with the departure of talented veteran quarterback Kaden Oliver to Silver Creek. However, Yancey's junior stat line of 74 receptions, 1,024 yards, and 10 touchdowns is an example of what he can do when a passing offense is firing on all cylinders.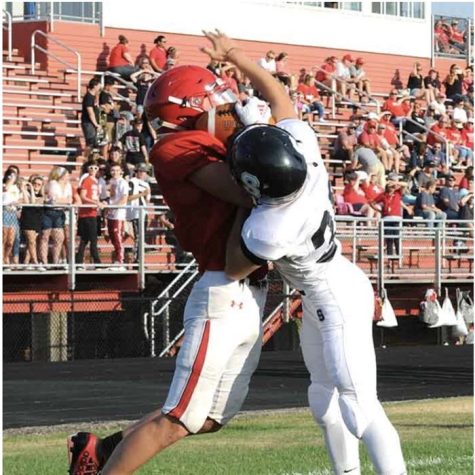 Unfortunately and admirably, getting Yancey to talk about his accomplishments was challenging. With Yancey's desire to stay out of the individual spotlight, The Madisonian had to rely on Yancey's coaches and parents to get a feel for his impact on the game and the impact the game made on him.
MCHS Head Football Coach Leroy Wilson's praise of Yancey is effusive: "Colin is by far one of the best athletes I have ever had the privilege to coach. (He's) definitely the best receiver. A position that is solely dependent upon another, he made it look easy. And put up the career numbers he did with three different quarterbacks. He took the craft of playing receiver to the next level and worked extremely hard at it, and in my opinion, he is one of the best in the state of Indiana. And my favorite part about Colin, he couldn't care less about individual awards or records. He just wanted to win. That was obvious most when he didn't even have the ball."
Mrs. Yancey stated, "He (Colin) is honored to be recognized with Danny Gibson, who held the record before him. He is very thankful to all his teammates, especially the offensive line and the three quarterbacks that he played with in high school. He is also very grateful to his coaches, who helped him develop into the football player he is today… Colin has had many great coaches throughout his football career who have pushed him to be a better football player and helped him to grow into an even better person. Kevin and I, as parents, have always loved watching Colin play football mainly because of how happy it makes him." 
Yancey will leave the Cubs football program with individual statistics and recognition, but he will also leave a legacy of winning and competitiveness. While the struggles of the MCHS football program are documented, Yancey did everything he could to change the perception and will leave the program as part of the second-winningest class in the last 20 years.
"He is an incredible athlete but an even better human being. While he will be missed out on the field, his legacy will be the bar he has set for future Cubs and what they can achieve here at Madison if you are willing to work for it," stated Wilson.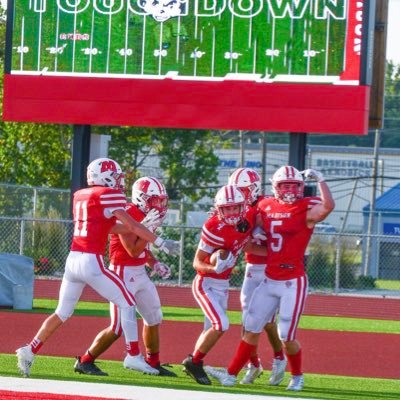 Now that Yancey's high school career is over, we must wait to see the next step for the skilled Madison star. Like most parents who are pivotal in developing their youth athletes, the culmination of an athlete's career can be bittersweet for parents.
Mrs. Yancey said, "Football has been a huge part of Colin's life. We have traveled many miles to watch him play this game, but he has provided us with many wonderful memories. He has put in many hours, sweat, heart, and determination into being a Madison Cub football player, but we have watched him learn so much from this game he loves, like leadership, teamwork, sportsmanship, joy in winning, hard work, determination, humility and grace in defeat. We are so proud of him."
However, Yancey did fill in The Madisonian about his plans after high school.
"My plans after high school are to play college football somewhere. To succeed at the college level, I will have to continue to put in the work in the off-season. My plans after college are to get a job with the degree I graduated with," Yancey said.
While Yancey will continue his athletic career after high school, he will always have an appreciation for the magic of playing high school football, knowing that those days inevitably have to end.
"My favorite part about football is playing on Friday under the lights. My advice for junior high kids wanting to play football is to enjoy every day because the season goes by fast and to work hard."
While Yancey's records will continue to live on in the record books, the numbers only tell the story of a football career that began as a young kid filled with family, friends, and a legacy dedicated to winning above individual statistics.