MCHS AP Art History Earns 100% Pass Rate
After taking the Advanced Placement Art History exam in early May, Madison Consolidated High School's AP Art History students' long-anticipated test scores were announced in early July. A passing score on an AP exam does not depend on a grade in the class but on showcasing learned knowledge from the year on an end-of-course three-hour-long test. By scoring a passing grade on this exam, a student can guarantee that their credit from the class will be transferable to almost any university in the United States. 
The global average Art History exam score is 2.99, while Indiana's average is 2.87. Madison Consolidated High School's AP Art History class average was an outstanding 3.75 and had a 100% pass rate as a class.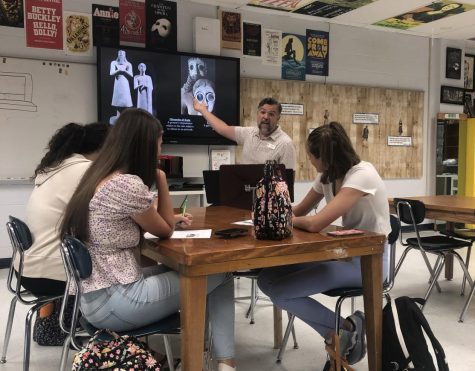 "When I first joined AP Art History, I didn't really have a solid idea of what I would be learning. I just knew that I really liked art and that I wanted to take another class that had to do with art, so I wasn't super in tune with what the class would be about," said Harrison Hall, a current senior at MCHS who took the class his junior year. Hall earned a top score on the exam, receiving a five on a 1-5 grading scale. "When I walked out of the exam, I definitely felt confident; there wasn't a page that I had left open. I felt really good about all of my answers, and I felt like my own background knowledge combined with the knowledge I'd gained taking the class really made me feel good about what I had done," he mentioned. 
This relatively unknown course available for students at MCHS is surprisingly taught by one of the most well-known and experienced teachers. Aaron Kelsey has been a fine arts teacher at Madison for 20 going on 21 years. He instructs a variety of art classes within the school. He has taught courses such as Introduction to Theatre, Advanced Theatre, Drawing & Painting, Technical Theatre, 2D & 3D Art, AP Studio Art, and AP Art History. The 2021-2022 school year was his eighth time teaching the AP Art History course.
"We've always scored higher than the state and national average when we offer this class, but this was the first time I've had 100% of students pass the exam," Kelsey noted. When teaching this challenging class, Kelsey strived to maintain a positive yet productive classroom environment by "reminding students that they were capable of learning everything they needed to know and that we all started on the same page." Kelsey touches on the fact that every student came into this class on a level playing field and with no more knowledge than another student. 
This course touches on subjects such as "global history from prehistoric to contemporary, culture, the significance of the pieces around the world, what they are made out of and why, (and the) human condition" and more. Because of the engaging and real-world subject matter and extremely satisfying payoff, the AP Art History course has been highly recommended by previous students and Kelsey himself.  
"I think some people think it's just (about) art, but it's really just a class about being human."