A Guide to MCHS' 2022-2023 Theatre Productions
Madison Theatre is gearing up for its 2022-2023 season. This year they will be producing Murder on the Orient Express, Big Fish: The Musical, Xanadu, and Chicago Teen Edition. The anticipated productions were announced this summer and are now in progress with the start of a new school year. When determining the productions each season, Madison Theatre director Aaron Kelsey wants to choose an array of shows.
"I like to produce a variety of styles for educational purposes, and I keep in mind what students will be interested in, as well as what will sell tickets," stated Kelsey.
Also, according to Kelsey, his most anticipated production is always the next; for assistant director Melanie Torline, Big Fish is her most anticipated production for the current season.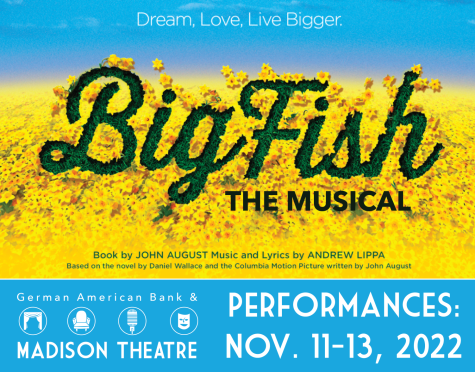 The first production of the season, Murder on the Orient Express, will be produced by Kelsey's Advanced Theatre class. The class consists of sophomores, juniors, and seniors at MCHS. They will spend time in class rehearsing and preparing their production set to premiere on September 30, October 1, and October 2, 2022, in the Opal E. Sherman Auditorium. 
The second production of this season will be Big Fish: The Musical. The musical is produced by MCHS students and the Madison Theatre creative team. Big Fish: The Musical is an adaptation of the novel by Daniel Wallace and the Columbia Motion Picture written by John August. Auditions are open to all students at MCHS and will be in "the Opal" on September 9, 2022. If a student is interested in participating in Big Fish but does not want to be "in the lights," Madison Theatre also has a tech crew, stage crew, and orchestra for the extracurricular production. Students will rehearse after school leading up to their performances on November 11, November 12, and November 13, 2022.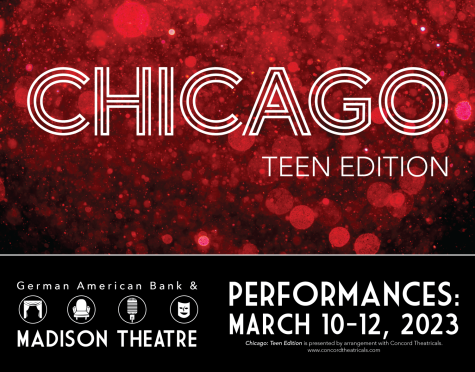 The season's third production will be Chicago Teen Edition; this production will also be produced after school by Madison Theatre and the creative team. Inspired by the 1926 play by Maurine Dallas Watkins and the musical developed by Bob Fosse, Chicago Teen Edition auditions and rehearsals will be held after school as they prepare for performances on March 10, March 11, and March 12, 2022. 
The season's final production will be Xanadu, a musical comedy based on the 1980 film starring Olivia Newton-John. Kelsey's second-semester Advanced Theatre students will produce this production. The class will begin rehearsing in class after Christmas break as their performances will be right around the corner on April 21, April 22, and April 23, 2022. You will not want to miss this 80's roller skating extravaganza. 
Madison Theatre thrives on student involvement. Students can participate in theatre productions at MCHS by auditioning to be in the cast, designing and creating sets, running sound and lights, or playing in the orchestra. Big Fish: The Musical auditions are in a few short weeks, on September 9, 2022. Suppose you are interested in joining the stage or tech crew. In that case, there will be an information meeting following the start of rehearsals, or if you are interested in joining the orchestra, you can get information in the band room at MCHS. They would love to have some new faces; Kelsey and Torline believe someone could never turn away once they try theatre.