MCHS Marching Band Looks to Gain Attention for 'Incognito'
As students return from summer break and school activities begin, the Madison Marching Cubs have been hard at work preparing for the 2022 season. Their show Incognito has band members and staff anticipating what the upcoming season has to offer. "I'm really excited this year; we've grown quite a bit," said MCHS Band Director Hannah Johnston, who returns for her second year with the program. "I love the energy and the attitude of all the new people."
Incognito is a spy-themed show with a story the band hopes will captivate audiences across southern Indiana. "There is a hidden suspect somewhere in the band, and the band members are finding clues throughout the show to figure out who the Incognito person is," said Johnston. The show will explore various genres of music, including old-fashioned jazz, fast-paced spy-movie music, and a ballad, all leading up to the dramatic ending.
Junior drum-major Nick Biallas said, "I'm most excited about the show's ending this season. We haven't worked that far into it yet, but the concepts for the big twist is (sic) something I'm really looking forward to. I won't spoil it so that everyone will just have to come to watch the show and see for themselves."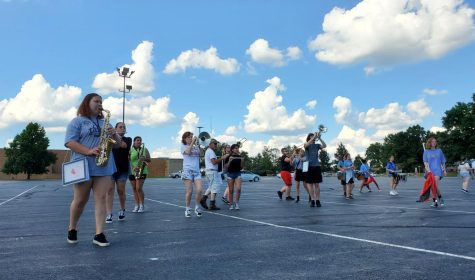 The Marching Cubs began their season in the Regatta Parade, followed by band camp later in July. There, they spent a grueling two weeks learning the first half of their show and preparing the music. "This part of the season is widely looked at as the hardest part," said Biallas, "There's a lot of time we're putting in for those two weeks and it can get tiring and repetitive if the energy isn't always there."
With that challenge out of their way, the Marching Cubs have been busy preparing for their first half-time performance at the Madison vs. South Dearborn home football game on August 26th.
A common goal throughout the band seems to be to make the ISSMA (Indiana State School Music Association) State Finals in October. "It would mean so much to me to go to state this year," said freshman flutist Ava Thomas. 
The band has made appearances at State Finals before, even placing 3rd-in-state in 2019, but the Cubs fell just short of returning to the pinnacle event in 2021. Senior drum-major Ruby Massie said, "I really do believe that we have a chance at going back to state. … If we continue with the same determination and tenacity that bigger bands usually have, then we can show everyone just how small but mighty we can be."
Both new and returning members seem to agree on this goal. State Prelims, which qualify the band for the state competition, are on October 8th, which leaves the band a little more than a month to prepare. Johnston also added, "…one of the more meaningful goals is that every person in the band feels like they have found a family and a place to belong and a place where they learn what it means to do excellent work… because those skills are the things that will serve them for their whole lives".
With these goals in mind, the band is eager to get the season underway in the coming weeks. They will travel to Columbus North for their first competition of the season on Saturday, September 10th. The marching band will also make appearances at Madison's home football games. Johnston added, "I hope people know that the Madison band kids are working super hard, and it would be super worth their time to come see what they have been pouring their hearts and souls into this summer."