The Outlook is Positive after the Cubs Preseason Scrimmage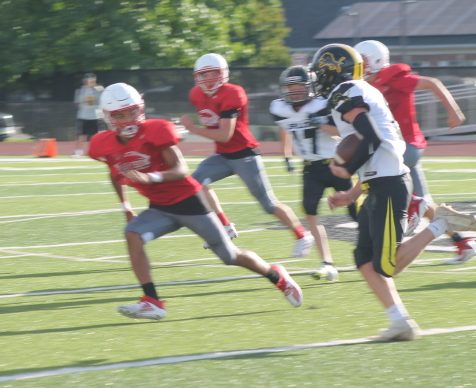 The sun was beaming, and the air from the football swept over the yells of the coaches as the players from MCHS were preparing for their annual pre-season scrimmage versus Salem and Shelbyville last Friday. As usual, the scrimmage could teach each team key components that could lead them to successful seasons and championships. 
The scrimmage overall had tons of different exciting plays. MCHS Senior Colin Yancey caught multiple passes and even "Mossed" one of Shelbyville's defenders for a successful touchdown pass. Madison Consolidated High School Head Coach Leroy Wilson said, "We try to treat this like a practice. You know we try to hit each other a little bit, see another team, and get live reps; for us, it's an evaluation tool. I was overall pleased about how well the scrimmage went tonight."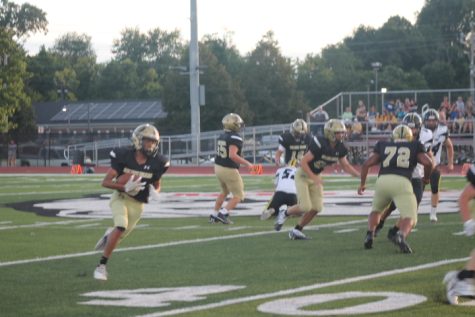 Salem High School and MCHS had some back and forth turnovers during the game. MCHS managed to force three turnovers on Salem while Salem forced the Cubs into one turnover. After the second turnover, Salem High School Head Coach Blair Thomas said, "Well, we have a lot of sophomores starting on our offensive and defensive lines, and I feel like Madison exploited our defensive line."
The Cubs completed many outstanding plays. Standout and state wide receiver Colin Yancey performed many of those plays. Yancey stressed how the teams attempted to defend him.
"I feel like I did well with my aggression and bringing the whole line up. The deep end started clicking to me, and I shut them out," Yancey stated.
However, a team isn't just made up of one player; together, they play a good game. Defensive standout Van Skinner said, "We still got a lot of work to do, and I feel like our defense came out solid, and our offense needed to start running plays a bit faster because we got quite a few penalties. But overall, we as a team was pretty solid." 
MCHS Head Coach Leroy Wilson stated," I think both teams have shown pretty solid stuff; this is offense and defense as we've never seen. This is a big adjustment for us; we've gotten on the field and felt it out as we go." MCHS begins its season this Friday at defending Kentucky state champion Boyle County, while Salem begins their season on the same date. The coaches for all of the schools commented that they are coaches extremely excited to start their seasons.
As the sun died down, Yancey said, "One piece of advice I live by is (to) never to give up."