The Madisonian's 2022 NBA Mock Draft
The Madisonian's 2022 NBA Mock Draft
With the college men's basketball season coming to a close and the Kansas Jayhawks cutting down the nets in April as the overall best team, it's time to dive into the upcoming picks for the NBA draft held on Thursday, June 23rd. This mock is a general "best fit" for these teams. These players could change the look of franchises in the future or set them back another year or more. Some of these players have fallen and risen from performances in the preseason and the tournament. 
1. Orlando Magic- Paolo Banchero 6'10 Forward, Duke
The Magic are a fast pass team with a mixture of combo guards on the perimeter, with well-known young stars such as Cole Anthony and possible rookie of the year Franz Wagner. Two former lottery picks from the past two years, including last year's number 5th overall pick, Jalen Suggs, are finally finding their role as a true point guard. After Banchero's fantastic tournament and the end of the regular season, he will give the Magic more depth and a real versatile player on offense and defense. 
2. Houston Rockets- Jabari Smith 6'10 Forward, Auburn
The Rockets are an up and down team. With the star potential of Jalen Green and Christian Wood, the Rockets will be looking to add another versatile big man down low with Christian Wood, and Smith's role would fit perfectly with his ability to move off the ball and be able to score at all three levels. 
3. Detroit Pistons- Chet Holmgren 7'0, Gonzaga
The Pistons are much like the Magic. They are scrappy and fast and very young. With players like Saddiq Bey, Killian Hayes, and last year's #1 overall pick Cade Cunningham the Pistons are looking for another big that can play outside. Still, Holmgren is a massive longshot by the Pistons because his body came into April at 7'0 and only 195 pounds.
4. Oklahoma City Thunder-Benedict Mathurin 6'6, Arizona
With the Thunder having the youngest team in the league and one of the fastest young teams in the league, Mathurin would add a lot of star talent on both ends after his incredible year at Arizona.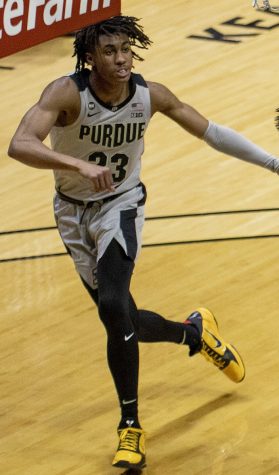 5. Indiana Pacers-Jaden Ivey 6'4, Purdue
The hometown hero stays home with the Pacers as Ivey comes off his remarkable season at Purdue. The Pacers are looking to add more depth at the guard position and possibly trade Malcolm Brogdon to complete its backcourt with Chris Duarte and rising star Tyrese Haliburton and Ivey filling that small forward position. 
6. Portland Trail Blazers-Keegan Murray 6'8, Iowa
Keegan Murray is one of the most underrated players in this lottery, averaging 23.8ppg for Iowa last season and leading the Hawkeyes to a Big 10 championship. The Blazers will utilize his size and IQ with the ball and play a role like LaMarcus Aldridge when he once played with the Blazers. 
7. Sacramento Kings-Shaedon Sharpe 6'6, Kentucky 
It's confusing with Sharpe graduating high school in December and practicing with the Wildcats from December to March, and never playing a college game is a tough spot to give him a lottery. Still, Sharpe is one of the most excited players coming into the draft, and we will see if he decides to play at Kentucky or enter the draft this upcoming June. 
8. New Orleans Pelicans- Jalen Duren 7'0, Memphis
The Pelicans are looking for size and a defensive threat. Duren is coming off an outstanding season at Memphis as one of the top shot blockers in the league and looking to turn a rebuilding Pelicans team into a contender next season with the return of former #1 pick Zion Williamson. 
9. San Antonio Spurs-Johnny Davis 6'5, Wisconsin
The Spurs are a fast-paced team and very well-coached, and after Johnny Davis and his historic season at Wisconsin, he has some of the best upsides in the draft from his jump from the first year to sophomore year, and the Spurs will be getting a steal.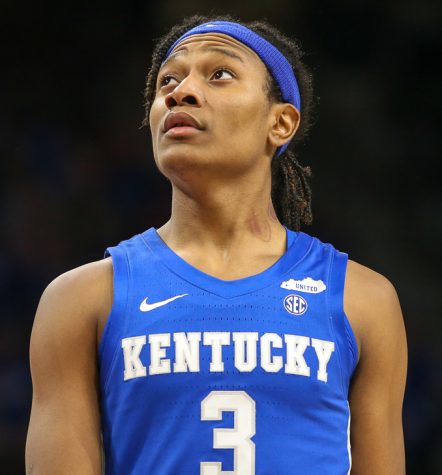 10. Washington Wizards-TyTy Washington 6'3, Kentucky
The Wizards are looking for better guard play in this draft as they are looking for more firepower and getting the SEC Freshman of the Year TyTy is a versatile player and can score on all three levels. 
11. Portland Trail Blazers-Ochai Agbaji 6'5, Kansas
The first champion to go off the board is Ochai Agbaji, the young sharpshooter from Kansas who is one of the best shooters in the draft, and in the NCAA Final Four game, he shot 5-6 from three will be a good duo with Damian Lillard.
12. New York Knicks-Tari Eason 6'8, LSU
Eason is a long lengthy scorer, and his ability to score makes him highly effective, mainly in any offense in the league. Also, on the defensive side, he works hard and will put his body on the line for the basketball. 
13. Atlanta Hawks-AJ Griffin 6'6, Duke
The second player of Coach K's final tour, Griffin, is a spot-up shooter with comparisons to CJ McCollum," but his lack of awareness of the ball causes his stock to decrease due to his lack of defensive skills and ability to work off the ball. 
14. Atlanta Hawks-Jeremy Sochan 6'10, Baylor
Atlanta, with back-to-back picks, gets an all-around scorer and an all-around defensive player. Sochan is an overall spark plug on the defensive end, making his team better by the effectiveness of his vocal leadership and his ability to do the little stuff like taking charges, diving on loose balls, and going for every rebound.
15. Oklahoma City Thunder-Malaki Branham 6'6, Ohio St.
Malaki Branham was highly talked about coming out of high school being from Lebron James's alma mater, St. Vincent St Mary High School, and staying home at Ohio State made him look comfortable as a player averaging 12 ppg, four rebounds, and three assists but his size might be the downfall of his position. 
16. Indiana Pacers-Mark Williams 7'0, Duke
Mark Williams is a very athletic big, but he is very unskilled at his position. He is good at rebounding, averaging seven a game, and very good at putting back dunks, but he struggles at the center position with not many moves, and that could be why he dropped out of the lottery. 
17. Houston Rockets-Blake Wesley 6'5, Notre Dame
Wesley was undoubtedly the best scorer on his team, averaging almost 15 ppg, but he also was the only true scorer they had on the Irish, so I'm not sure how he will fit in an NBA system. 
18. Minnesota Timberwolves-Nikola Jovic 6'11, Serbia
"Jokic 2.0" is what this guy is being called due to his identical size and play style as Nikola Jokic, and with Jokic's making his name known in the NBA and all these overseas players joining the league and dominating, you might see his name a little sooner than pick 18.
19. Chicago Bulls-Kennedy Chandler 6'1, Tennessee
Chicago is looking for a true point guard due to Lonzo's lack of staying on the court due to injury. They would be looking to bring in a more playmaker to help get the offense going, and Chandler is that guy. 
20. Denver Nuggets-Jaden Hardy 6'4, G-League 
Hardy is a fast and excellent basketball IQ player who knows how to use his speed and could be a vast backup point guard for Jamal Murray once healthy. 
21. Memphis Grizzles-Max Christie 6'6, Michigan State
He is a very young athlete with tremendous upside, but he is still very young. I don't feel he is truly ready for the NBA, but if he stayed another year at Michigan State, he would instantly be a top 10 pick.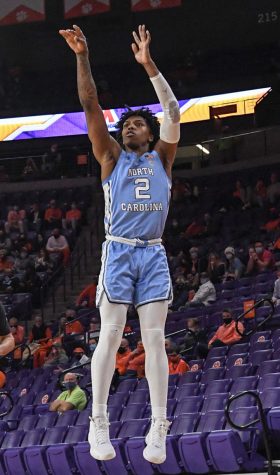 22. Brooklyn Nets-Caleb Love, 6'4, North Carolina
After his historic NCAA tournament performance, Caleb Love has boosted his draft stock by at least five picks. He averaged 16ppg this season for the Tar Heels, and he led the Tar Heels to the NCAA Championship, and he would be a great asset to the Nets with the second group for Brooklyn. 
23. San Antonio Spurs-EJ Liddell 6'7, Ohio State
This is a steal for the Spurs as Liddell is a junior at Ohio State and averaged almost 20ppg and was a consistent scorer for three years with the Buckeyes and was a great rebounder averaging nearly nine a game and could be utilized by Coach P.
24. Milwaukee Bucks-Walker Kessler 7'1, Auburn
The defending champs take Kessler, one of the best college shot blockers from last season, and will add some interior defense with reigning 2x DPOY Giannis Antetokounmpo as the Bucks look to dominate the East. 
25. San Antonio Spurs-Orlando Robinson 7'0, Fresno St.
He's a young, raw talent with a lot of upside, and if he is in the right system, he could be a natural defensive threat. 
26. Dallas Mavericks-Dyson Daniels 6'6, G-league 
Daniels is an attractive rising star. He isn't a point guard, but he isn't a shooting guard, but he is very shifty on and off the ball, and he creates his shots on and off the dribble has considerable upside this late in the first round. 
27. Miami Heat-Armando Bacot 6'10, North Carolina
This is a reach by the heat taking Bacot, but he is a very good big man and bright offensively and defensively. He knows how to play his role and get rebounds averaging almost 13 rebounds a game in the tournament and taking on 12ppg. He would be a great player for the heat if he can get faster. 
28. Golden State Warriors-Kendall Brown 6'8, Baylor
Brown was a great player for Baylor and is probably a lottery pick for scouts, but his injuries last season have him bouncing around. But if he can stay healthy, this is a massive steal for the Warriors as he is a 6'8 combo guard that can do it all at all three scoring levels.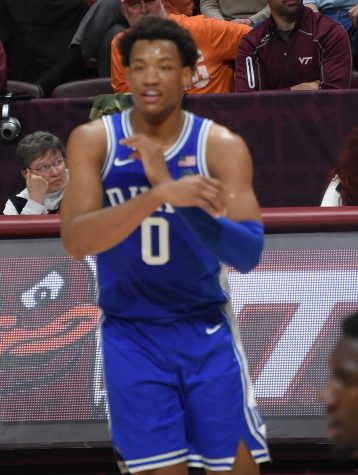 29. Memphis Grizzlies-Wendell Moore 6'5, Duke
Moore is a great shooter and facilitator and could sneak his way earlier into the first round, and this could be huge for the Grizzlies as they are looking for more scoring. Still, his scoring ability was only better than everyone in college because he was a little more substantial for his size, and I think he will have to develop more of an off-the-ball game if he wants to move his stock up.
30. Oklahoma City Thunder-Patrick Baldwin Jr. 6'9, Wisconsin-Milwaukee
This is taking a massive leap for the Thunder as Baldwin was a top 5 player in his draft class with names like "Chet Holmgren and Paolo Banchero." Still, he decided to play for his dad's team in Wisconsin. He didn't live up to his expectations, avg only 12ppg against mid-major talent in his conference. Then again, he did miss the season with an ankle injury. Still, he doesn't look like an NBA-ready guy, and I think he needs to go somewhere else in college to show what he can do on the big stage.