Herrick to Depart MCHS for Position at the Louisville Zoo
Madison Consolidated High School Career and Technical Education Teacher Derrick Herrick is trading his classroom for cages. Herrick, who has been teaching engineering for six years at MCHS, announced to his classes after spring break that he would no longer be teaching at MCHS. Herrick will be trading his metaphorical zoo of students for a real zoo of animals. Last summer, Herrick taught summer camps part-time for the Louisville Zoo and decided to make that his full-time job. 
"I took a job over the summer teaching their summer camps and loved getting to interact with the kids in the summer camp and interacting with the animals in the meta zoo," said Herrick.
His new job will be to set up curriculum plans for the summer camps in the Meta Zoo and give Sloth Experience tours on Saturdays. He will also develop field trip plans for schools that visit the zoo.
The MetaZoo is a virtual zoo experience at the Louisville Zoo geared towards organized groups of kids interested in a personalized program. MetaZoo participants take part in many activities and crafts that help them learn about many animals at the Louisville Zoo.
With rising gas prices and a new wife, Herrick sought a shorter commute to work.
"A big part of the decision to leave has to do with the commute. For the last two years, I have been living in Louisville, driving back and forth to Madison every day," Herrick said. "This new job will be a much shorter commute and get me closer to home."
Herrick's announcement came as a shock to many students, but some of his Cub Engineering students expected the change.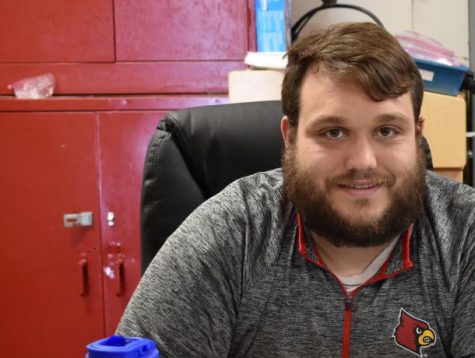 Junior Chip Cox, who has taken engineering classes with Herrick for three years and is one of the top student engineers in his class, is not surprised.
"I am not surprised at all because he mentioned working there over the summer. Herrick is a great guy, so obviously, they were going do whatever it takes to get him there at a full-time position," said Cox. 
Sadly, Herrick will have to leave his job at MCHS before the end of the school year to prepare for his new job.
Herrick said, "The zoo's summer camps start the day schools end in Jefferson County. Because of this, the zoo needs me to start before their camps do in order to get organized and ready for these."
Herrick mentioned that there were many things to complete before he left. Before he knew he was leaving, Herrick had ordered many new cabinets and chairs that needed to be assembled. Also, many files from previous projects must be saved and shared with manufacturing teacher Ryan Lamb if the files are wiped from the computers. 
Herrick did bring the good news that retired MCHS CTE teacher Mike Turner will be returning to MCHS to fill in for Herrick for the rest of the school year. Turner formerly taught engineering and construction at MCHS. Even with Turner coming back, many students will feel the loss of Herrick at the school. 
"I will definitely miss him. Having him in class and getting to see him is a highlight of the day," Senior Neel Mistry said.
Mistry has participated in many presentations for the engineering department, which brought more money in from donors.
Overall, the engineering students will miss Herrick but expressed their happiness for him in following his dreams. Herrick will no longer be working at MCHS, but he will always be a field trip or a family vacation away.