Shibata Breaks Individual Swim Record; Leads Relay Team to Another
 In February, the Madison Lady cubs knifed their way through the pool to break two records at the Floyd Central Sectional meet. The 200 medley record, previously set in 2002, was beaten by freshman Avery Johnson, freshman Mei Shibata, junior Emily Nay, and freshman Reilly Kuppler, and Shibata personally broke the 200 individual medley relay record. These achievements are not without hard work behind the scenes like any record-breaking performance.
Ashley Schutte, MCHS swim coach, expanded upon these exceptional swimmers' work. "(The swimmers) are committed to working relentlessly on stroke efficiency, fast turns, good starts, and finishing a race strong…to achieve their record-breaking success this season." 
Kuppler expressed a similar sentiment to Schutte.
"It shows that even though the record out there might be hard to break, we have enough willpower to fight for something we really want," Kuppler said.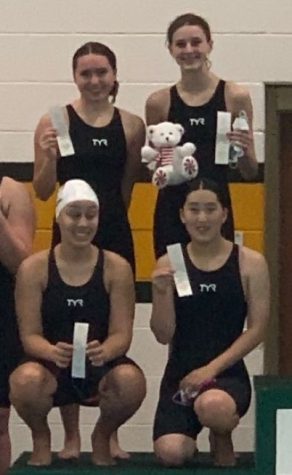 One Lady Cub swimmer that stood out, in particular, is Shibata. She displayed exceptional talent and diligence within her sport. According to Schutte, Shibata can outswim almost anybody.
She has swum with MCHS since she arrived in America shortly before her seventh-grade year after temporarily moving to the states from Japan. In that time, Shibata has shown "her abilities to be wickedly efficient in all disciplines," according to Schutte.
Shibata explained the differences between American swimming and Japanese swimming. According to Shibata, the significant difference is the difficulty of the training. In Japan, it is more intensive; for example, she had to swim 10,000 meters every day. In contrast, the MCHS swim teams typically divide practices between distance, sprints, and technique work. Additionally, Japan practices with more tools when swimming, while at MCHS, they are only used during warm-ups or drills. 
Lifestyle is an essential part of an athlete's life, and Shibata's philosophy is no different. While Shibata leads a "regular life," she believes that breakfast is the most important meal of the day, like many Americans.
"If you don't eat in the morning, the energy to move your brain and body will not be activated," said Shibata.
Shibata shared the same sentiment about sleep; it is crucial to get enough sleep to be the most productive.
Unfortunately for MCHS swim, Shibata intends to move back to Japan with her family this summer.
"We have so enjoyed Mei and her family and will miss them when they return home. We wish her the best of luck as she re-enters competitive swimming in Japan," Schutte lamented.
Even with the loss of Shibata, the young talent housed by the MCHS swim teams are considerable, and the Lady Cubs will return three record breakers on next year's squad. It truly represents why Schutte felt MCHS swim "had an incredible season and the most decorated and successful season in recent history."