Stewart to Retire after 34 Years at MCS
One of Madison Consolidated Schools' many excellent teachers is saying goodbye this year. Maria Stewart, who was not originally going to be a teacher, is leaving after 34 years at Madison. Mrs. Stewart taught for 19 years in 8th grade, nine years in 7th grade, and six years at the high school.
Mrs. Stewart studied at Purdue to become a mechanical engineer for 2½ years. After co-oping for two work sessions at DuPont in Parkersburg, WV, she decided engineering wasn't for her. She saw too many families forced to transfer to different plants, and she wanted somewhere to settle down and start her family.
Her parents had always told her she would make a great teacher because she was the oldest of four children born within five years. She was always helping one of them with homework. She also enjoyed her aunt talking about teaching and figured she would try.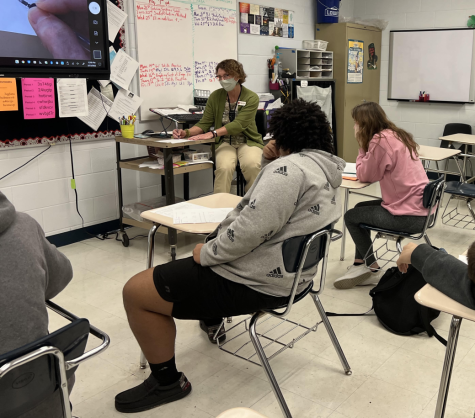 Her husband, Mark, a teacher currently at Madison Consolidated Junior High school, and Mrs. Stewart interviewed at the same time and were hired together as MJHS teachers in 1988. As a matter of fact, the pair is going to retire together, as well.
She eventually became involved in athletics, where she coached the junior high volleyball team.
Stewart said, "Coaching junior high volleyball was one of my favorite memories being here at Madison. The girls were great. I remember bringing my firstborn home from the hospital and six volleyball players showing up at my house after the awards banquet wanting to hold my baby girl."
Another favorite memory was getting to know the kids and dressing up with them on spirit weeks. She was also known to chaperone many Washington D.C. field trips, ice skating, roller skating, bowling reward trips, and countless dances, sometimes with her husband by her side.
A saying she has learned along the way is, "If this is the worst thing that happens to me today, I will be okay." Mrs. Stewart says this quote helped her let go and move on when things got rough.
The love story of Mr. and Mrs. Stewart will continue to grow even after they retire together. They plan to travel and visit family. They want to take care of aging parents and see their friends and relatives in other states. They will primarily spend more time in Texas with their granddaughter, Raylin.
"It has been a true joy to watch our former students grow up and raise a family, and now we are teaching their children. We plan on staying in Madison for a while…." The Stewarts started their career in the Madison Consolidated School system and are now finishing here. They have been and always will be part of the Madison family.