MCHS Coach Starts New Trend for Lady Cubs Basketball Games
The Lady Cubs basketball team fought hard against Silver Creek in the second round of the IHSAA sectional tournament but fell short and ended the season for the Lady Cubs. Even though the Lady Cubs didn't make it through sectionals, they had a good season making new records and forging new traditions. 
One such tradition involves Madison Consolidated High School Lady Cubs Assistant Coach Adam Dennis. Dennis explained he was incredibly proud of the Lady Cubs this season and wanted to share their greatness with the Madison Community. So, he started bringing Little Debbie treats to reward the students who sat in the student section at girl's games and encourage more students to attend sporting events.
Dennis said that he uses the Little Debbie treats to connect and motivate more students into experiencing the hard-working team on the court.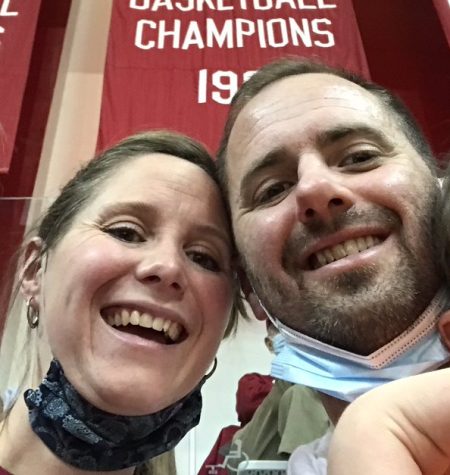 Sophomore Kallie Eder said, "He saw that we needed more students and that we didn't have a student section for girls (basketball games). He saw that and tried to act on it by buying treats for everyone to try to get people to go."
Eder, along with other students, was frequently seen in the student section and has interacted with Dennis on many occasions.
"I have enjoyed meeting and getting to know many of the students that consistently come to the games," Dennis said. "I want you guys to know that we see you, and we appreciate you!" Dennis also said he "feels obligated to make things better for future students."
Not only does Dennis want to show off our athletes, but he also wants to show off the facilities that the athletic department has worked hard to improve. 
"With the updates that MCS has made to it [Connor K. Salm Gymnasium], I think it is one of the best places in southern Indiana to watch or play a game."
Connor K. Salm is just one of many venues and areas MCS has upgraded over the last few years.
Dennis' efforts appeared to be paying off towards the end of the season.
Senior Neel Mistry said, "I definitely think the incentive started working. Especially right before sectional time, there was a nice crowd there."
Freshman Sarah Adams' said, "It [The Little Debbie cakes giveaway] is definitely an incentive for those who are not likely to go…it seems like more people are starting to come. It's just getting them to participate more than we need."
With the implementation of the plan, more students attended games. However, Dennis strives for a better future where students attend games to support their classmates, not for Little Debbie snacks. 
Even though he's looking ahead, Dennis knows that you have to start somewhere. He said, "If a Little Debbie cake in some way motivates a student to come and watch the girls play, it is a small price to pay."
Dennis didn't stop with the Lady Cubs, though. He also organized a spirit competition between the junior high and high school to see whose student body would support the boys' team the most before their sectional. Dennis' junior high won in a landslide.