Why MCS Is in Session for Martin Luther King, Jr. Day
In years past, the Madison Consolidated School system had no school on Martin Luther King Jr. Day. Recently, the schedule has changed to where students will be in school that Monday. This year MCS schools were scheduled to be in attendance for the holiday until MCS declared a virtual learning day due to COVID issues.
The consensus seems that teachers and students at Madison Consolidated High School believe that being in school provides an opportunity to educate all students about such an influential historical figure.
Interestingly, many students are concerned about their teachers not bringing up the topic of the Civil Rights Movement or Dr. King at all on the observed holiday.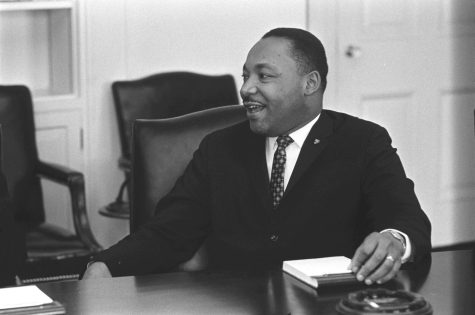 Sophomore Davon Resendiz said, "I think it will just be another day of school." In comparison, senior Jaylin Lee observed that our school system tends to overlook essential events in American history like Martin Luther King Jr. Day, 9/11, and Pearl Harbor Day. 
Madison Consolidated High School history teacher Shannon Barger has mixed feelings about being in school for MLK Jr. Day. He believes that we should be in school, and teachers can choose to educate their students on the Civil Rights movement at their discretion. However, Barger's reservation about school being in session takes away a volunteer opportunity from his U.S. History students who assist the city in their celebrations.
Other faculty members have said they have a problem naming anything after a specific individual.
MCHS full-time substitute and veteran educator Helen Cope said, "As much as I love the names of the streets around here that have been named from people, I think that it's hard to pick individuals." Cope continues to say that there were many other influential people in the civil rights movement other than Dr. King, who was "phenomenal" but was not alone.
The common opinion from our students and staff is that being in school allows students and teachers to learn more about the Civil Rights Movement. Some students think that the teachers and staff won't talk about Dr. King or his accomplishments because they have a strict schedule and don't want to get behind.
Lee continued, "I don't mind us going to school, but I definitely think we should have education on it."
MCHS English Program Leader and veteran teacher Jake Shockley described that being in school provides a better opportunity to learn about Dr. King and the Civil Rights Movement.
"I think it's better to be in the building so we can learn about the history and the man rather than being at home and possibly not recognizing while we have the day off, to begin with," Shockley said. "I'm sure many of my colleagues feel the same way."
The only issue is that many teachers do not talk about Dr. King because they don't have time.
For example, A.P. teachers may feel rushed to push their classes forward to get all the material in by the A.P. tests. Also, some general classes may be using curriculum maps and the teachers of those courses are trying to push the curriculum forward while staying in step with their colleagues.
MCHS principal Michael Gasaway said that he had considered holding a Martin Luther King Jr. Program during the school day so all students would have an equal opportunity to learn about Dr. King,  the Civil Rights Movement, and other very influential leaders.
While it is a shame that many students believe that MCS does not do enough to educate its students about Dr. King, he was a powerful speaker who used nonviolence to get his messages across and fought for equality. While a day off of school for Martin Luther King Jr. Day seems great for students, many of the educators believe attendance for Martin Luther King Jr. Day allows MCS to educate its students and widen their knowledge on American history that greatly influenced our nation.