Editorial: There's No Place Like Home
There's No Place Like Home
Our town often is taken for granted. We typically never realize how great it is to live in a smaller town. We see the potential of a bigger life in cities like Indianapolis or Louisville. We see the big sports teams and the places to hang out with friends, and we wish that we could be in a bigger city. Here in Madison, young drivers find themselves driving around with friends as a pass time because there is nowhere else to go. Many sports fans drive hours to see their favorite team play, knowing that it might be the only chance they get to watch their team live. It is typical for us to look beyond what we have to what we could have, but Madison has events that big cities don't have.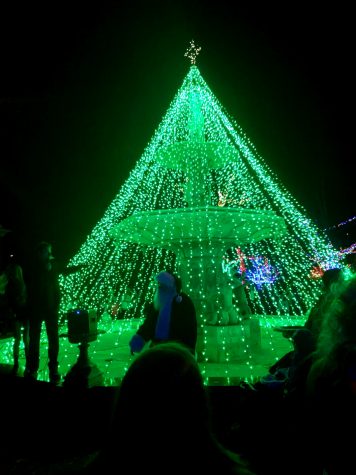 Last Friday, November 26, Mayor Bob Courtney led our town in a countdown to the lighting of the tree at the Broadway Fountain. Families from all over town gathered to bring their kids to see Santa for the first time this year and see all of the pretty lights. Citizens of all ages gathered with their friends in 30-degree weather to watch as Christmas finally hit town. You won't find many ceremonies like this in other places. You won't find the mayor talking with the people of the city, calling them by name. You won't find shoppers gathering in the center of town to see someone turn on a few Christmas lights. 
The Christmas Tree Lighting isn't our only small-town event either. There's also the Christmas Parade, the Regatta Parade, Chautauqua, Ribberfest, etc. Madison has so many occasions where everyone gathers to see performances from our schools, merchandise from small businesses, and the best our town has to offer. Madison still has something to offer, and maybe that's why people come back after seeing what the rest of the world lacks. Madison may not have the shiny buildings, but we do have small-town events and togetherness that you can't find in a big city.