Three MCHS Cheerleaders Chosen As All-Americans
Three Madison Consolidated High School cheerleaders were chosen for the Universal Cheerleading Association All-American team. MCHS seniors Lily Konkle and Alli Holcroft and junior Jayme Lee recently received the honor. The three cheerleaders and the rest of the MCHS cheer squad traveled to Silver Creek Middle School in Sellersburg, Indiana, from July 23-25 for a UCA Camp. After being selected as an All-American by the UCA, the recipients then have the opportunity to cheer at special events around the country, including the latest event at Walt Disney World in Orlando, Florida. Konkle also received the high honor of jump queen, which is similar to first place in that category.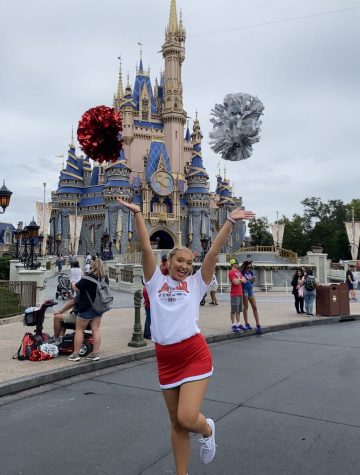 MCHS Cheerleading Coach Hannah Oliver said, "At camp, we learned dances, chants, cheers, and stunt techniques. It was a lot of work and very fast-paced. The days were mentally and physically draining, but the girls learned a ton and enjoyed bonding as a team. We have had girls named All-American in the past, but this year is the first year that anyone from our school has actually attended one of these special events. So, it is very exciting!"
At each camp, coaches can choose a handful of girls to try out for All-American. Once selected, the girls try out in small groups in front of everyone on the last day. The chosen cheerleaders then perform a short dance and cheer and do their best jump. The staffers judge the tryouts and select a handful from the overall group to name All-American Cheerleaders. These participants then have the option to attend special events around the country.
"Becoming All-American takes hard work and dedication," Oliver said.
Lee said, "Being an All-American cheerleader is rewarding and hard work. To be an All-American cheerleader, you have to showcase what a true cheerleader is, and training up to that takes a lot of dedication and work."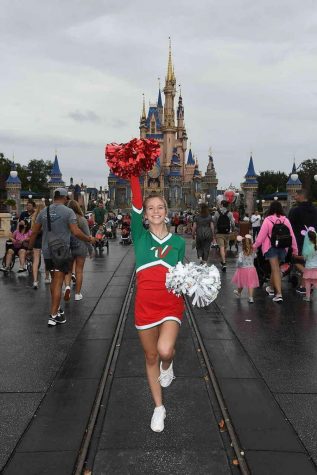 Holcroft said, "I have always wanted to go far in cheer, but I never realized I would be cheering at Walt Disney World. It was truly a huge moment for me when I realized what all I accomplished." 
Once the coach chooses who competes on the All-American stage, the cheerleaders then have to show their mettle in front of five cheer staffers who judge their performances.
Holcroft said, "You have to do a cheer, a dance, and a jump. All are muscle memory, and you have to do them perfectly to be chosen. One mistake can mess it all up for you."
Even if a cheerleader is chosen, it can be difficult for the performers to make the trips. A trip to Florida during the school year can be difficult for a high school student. This year, only Holcroft and Konkle were able to make the trip.
Once there, they will partake in the pageantry one can expect of a trip to Disney World.
"We will be walking in a cavalcade which is just a fancy word for a parade, but they had to rename it because of Covid. We will be meeting girls all around the country, we get to enjoy our time in Walt Disney World, and so much more," Holcroft said.
Oliver continued her praise. "I am super proud of these girls for their hard work and effort and for representing MCHS so well. Not only did these three get special recognition, but the girls got the highest ratings on all of their performances and won an overall camp trophy at the camp. I am proud of the whole team and look forward to these girls representing us well in Florida.
UCA trains over 180,000 cheerleaders every summer at over 3,200 sessions across the country and is the largest cheerleading camp company in the world.