Trades to Make Right Now in Fantasy Football to Win Your League
It's been a rough fantasy football season this year. And if your team is currently 5-4 through week 9, honestly, props to you. We've seen a spiel of injuries, Covid, and mental health struggles through the season. And with a crisis of scarcity at the running back and tight end position, here are the top fantasy football trades to make with the deadline right around the corner to set you over the edge against the rest of your league and win you the 2021 fantasy football season.
All trades and information are based on 10-12 man full PPR leagues.
Buy Low:
QB, Patrick Mahomes, Kansas City Chiefs
Right now, Patrick Mahomes is playing the worst football of his career. He's already thrown ten picks this season, and he's on pace to break his personal worst twelve interceptions during his second season in the NFL. He currently has a QBR of 92.5, and the Kansas City Chiefs are now 5-4 sitting at just 3rd place in the division they've dominated for the past three years. So you may be asking me, "Why should I trade for him?" I have one answer for you. He's. Patrick. Mahomes. Mahomes is the same guy who threw fifty touchdown passes in his first season in the league. He is the same guy who tosses no-look passes with ease. And lastly, this is a Super Bowl Champion who is still one of the best players in the league. Now I'm not saying thirty more touchdowns are on the horizon, but this slump isn't going to stick, and he'll find a way to pick it up.
So I would be offering someone like maybe a Jalen Hurts or Matthew Stafford, and maybe package some guys together to make a trade for a solidified stud to help you have the edge over your league when it comes time for the playoffs.
RB, Dalvin Cook, Minnesota Vikings
Dalvin Cook is at the worst place in his career. He has missed a handful of games already this season and hasn't played the best or to his best capabilities all season. He currently has two touchdowns and only two twenty-point or more games this season in fantasy. Injury has been a genuine concern for Dalvin Cook these last two years, and with a great backup in Alexander Mattison, they have no problem reserving Cook for any given injury. And he is currently facing accusations of assault against his ex-girlfriend, which the league is looking into. Again, you might be wondering why you should trade for Cook then. Well, this is a perfect opportunity to go out and steal a stud from somebody who may be in doubt of his current health and situation. And with these issues, you can lowball his current managers all day long, especially if they need help in other areas and are desperate to get a spot in the playoffs.
So given this information, I would be offering mid to low-range RB 2's and maybe a WR 2 or 3. Try to find somebody on your roster who is performing well now who you don't think will keep up their current pace.
WR, Jerry Jeudy, Denver Broncos
Jerry Jeudy is currently in his second season in the NFL and has yet to have a breakout stretch of games in his time in the NFL. And with coming back from an ankle injury that sidelined him for about eight weeks, it's hard to like Jeudy right now. But since coming back from his injury, he has been targeted on 25% of his pass routes this season, and since his injury, other wide receivers Courtland Sutton and Tim Patrick targets have gone down. And with this Denver team striving right now, playing the best they have in a few years, Jeudy is an excellent buy-low target to get now before it's too late. 
I would be sending a team with Jeudy, a mid-range RB 2 and maybe a wide receiver who is performing well right now and won't keep it up.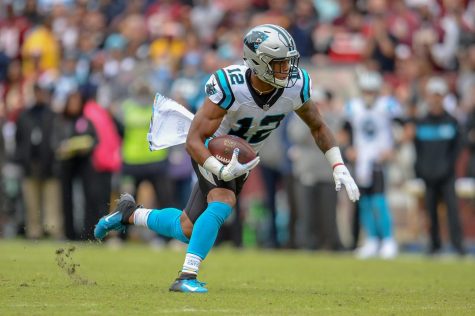 WR, DJ Moore, Carolina Panthers
Listen, DJ Moore has fallen back down to earth. The Carolina offense has been ugly the past six weeks. And Moore's hot start to the season has since plummeted. The team has been 1-5 since their hot 3-0 start. With Sam Darnold being out for 4-6 weeks and with the recent signing of Cam Newton, things are a bit questionable in Carolina. But the thing that people are forgetting is a guy by the name of Christian McCaffery. DJ Moore has his best weeks (1-4) when McCaffery is on the field. Since McCaffery has been sidelined, he has a total of 50.5 points through week 9, compared to his 89.7 points in just through week 4. This is a vast eyebrow-raiser, and it doesn't look good for him right now. But, with the recent signing of Cam Newton and Sam Darnold's placement on IR for at least 4-6 weeks, things are about to change for this offense and DJ Moore. His decline in production can't last for the rest of the season. It's the perfect time to get a guy performing like a top 5 receiver throughout the first few games of the season.
Again, I would be offering things that fit the team's needs, like RB depth and maybe a WR 2 for DJ Moore.
WR, Mike Williams, LA Chargers
We're looking at the same deal here with Mike Williams. A guy came out the gates hot putting up WR 1 numbers through the first five weeks, then came back down to earth and is losing his managers' games. Through the first five weeks, Williams was putting up an average of 23.2 fantasy points per game higher than Tyreek Hill, DeAndre Hopkins, Amari Cooper, Davante Adams, and Stefon Diggs. But through the last four weeks, he's been frustrating. He's put up a whopping total of 16.4 fantasy points with a bye week during week 7. That's very underwhelming. But, if you look a little deeper into his schedule, he played Baltimore and hurt his knee during that game. He only played 36 percent of the snaps. He played against New England, and we all know Bill Belichick takes away the primary option. And last week, he played at Philadelphia and had Darius Slay shadow him the entire game. So, when you look at these games and think about them, you have to believe it may not be on him. I believe his week ten matchup against Minnesota will be the real test as Minnesota currently allows the 8th most fantasy points to wide receivers this season.
So for Mike Williams, again, you want to be lowballing offers here. I would offer RB 2 and WR 2 types of players to go out and potentially get a stud for the rest of the season.
RB, Saquon Barkley, NY Giants
Saquon Barkley is driving his fantasy manager's season right into the dirt. He hasn't played since week five if you want to count that game in which he only had two rushing attempts. Listen, his first couple of weeks were rough, putting up only 12.6 fantasy points which are frustrating to managers who drafted him in the first round, but the following two weeks, he had a whopping 51 points. He had 29 rushing attempts for 103 yards, two rushing touchdowns, 11 receptions on 13 targets for 117 yards, and one touchdown. He was dominating. But, since then, he hasn't played for 4-5 weeks, and he's out for week 10 with a bye. But he is looking to return for week 11 against Tampa, which isn't the best matchup, but they are missing a lot of weapons right now, and they need whatever they can get. I look for him to come back this season when healthy, and you can buy him cheap, and he can produce for you in the playoffs.
So for Barkley, you should be offering an RB you can sell high on now who you don't think will be performing late in the season.
WR, Hunter Renfrow, LV Raiders
Yes, you are reading that correctly. Hunter. Renfrow. You can count on this guy to get five catches on seven targets for 50 yards and sometimes a touchdown, which, if you didn't know, is around 10-16 points weekly. And if you're asking me why you should buy this guy, it's because there are not many other players out there that can do that for you. Renfrow is averaging 13.9 fantasy points this season with one game under the 10 point mark in a tough matchup against Denver. This guy is a proven quality flex option on any given week. He isn't a guy that's going to wow you with touchdowns or 100-yard games, but if you're looking for consistency, which I hope we all are, then this is a guy who you're going to want to try and get. And with the tragic incident with Henry Ruggs III, Renfrow now moves into the number two target on the team behind only Darren Waller. Without Ruggs, Renfroe has had back-to-back identical games with seven receptions on nine targets for 49 and 46 yards for a touchdown in each contest. That equates to 17.9 and 17.6 fantasy points over the past two weeks. He is a guy you should be investing in because he is likely undervalued still by the manager that currently owns him.
So for Renfrow, I would be offering a current flex option or an RB 2 or WR 2 that is currently performing well.
WR, AJ Brown, Tennessee Titans
The last guy I can't stress enough to go out and acquire for your team to win the championship is AJ Brown. Now listen, Brown has had a rocky season so far, but if 31.5 and 27.3 point performances in fantasy this season don't make your mouth water even a little bit, I don't know what will. There aren't many guys you can buy low with performances like that. Since Derrick Henry's potentially season-ending injury he suffered in week eight against the Colts, Brown has had 44 fantasy points, which is okay. But, if you look at the opponents they've gone against, you'll see something, two tough matchups in a row against the Rams in LA in week nine and a home game against the Saints in week 10. These two matchups gave him a total of 12.5 fantasy points, which is scary. And that's why you go out and grab him now cheap, while you still can. If you look a little closer, since week 6, Brown has seen 44 targets thrown his way, and since Derrick Henry's injury in week 8, he has seen 26 targets, two of those games being eleven target games for Brown. The target count is very encouraging to see, but his past two performances have not looked suitable for his managers. That's why you snatch him up now before the deadline ends in the next couple of weeks, as he faces the Jaguars, the Steelers, the 49ers, and the Dolphins all in the playoffs this season, which are all favorable matchups for Brown.
So for AJ Brown, I would be offering a mid-tier WR 2 or if his current manager needs a running back, get them to bite on a running back that's playing better than he should be.
Sell High:
RB, Christian McCaffery, Carolina Panthers
Look, I know when healthy, this is the best running back in the league. But, did you see what I just said, "when healthy"? McCaffrey hasn't been healthy for the last two seasons. He came back from a hamstring injury that he suffered during Week 3 against the Texans, which sidelined him for six weeks, and in week 9, he was a little disappointing, putting up 14.6 fantasy points. He had a good performance in week ten against Arizona, but he went into the medical tent to get looked at during the game. I mean, this guy cannot stay healthy. I know you probably took him with your first pick, but look at your record and ask yourself if he performs like your first pick. Probably not. And he has tough matchups against Buffalo, Tampa, and New Orleans, all in the playoffs. But the good thing is he isn't a complex piece to sell. 
So for McCaffrey, I would accept nothing other than an RB 1 or WR 1 with a WR 2 or RB 2 option.
RB, James Conner, Arizona Cardinals
You have to trade this guy right now. His definition of the ceiling was his week nine performance. 40 points. C'mon. I'm telling you right now he's not going to be able to do that every week. You know that, but this week proved it. And yeah, the Cardinals all together did not have a good day, and I'm not saying James Conner had a bad game. He still had 15.4 fantasy points in week 10. But you need to sell him now while you still can because if you told me you could get a high-end RB 2 or a mid to low-end RB 1 for James Conner this season, I would have laughed at you. But, here we are in week 11 of a glorious season of fantasy football, and that opportunity has presented itself. If you can go out and get a guy who can win you playoff games in fantasy this season for a guy who probably won't even be starting by the time playoffs begin, you need to be all over that deal.
So for Conner, I'm not taking anything other than a high-end RB 2 or WR 2, and if you can squeeze a WR 1 or RB 1 from somebody, hit the accept button as fast as you can.
RB, Alvin Kamara, NO Saints
I know this guy was the best running back last year and has been pretty great this year. It seems like he's the only offensive weapon left on decimated Saints team at the wide receiver position, but you need to get rid of Alvin Kamara. Kamara missed week 10 with a knee injury that has bothered him in the past. But, if you look at his stats for this season, he's played pretty outstandingly. He's on pace to have more rushing yards than he ever has in any other season in his career, and he leads all Saints running backs and pass-catchers in fantasy points, touchdowns, and yards. But, before the trade deadline in the NFL, the Saints traded for Texans running back Mark Ingram II to begin his second stint with the organization. Since the acquisition of Ingram, Kamara's production has decreased by 15%. Which you might say, "that's not that much of a decrease," well, since week 8, his rushing attempts and targets have gone down a noticeable amount. Not to mention that the Saints are not afraid to sideline Kamara with Ingram back on the team until he is fully healthy again. And he has tough matchups in the playoffs against Tampa Bay and the Bills, who are the number one run defense in the league. He could be a league loser if he stays on your team, so this is why I'm avoiding him for the rest of the season.
So for Kamara, I would be selling him for nothing other than an RB 1 and a WR 1 or 2 that you know will get you wins in the playoffs.
WR, CeeDee Lamb, Dallas Cowboys
Listen, CeeDee Lamb is a great NFL wide receiver and should be rostered in every fantasy league, just not yours. If you're winning games with him every week, props to you. Lamb is just one of the most inconsistent players in fantasy football. He is a talented football player and will be for years to come, but he can't do it with Amari Cooper, Ezekiel Elliot, Michael Gallup, Dalton Schultz, and Tony Pollard lined up next to him. Yes, all those guys I just mentioned are a part of the Cowboys' offense, but the bad thing is, there's only one ball and only 60 minutes in a football game where the offense usually only touches the field for about half of it. Now, if you look at Lamb's production this year, it's pretty good. But, more than likely, he's probably lost you some games, especially if he's the WR 2 on your team. He's had some monster performances that won you the week, like week 10, where we saw Lamb score 28.6 fantasy points with a stellar two-touchdown performance. However, we've also seen him put up 9.5 fantasy points in week 3, 3.3 points the following week, and 4.3 points in week 9. I think Lamb is the best receiver on that team, but his share of touches will be capped. Coming off this 28.6 point performance, I think it's the perfect time to trade CeeDee Lamb.
So for Lamb, I'd be taking a stronger and more consistent WR 2 like Keenan Allen, Adam Thielen, or Diontae Johnson.