New Band Director Expects Atmosphere and Results Will Improve the Program
The Madison Marching Cubs are back with the 2021-2022 season with a new director, Ms. Hannah Johnston. She is looking forward to a great year with the Madison Marching Band and working towards a great year. She plans to achieve that by making a place where it's fun, safe, and just a place where people are just looking forward to having a great time and their hard work pays off.
"My big goal for the marching band is to develop a really good community happening here in Madison, Indiana. Marching band is just a place where the students just enjoy being here. They take care and encourage each other, and just taking responsibility for our actions, so we know that our actions lead to whether or not we are successful," Johnston stated. 
Developing trust and relationships is not the only key to a successful band according to Johnson. The team obviously has to develop musical skills as well.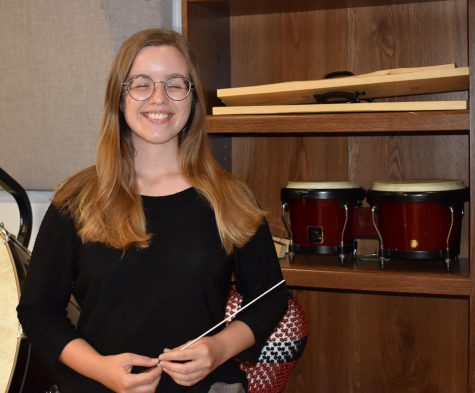 "Music-wise, I hope to sound really good, look really good, build those fundamentals that make us successful in a performance and hopefully grow in size and performance success and just move on up to ISSMA (Indiana State School Music Association) ranks."
The Marching Cubs Will perform at the MidStates band contests where marching bands from Indiana, Kentucky, and Ohio compete. There will also be an invitational at Floyd Central and the aforementioned ISSMA competition.
"Fingers crossed, we are working hard for it and going onto ISSMA state finals," she said. 
When it comes to growing her numbers, Johnson feels like the results will speak for themselves. She explained that it wasn't just her program; it is the whole band's program. 
"People just come to the marching band; we don't need any fancy fliers or gimmicks. If what is happening is a good thing and word of mouth just gets around. It also takes respecting each other; it takes working hard and focusing when it is time to focus and just being silly and having fun when the time is right, and just making a place where people know that they will be valued and respected." 
She would like to see more people joining the band because she keeps seeing students in her class who have previously been in marching band and quit for various reasons.
"I see them, and I just think they would just have so much fun with the concert band and us too." 
Johnston added, "It is just a privilege to be at Madison because everyone cares about each other. They want to work hard and just make it successful."
You can check out your Madison Marching Cubs in competition or currently watch them at the Madison home football games.