MCHS' Close-knit Volleyball Squad Looks to Take the Next Step
Madison Consolidated High School Head Volleyball Coach Camille Crim and her team are showing striking evidence for a solid season. Coach Crim has been working with her team on polishing up their skills for the ladies' first game. The volleyball Cubs' had their first game on August 17th, where they defeated Batesville. Whether it be Crim's coaching, the team's energy, or working together, they have pulled off the first of what the team feels, many wins to come. 
"I plan for this to be our best year yet; I think we have built up a lot of our foundation and our girls are self-motivated and ready to win," Crim said. "We just have a lot of fine-tuning to do. There aren't major improvements that are needed, and (we're) just learning to play with a new setter."
While Crim's expectations are high, some on the team are reveling in the camaraderie of the sport. 
"Bonding with the team has been incredible; everybody is here for one purpose, and that's to go out and go hard on the court. We love each other, and that just makes the mess-ups and the hard days even more worth it because I know if I struggle through a drill or hard run, they've got my back. And that's been a great strength of our team. With it being my last year playing, I'm just trying to take everything in and love it all," said senior Brooklyn Cornelius.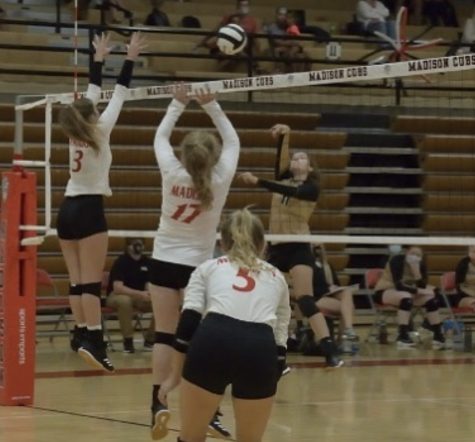 Cornelius continued, "I struggle seeing why I'm on the court sometimes, I see myself as they could be doing this better without me, but that's where my teammates come in. They say, no, you're here for a reason. So as long as I just keep reminding myself that I have something to show and let's get out there and let's do it. If I mess up, there is always another point out there for us to go for. 
Kallie Eder, sophomore, states, "Working together as a team is what I am most passionate about. It is nice to be able to work together, and just seeing it all come together at the end of the season is going to be nice."
"I am most excited to see our progress and see how we do because I know we are going to be good – better than we were last year. So, it's exciting to see how we will end up at the end of the year, and I think we're going to go farther in sectionals," Eder said.