Stotts Looks to Bring Youthful Energy to Cubs' Hoops Program
Over the summer of 2021, Adam Stotts, coach and English teacher at Madison Consolidated High School, decided to come back to MCHS to become the head basketball coach. 
For the upcoming season, Stotts already has game plans in mind for his team and has been communicating with the players on how things will be done differently than in previous seasons. There are many things that he has planned, such as defense and offense plans. 
Stotts stated, "We are going to do things differently. We will run a little bit different type of defensive style. Our offense will have a lot more screening and movement. Overall, I have been preaching this off-season to talk, bring energy, and really competing in every single thing we do. We have a word of the month and this month (the word) has been "compete."
At the end of the 2020-2021 school year, Stotts decided to move to Floyd Central to coach and teach. With him being gone much of the summer to prepare for the new position, he changed his mind and wanted to come back to Madison because MCHS did not have a head basketball coach, so the position still held, and he took that opportunity. 
Stotts said, "It all happened fast, but I loved it. The administration made it clear they had an interest in me and wanted to make something happen. I feel like the actual interview process went really smooth, and I enjoyed it because I had the chance to come back to Madison after being gone all summer."
The team has started conditioning and working out to prepare for the upcoming season. So far, they have been focusing on conditioning and small details such as confidence to get them ready for opponents.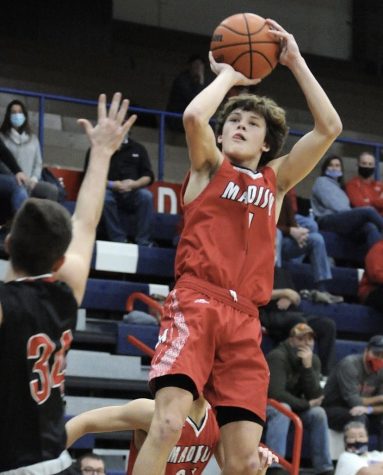 Junior Kaden Oliver stated, "I think it's a good addition because he is a younger coach, and he'll have a new style of play."
Stotts wants to create a system that will bring multiple coaches together to build a better future for the Madison community. With his contribution to the team and the community, he is looking forward to having a successful school year and basketball season. When on a team of any sort, communication is critical to be successful. 
As Stotts said, " I feel like we are going to have to get better at a lot of little things this year. We lose six seniors coming into the season. That's not easy to replace. I think it's going to be us trying to create an offense that allows decision-making, a lot of complex reads by our players, and confidence more than anything. My motto is "do the little things." Our players already know from conditioning that we focus on tiny details that I think will ultimately determine how successful we are. I also want us to be in unison from top to bottom. I want all coaches from middle school, feeder system, and high school to all be together and work to create a system that will provide success for the future of Madison."
Becoming the head coach from already being an assistant coach will be a new transition for Coach Stotts. Assistant coaches will help with more of the behind-the-scenes aspects of coaching. They're still on the courts at every game, communicating with each player on what they should work on and improve. Stotts has reassured and communicated with his assistants on what they could do to improve and create a new environment for the players and community for this season. 
Stotts stated, "I feel like as the assistant, I really focused more on what I could do for the coach. Whether it was taking care of pre-game activities, making sure I got to talk to players about what we needed from them, etc. I was always looking for things to do. Now, it's the opposite. I have been in constant contact with my assistants on what we need to do or can do to create excitement and growth. I also am constantly having new projects I want to work on. Whether it be the youth programs, checking on middle school teams, talking to coaches or potential coaches, working with our current athletes, or just organizing anything for the upcoming months! It's a very different role."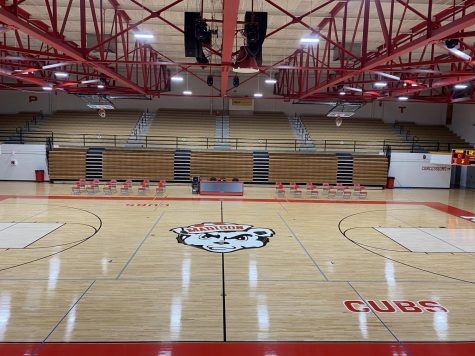 There are many new additions to the team this season, including the freshmen. This will be a new start to new game plans for them since Stotts will be trying fresh strategies for the team. 
Freshman Adam Traylor stated, "I think he will add a different kind of energy than we had last year. I liked him when he was the assistant, and I liked the energy he brings to our team. All around, I like how he coaches. I think it will be a good year."
With the youthful exuberance and the positive statements from all of the players, the Cubs may start their season with positive energy in the hands of Coach Stotts. 
The Cubs have started their conditioning workouts to get ready to start the upcoming basketball season. Considering no interruptions or complications, the Cubs will begin their season with a scrimmage at home against East Central High School on November 18.