Fresh Faces Highlight an Early Start To the Lady Cubs' Golf Season
The Madison Lady Cubs golf team annually starts their season before school picks back up. This year fall sports were allowed to start official practices on Friday, July 30th. The Lady Cub's first tournament was on Monday, August 3rd, three days after official practices were allowed to start. While the summer provides some freedom to practice, the practices must stay voluntary per the IHSAA rules. Yet, before the school year even begins, it can be an awkward transition with the early start.
Lady Cubs Golf Head Coach Jake Shockley said, "They [IHSAA] are trying to get the season in before the weather turns and before schools leave for fall break." 
Junior Grace Bronkella said, "I don't think the season should start later because, towards the end of our season, it gets cold, and I don't think it is very enjoyable to play in cold weather."
The IHSAA may not be able to push the start of the season back because of weather issues, but they could let practices start earlier.
Assistant Coach Shannon Barger stated, "I wish the IHSAA allowed more practice time before competition starts. That would benefit schools like ours because we only have a couple of girls who play a lot in the summer." 
Sophomore Gracie Gasaway made a similar statement saying, "I wish that we had just a bit more mandatory practices beforehand so we could've got more comfortable with our lineup."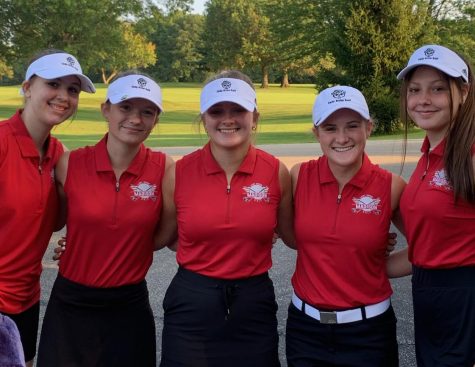 Despite starting early, the Lady Cubs have differing opinions on whether the early start is good or bad. 
Freshman Lilly Fox wishes that the season could start a little later. Fox stated, "I would prefer most likely for it to maybe start a little later because I am a four-sport athlete. My whole summer was full of sports, so I was a little tired and did not have much free time."
Some team members, such as junior Reagan Warren and Gasaway, prefer the early start.
Warren stated, "It gives us opportunities to go support our classmates with their sports." 
Gasaway said, "I think it starts at a good time because it allows us to get into a schedule without the stress of school."
With the quick start to the season, it makes putting together a lineup difficult for Shockley. "Usually, players are returning, and I have an idea where they will fit. It's the freshmen that are the question marks." Shockley only needed to fill two spots in the lineup for the first tournament with three returning starters. 
After the first tournament, Shockley changed things up and gave Fox a chance on the course. Shockley stated, "I was planning on rotating three different players, but Reagan (Warren) and Lilly (Fox) have been pretty solid for us in the lineup." 
Fox is only in her second year of golf and feels pretty good about the season so far. Fox said, "I am doing pretty well and having a great time with my team." 
This season will be Warren's second year as part of the Lady Cubs team, but it is her first season in the starting five.
"I feel like the season has gone pretty good this year, we've had some rough days, but overall we've done well," Warren said.
Along with a few new players, the Lady Cubs also welcomed Coach Barger to the team. Barger has also coached baseball, but this is his first season coaching golf. He said, "Coaching is coaching. I want to win and see our athletes perform their best; however, I also realize that golf is a little different." Barger also mentioned that the girls on the team are fun to be around and that he enjoys not having the stresses of being a head coach.
Bronkella reflected on the beginning of the season and said, "I think that it would have gone better if we had more practices before the season and more beneficial practices before our first match." 
Almost halfway through the season, the Lady Cubs will host the IHSAA Sectionals at Sunrise Golf Course on September 18th. The Lady Cubs are looking to win their third title in as many years, while Senior Keara Eder looks to get her fourth individual sectional win.