How Do They Get Those Wonderful Toys? (How the Athletic Budget Works at MCHS)
In the past couple of years, Madison Consolidated High School has made improvement projects its top priority. With the complete rebuilding of the auditorium and the brand new turf football field, these eye-catching projects have many people in this community wondering where the funding for these projects comes from. The answer to that lies in the enigma of the athletic budget, which The Madisonian, with the help of MCHS Athletic Director, Joe Bronkella, will break down. We will explain the breakdown of the facility budget, where the money from this budget goes, and how your ticket sales affect the MCHS athletic department. Here is how the MCHS budget and, particularly, the MCHS athletic budget works:
How the Athletic Budget Works
"There is a set budget of facilities that goes towards athletics. It's 10% of the overall facility budget, so a lot of it ends up going to the buildings for the academic classrooms or carpeting, upgrading, and painting," Bronkella said. "When you look at athletic money, to run a game, we have money that goes in to pay for officials, equipment, pay for workers – all that is generated from ticket revenue."
Surprisingly, according to Bronkella, the corporation budget does not assist the athletic budget very much.
Bronkella continued, "The corporation doesn't give us operating money; that is all based on ticket sales. When we sell our season passes, that is a big chunk of helping us out. It gives people a discount to come to more games, plus, it gives us money upfront to be able to afford the games."
Ticket sales are not nearly enough to pay for many of the larger projects on Bronkella's wish list, however. Athletics can also receive up to 10% of the overall facilities budget. However, to complete these massive projects, such as the new turf field, the athletic department relies on extra funds specified for athletics called bonds. 
"Bonds are paid with tax dollars. When they make a bond sale, they lose a certain amount of money, and that money has to go to facility upgrade or upkeep. With the bond that worked on the turf facility with the track, they also did a large amount of it with the HVAC systems (our heating and air) and roofing and solar. The price tag for the bond was right around 5 million dollars, and $1.8 (million) of it went to the athletic part of it, and the rest of it went to upkeep. Then we have done some of the other projects that have come from it as well," said Bronkella.
How the Athletic Budget Does and Does Not Tie Into the Overall Budget
People in the Madison community may wonder why we are funding expensive projects instead of using that money to pay and hire new employees and teachers. However, there is actually no way to funnel the facility money into employee pay since they are in separate accounts. "The school corporation has two accounts: one goes to facilities, so upkeep anything academic to athletic. The other side of it goes towards salaries for teachers. You can't use facility money in teacher money, and you can't use teacher money in facility money." Bronkella explained. 
Who Decides How to Spend the Money?
Another major discussion about the athletic budget is which sports program gets the money from the bonds and grants received by the athletic department. A special committee makes this major decision. This committee is the group that chooses which projects they will go forward with and which projects they will scrap. The facilities committee comprises numerous people involved with the school districts like parents, school board members, business owners, the superintendent, building administrators, and the corporation facilities director.
"We have a facilities committee that the corporation has put together. For example, a couple of years ago, they said, 'What is your wish list or top-notch items that you would want to do?' My thought process is, what is going to impact the most sports at once?" Bronkella said. "You look at a turf field out there, and most people would say, 'Oh, that's a football field.' Well, we got a football field that also outfitted boys and girls soccer because we played out there (and) played sectionals on it." 
According to Bronkella, one of the primary factors that go into deciding where to appropriate athletic funds is to figure out the most sports, and consequently, the most student-athletes that will be affected.
"Also, we have a track that both boys and girls track utilize. We added a cross country course that starts and ends there (the track) for our cross country boys and girls. We just outfitted seven different sports with that one upgrade," Bronkella continued. "This impacts our high school athletics as well as our junior high athletics.  We also have our junior high and high school physical education classes utilizing it as well as many other sports such as baseball and softball when the rain causes their fields to be too wet."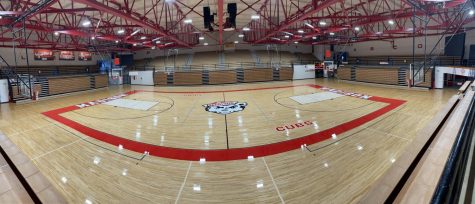 What Projects are on the Radar?
The upgrade of the turf field and track was recently followed by the upgrade of the Connor K. Salm Gymnasium floor completed in late March or early April. This upgrade positively affects boys and girls basketball, volleyball, wrestling, as well as helping MCHS host fundraisers, banquets, dance competitions, and graduations. The gym and football field are not the end of the upgrades at MCHS, however. There are plans to touch up every athletic complex here at MCHS. 
"When I got here, they had just redone part of the pool. (For) baseball, we had the All-Star game here, so there were a lot of renovations there. Softball has been touched here and there, so we are kind of looking at that. Soccer is the next biggest project. It does affect the least number of programs, but there are a lot of soccer programs (in the district). Now we have a girls' junior high program, so we have four full teams that utilize that field, and P.E. is out there, too. That is actually on the radar to work on this upcoming fall when the season concludes. Now, in an elaborate field like the turf facility, there is not a bond or anything big enough to allow us to do that, but we can upgrade and upkeep better than what it is currently."
Conclusion
This cornucopia of new facilities and facility upgrades really shows that MCHS athletics cares about all of the student-athletes and athletic programs. They are not just working on the high profile programs such as football and basketball, but MCS and Bronkella aim to care for the lower-profile programs like soccer. In a time when many public school programs are looked over, the careful consideration that the MCHS athletic department takes is not going unnoticed. It is a new era of MCHS athletics hoping that the upgrade in facilities will translate over onto the scoreboard, making MCHS a true contender in Indiana athletics.