New IU Coach Looks to Bring Familiar IU Flavor
A new wave of Indiana Men's Basketball has arrived in Bloomington. After much discussion and not much patience from Hoosier fans, the 30th head coach of the Indiana Men's Basketball team is former NBA coach Mike Woodson. However, this is not the only athletic department change out of Bloomington; there was also the sly announcement that IU is getting another former coach on the staff. Thad Matta, the former Ohio State coach, was announced as an assistant athletic director for Indiana University.   
This new coaching hire is a pivotal one since it comes on the heels of a ten-million-dollar buyout to fire previous IU men's basketball coach, Archie Miller. Miller was offered a seven-year contract to coach at Assembly Hall, but after four seasons with no NCAA tournament runs, the fans and IU athletic board had enough and put up the ten million to bring in new leadership. This new coaching decision doesn't seem like the best move to everyone, however. Since the firing of Coach Miller, six Hoosier players have entered the transfer portal, including Armaan Franklin, Race Thompson, Parker Stewart, Jordan Geronimo, Khristian Lander, and Al Durham, who has since officially departed the IU basketball team to continue his 5th year of eligibility at Providence. IU's new coach, Mike Woodson, has reportedly stated that these players in the transfer portal are "top priority" in hopes of not losing any more of IU's talent. 
This new chapter for Woodson is a full circle experience since Woodson began his basketball career at Indiana University under the leadership of former Indiana University Basketball coach Bob Knight. 
"For me, it's a dream come true," Woodson said in regards to landing the IU head coaching job.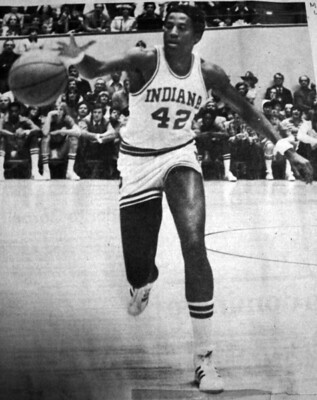 Woodson had a very impressive college career at Bloomington, where he finished as the fifth-highest scoring player in program history with 2,061 points over four years. After his four years at IU, Woodson went on to play eleven years in the NBA. He was very successful in the NBA and ended his eleven seasons with just under 11,000 points. 
In 1996, Woodson decided to make the transition from player to coach. He became assistant coach of the Milwaukee Bucks and coached at several other teams. Then, in 2005, Woodson got upgraded to head coach of the Atlanta Hawks. On-and-off for the next 16 years, Woodson was the head coach for many NBA teams and had 20 playoff game wins and 49 playoff game runs in his 9 years of coaching in the NBA. In 2014, at the age of 56, Woodson stepped down as head coach to be an assistant coach. At the age of 63, Woodson will be the head coach of the Indiana Hoosiers Men's Basketball team. 
Woodson has signed a six-year contract with the Hoosiers, with the underlying understanding that Woodson will have to produce an NCAA tournament run within the next four years. Perhaps Woodson will channel his former coach and legend, Bobby Knight. Knight made a sweet sixteen run in the NCAA tournament in just his third year of coaching. If Woodson follows in his former coach's footsteps, he will win a National Championship by the end of his six-year contract. 
Adam Stotts, a teacher at Madison Consolidated High school and the go-to on all things Indiana basketball in the halls of MCHS, said, "I think that Woodson is a good fit because everyone in the IU community wanted a former player, which they got. They wanted someone who had connections to Bob Knight, which they got, and someone who has NBA experience, too. So, that is going to be a selling point for recruits, and he brought in a guy like Thad Matta. The only thing that people are skeptical about, and me too, is just that he's never coached at the college level before. Still, he's been at the NBA, which is above that." 
Hoosier fans can only hope that Woodson will be as successful as Knight because this could be a last-ditch effort. Once regarded as the premier basketball school in a state known for basketball, IU could be losing its status as an elite basketball program. IU's last claim to the throne of basketball supremacy could be the 2016 IU team, who made it to the NCAA quarterfinals. However, now that IU is going on a 5-year dry spell, IU basketball may need a miracle to bring the rich history of winning to present-day fans. The only question that remains is if Mike Woodson is the answer.