Now That Archie is Out, Who's Next?
On March 15, 2021, the news was released that the Indiana University men's basketball program would be getting new leadership after having fired head men's basketball coach, Archie Miller. Miller began his tenure at IU in 2017, and after four seasons, he was still unable to produce an NCAA tournament appearance. This was in stark contrast to his predecessor Tom Crean, who led his Hoosier teams to five NCAA tournaments during his nine-year tenure. 
In the midst of Indiana University's longest drought between national titles for men's basketball, the last title won in 1987, some of the IU fan base felt there is no room for a coach that cannot produce results. The Madisonian recently conducted a poll supporting that sentiment. According to The Madisonian's poll, an overwhelming 88% of respondents agreed that Miller needed to be fired. Indiana is the self-titled 'basketball state," so to have so little recent success to show is a dagger in the heart for the basketball program's fans here. The fans desire a winning team like all fans do, but for Hoosier's, it is more like a tradition or a lifestyle than just entertainment. Today's youth may not remember what it was like to have an IU basketball team that was a true contender, in fact, our last true taste of victory was the 2016 Indiana Hoosiers team that made it to the semi-finals of the NCAA tournament. This rich history of winning in Bloomington needs to be restored. 
The lack of tournament appearances and winning seasons are not due to a lack of talent, however. IU has been graced with a lot of talent over the past four years with highly touted recruits such as Juwan Morgan, Al Durham, and Trayce Jackson- Davis. The only ingredient missing in order to have success is a good coach. The IU program needs a strong coach to lead them into the tournament and then push them to make it to the final round. The only question remaining is who? Who is this mystical coach that will lead the Hoosiers into the 2021-2022 season? 
"I don't ever want to see his face in Bloomington again, I'm so glad we paid him out," said Madison Consolidated High School senior, Mitchell Liter, on the firing of Coach Miller.
Liter's sentiment is just a small bit of evidence of the unhappiness of "Hoosier Nation" under the coaching of Archie Miller; however, are the fans too much? Are Indiana fans too unforgiving of coaches that aren't developing the program at a fast enough rate? 
According to MCHS teacher, Courtney Arrowood, she has mixed feelings. Arrowood said, "I don't think that he was a good fit for IU, but at the same time, who is going to want to come coach for a team that fired their second coach in five years, and has all this pressure? I just think we are setting ourselves up for failure if we don't give people a chance and just keep throwing them out." This is a valid point, because how will the Hoosiers get a big name coach when Indiana Basketball is synonymous with crazy fans that strangle every coach with the pressures of a legacy of a man that we fired as well, Bobby "The General" Knight? 
Many names have been thrown around in the latest bid for the head coaching position at IU, but some people may be pining too much for what some consider to be the divine spirit of basketball in the state: Bobby Knight. Knight led the Hoosiers to three national championships and possibly set the bar too high for his many successors. The next head coach hire for the Hoosiers needs to be the man that can at least partially fill Knight's shoes, and the whole world knows that.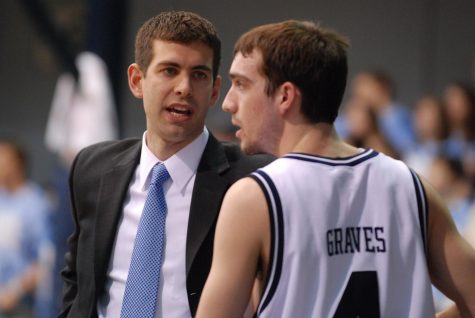 Some consider the first pick in the draft for the IU position is "hometown" sweetheart, Brad Stevens. Stevens is from Indiana, is a Depauw University graduate, led Butler to back-to-back national championships, and is the current head coach of the Boston Celtics where he has done very well. Although he would be a perfect fit, it is very unlikely that he will leave his NBA coaching job in order to coach at a school he didn't even attend. 
Also high on the list for many is Chris Beard who is currently Bob Knight's successor at Texas Tech. He runs a tight defense and has taken his team to the Elite-8 several times in his tenure. Other popular choices for the position are Nate Oats, the current coach at Alabama that made 'Bama known for more than football this season as well as John Beilein, a former Michigan coach that had a knack for doing well in the tournament. 
Beilin has at least one supporter at MCHS this season. Senior, Jenna Imel said, "I'd want John Beilein because he has a lot of experience and he will be a good coach and good for the program." 
Conversely, MCHS teacher and assistant varsity basketball coach Adam Stotts is not bidding on Belien for Indiana head coach.
"It comes down to hitting a bunch of different boxes. I think when you look at where people have been, and where the program of IU is at right now, I think the number one answer for everybody is, obviously, should be Brad Stevens from the Boston Celtics. Him being a home-grown guy, and coaching at Butler, and then getting the NBA experience. Also, being from here and knowing what IU basketball means, that to me is the easy answer. I don't think that IU will get him, though, just because of where he is at in life", said Stotts. 
Although all of these names would make good fits for the Hoosiers, it is unlikely that the spiraling Indiana Hoosiers can knab these high-profile coaches. It is more likely that they will end up hiring a lesser-known coach, possibly in the IU family (a graduate or legacy of Hoosier Nation). One name that comes to mind is Dane Fife who currently works under the wildly successful Tom Izzo at Michigan St., which is reminiscent of Tom Crean who coached under Izzo in 1995. Being a part of the 2002 NCAA runner-up team for IU, and working in the Big Ten will give Fife loads of insight on how to construct a winning IU team. 
Only time will tell who will be the next coach for the Indiana Hoosier's men's basketball team and if they will end up in the category of greatness with Bobby Knight or fall to the pressures of the Hoosier Nation like Archie Miller. One thing is certain, though. The fans are ready for whoever it may be.