Bilz Grapples Her Way to History; Hopes to Inspire More Female Wrestlers
Born and raised in Madison, Indiana, Madison Consolidated High School wrestler Kelsey Bilz has propelled herself to be the first-ever wrestling state-champion in Madison history. This is a monumental accomplishment considering the wrestling program has been around for over 60 years, with 25 state qualifiers and 15 state placers.
"This historical significance cannot be overstated," said MCHS assistant wrestling coach Dustin Bentz. He has been working with Bilz since she was attended Madison Consolidated Junior High School.
Bilz's record-setting match occurred on January 15 at Hamilton Heights High School, located in Arcadia, Indiana. Mackenzie Smith, whom she defeated for the state championship, had previously beaten Bilz on December 29, where Bilz was outmatched 17-2. Bilz also fell to Smith in their first meeting earlier in the fall. However, the third time was the charm for Bilz as she turned the tables at the state meet and won a 2-1 grudge match.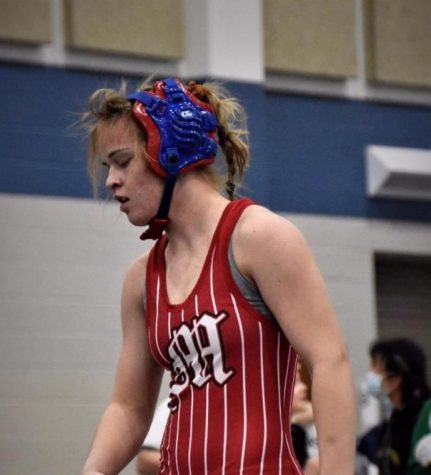 Bilz stated that her biggest downfall in the previous match against Smith was that she was in her head too much during the match. However, she didn't make the same mistake going into the match for the state championship. Bilz said she had decided to get out of her head, wrestle her match, and be more aggressive this time around. MCHS Head Wrestling Coach, Tyson Skinner, observed that she was moving well on her feet throughout the match. He and Bilz knew her opponent's ability to get turns from the top, so the second they went neutral, Bilz could get a takedown which was a great determinant in her winning the match. The last period was all about "staying active" and not giving up a turn to maintain her lead. 
After Bilz heard about a wrestling meeting over the intercom in seventh-grade, she decided to be open-minded and attend. This event sparked her interest, and she began to watch matches and practices. Bilz admitted that she was not in the best spot in terms of grades before joining and wanted something to get her motivated. Wrestling made her push herself a lot harder because she now knows she can take whatever is thrown at her. Additionally, it has helped her to maintain consistency by not taking practices for granted and always working her hardest, no matter what. She previously ran for the MCHS cross country team in the fall but decided to focus solely on wrestling this season. It appears that decision culminated in a state championship.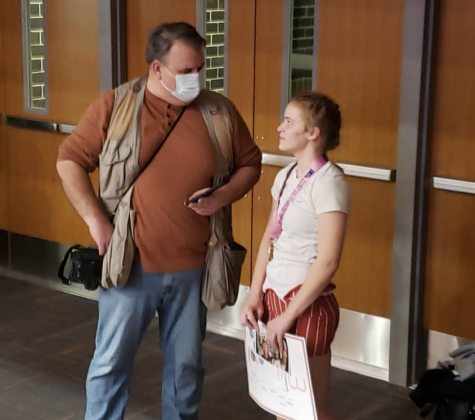 Bilz's athletic talent, along with her many years of training and hard work, have gotten to her where she is. Her thick skin and grit have allowed her to progress so far in her wrestling career. According to Skinner, she doesn't settle.
"She (Bilz) is driven and is sled motivated to be the best version of herself that she can be."
Bilz's success may have motivated other female wrestlers to participate in the sport; she certainly encourages them to do so.
"Just go for it," she said. "Soon enough, there will be a female wrestling team, and I would tell them to be open-minded with this new sport. It's an experience that I'm glad I challenged and should be challenged by many more females. It will be the norm with time."
Since Bilz's recent win,  Bentz commented that he has received many more girls aching to join.
Bilz's historical victory for state champion has paved a new path for the Madison Cubs' wrestling team. Her hard work and devotion to the sport have likely inspired a new generation of athletes at MCHS, especially other young women. As she rounds out her last year of high school, she is searching for the best college for female wrestlers, where she hopes to become the best wrestler at her future school and to travel the world.