Madison Swimmers Break Records on the Way to the Postseason
With *sectionals approaching and winter sports ending, the Madison Consolidated High School swim team prepares for a successful end of the season. Most students that swim also juggle other sports during the school year, or they swim all year long because it helps condition the body and keeps them in shape for said sports. 
The COVID-19 pandemic has been very different for the Cubs' swim team than in previous years. There have not been many fans due to it, and the athletes have said that has been a challenging change. 
As sectional competition approached, many of the athletes are using multiple methods to prepare for them such as hydrating, more practice, working on speed drills, resting the body, and icing the body as needed. 
Sophomore Liam Roney has broken the school record of the 200 free with a time of 1:53.38. He is also a participant in the 200 medley relay, the 200 free, the 100 fly, and the 200 free relays. He hopes to break more records in the near future.
Roney stated, "When I broke the 200 record, I was so happy and pumped. I almost beat it last season, but I was off by a little bit. I want to keep breaking the 200 record and maybe break the 100 fly record and any others that I might be able to get." 
This season has been very different and challenging for the 2021 seniors because it's their last high school swim season. There have been some restrictions to fans coming in and supporting the team and the pandemic ruining things for many athletes in other sports, not just swimmers.
Senior Katie Royce, a participant in the 200 free, the 500 free, the 200 free relay, and the 400 free relay said, "My senior year came quicker than I expected; however, I have once again fallen in love with my sport all over again, as I do every year, and really made connections with my teammates and even encouraged new swimmers to join. And for the team, I am most thankful for them."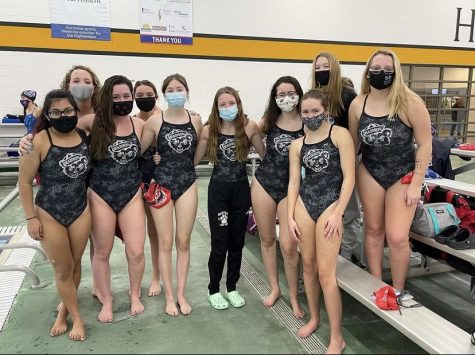 Even with the pandemic, the students still stay in shape and practice with their time. It has challenged them to work harder, despite everything going on. 
According to Royce, "I feel that this year, despite COVID, I have really challenged myself and pushed through in my events in meets and have tried to bring a positive outlook to the team during practices and meets."
Ashley Schutte, head coach of the swim team, stated, "This year has been a challenge, but (the swim team) has it easier than a number of other sports when it comes to COVID-19 protocols and safety measures. Chlorine kills a lot! We have been so very fortunate to have been able to compete this season with very little disruption.  We had two meets cancel where our opponents had quarantine issues and couldn't host.  Our kids have made incredibly good choices, made sacrifices to do all they can to stay healthy and safe, and our families have been incredibly supportive.  We have high expectations and protocols that have been followed to the letter, and I have no doubt that is what has helped us stay in the pool.  One of the biggest things that we have noticed is the crowd.  In the past few years, swimming has seen a larger student following, and it was fun to see the pool packed with other students supporting our swimmers.  We have been limited to family members only for the entirety of our season, and while they are awesome, it just isn't quite as loud.  Our swimmers cannot be on deck cheering on their teammates. They have been sent to the cafeteria to try and maintain as much social distance as possible when we host other teams.  The one nice thing that we will continue to do is the live stream to our Madison Cubs Swim Team Facebook page.  This has been great to have as a way to include visiting athletes, families, and fans, as well as out-of-town relatives for our kids."
Some swimmers are planning on swimming way after their high school careers, and they're hoping they can recruit new swimmers in the future. Many want to continue breaking records in the near future with the help of coaches and their teammates.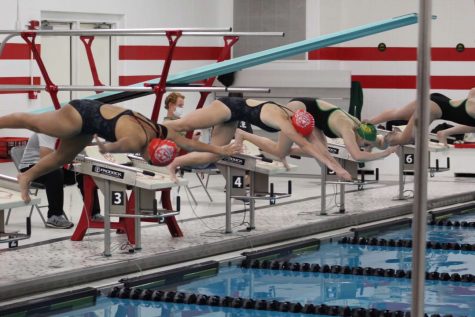 From 2019 to 2021, there have been many records broken by the MCHS swim team participants. The 200 Medley Relay, where juniors Jack Kelsey and Carter Schutte with sophomore Justin Banks and Senior Trenton Schmidt managed with a time of 1:43.16. 
Junior Leighton Wielgoszinski broke the record of the 500 Free with a time of 5:10.80, which broke the old record from 1974. Carter Schutte broke the 100 Free record with 49.93. The 200 Free Relay was broken at 1:33.85 from Carter Schutte, Jack Kelsey, Liam Roney, and Justin Banks. Peyton Ford, Liam Roney, and Justin Banks reset the 200 Free Relay record at the conference meet with 1:33.24. 
Sophomore Justin Banks, a year-round swimmer and a participant in the 200 Md Relay, 200 IM, 200 Free relay, and the 100 breaststroke, stated, "The biggest challenge for me is that I hope to break a few records for the school and then go to IU and possibly break some records there."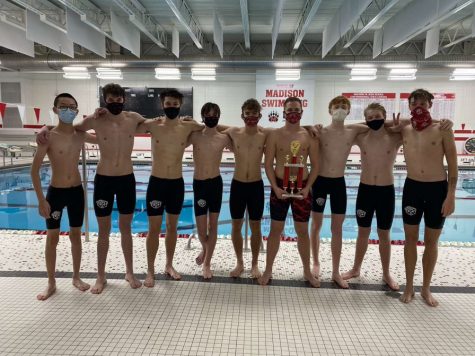 Also, Emily Nay, a sophomore at MCHS and a participant in the 200 medley relay, backstroke, the 100 fly, 100 back, and the 200 free relay, said, "I am looking forward to beating bigger and better teams and getting new kids from the junior high to help our team become better."
The Madison swim team will send four sectional champions to represent MCHS at the state finals meet at the Natatorium at IUPUI:
200 Medley Relay  – Carter Schutte, Justin Banks, Liam Roney, Jack Kelsey, and Peyton Ford.
200 IM – Justin Banks
100 Backstroke – Carter Schutte
100 Breaststroke – Justin Banks
There were eight school records broken and 12 personal best times established in the sectional finals and the Cubs boast four events where swimmers/relay teams are moving to the state competition as sectional champions:
200 Medley Relay: SECTIONAL CHAMPIONS – Carter Schutte, Justin Banks, Liam Roney, and Jack Kelsey  – 1:40.09
200 Free: Liam Roney – 1:46.72
200 IM: SECTIONAL CHAMPION – Justin Banks – 1:57.17 (previous record from 1986/Tom Solomon)
100 Free: Carter Schutte – 49.37
500 Free: Leighton Wielgoszinski – 5:04.57
200 Free Relay: Carter Schutte, Peyton Ford, Liam Roney, and Justin Banks – 1:31.32
100 Back: SECTIONAL CHAMPION – Carter Schutte – 55.68 (old record from 1997/Ben Canida)
100 Breast: SECTIONAL CHAMPION – Justin Banks – 58.55 (previous record from 1986/Tom Solomon)
*The article was written before the sectional competition, but the weather has forced the delay of the article.