Nutley Moves up the Record Books as Her Career Winds Down
Jade Nutley is a standout forward and well-known athlete for the Madison Lady Cubs basketball team and all across Jefferson County. As her senior season is winding down, she has been climbing the school and local scoring leaderboards all season. As she continues to erase names and leapfrog local legends in scoring and rebounding, Nutley leaves her mark during her senior campaign.
Last Tuesday, the Lady Cubs played Scottsburg High School, where Nutley scored 24 points, pushing her well into third place on the MCHS career scoring leaderboard, where she has surpassed 1980 graduate and MCHS legend Carla Eades and just inching past 2008 graduate Sadie Bowling's 1270 into third on the MCHS scoring leaderboard. That big scoring night also pushed her into eighth place on the Jefferson County leaderboard, past two Southerwestern Rebels,  Sarah Roth and Devin Brierly. Nutley now has 1,291 points and may have found her final resting place in MCHS scoring annals as MCHS's second-leading career scorer, 1998 graduate Molly Holt stands at 1,480 career points.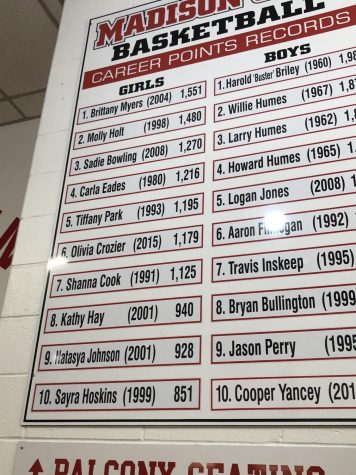 As Nutley continues to make a place for herself in MCHS basketball history, she recognized the others around her that contributed to her success.
"I feel very blessed to see that my hours and dedication are paying off. My coaches and teammates have supported me and pushed me to be the best I can be," stated Nutley.
Nutley is remarkable all over the court. She also boasts a total of 856 career rebounds, which is only 64 rebounds away from breaking 2015 MCHS graduate Olivia Crozier's school career rebounding record. She is averaging 10.3 rebounds a game to go along with her 18.1 points, 2.6 assists, 1.8 steals, and 1.3 blocks per game. She is shooting 46% from the 2 point range, 38% from the three (totaling 44%), and 82% from the free-throw line. Being the stat-stuffer she is, it is easy to see why Nutley is committed to playing basketball at Indiana Wesleyan University next season. 
With only four regular-season games and one guaranteed sectional matchup, Nutley would need a deep playoff run or some high scoring nights to move up the list further. She would need to average 38 points a game to move into second place. She would have an outside shot if the Cubs had a regional run. The school's rebound record is in danger, however. With her current averages, Nutley could break the rebound record if the Cubs make the sectional final.
One of Nutley's most experienced running mates and close friend, junior guard Taylor Lynch, commented about how easy it is playing with Nutley:
Lynch said, "Playing with Jade, it's like playing the game of basketball, but with a D-1 basketball player with an insane basketball IQ. So it's not like playing basketball at all; it's much greater. We've played together since fifth or sixth grade, and it won't be the same next year."
Nutley has made a lasting impact on her teammates and has carried herself with great poise throughout her four years of walking the halls of MCHS. Madison's halls and gymnasiums have had the honor of being a part of her journey, and we here at The Madisonian can not wait to see what she does in the next chapter of her life and playing career.  
About the Writer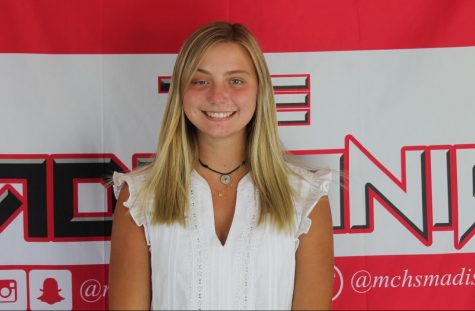 Alivia Brawner, Staff Reporter
Alivia Brawner is a current senior at MCHS, where she is involved in several different activities. Alivia is a proud member of FFA, Pep Club, and Student...