MCHS Lady Runners Win Sectional for First Time in a Decade; Look to the Future
This fall, the Madison Consolidated High School Girls Cross Country team won the Austin Sectional 26 title for the first time in 10 years, with the team's top three runners finishing within three seconds of each other. Freshman Ava Spencer finished with a time of 7:09.4, sophomore Cadence Traylor finished in 7:09.8, and senior Brett Cahall finished with a time of 7:10.1. The ladies finished fifth, sixth, and seventh, respectively. Junior Isabell Wilber finished 16th, sophomore Cameran Cahall finished 29th, and senior Chloe Ferris finished 35th to round out the runners. The Lady Cubs had a score of 38 points, beating second-place Charlestown, who scored 60, by 22 points.
MCHS Girls Cross Country Coach Josh Wilber had conflicting emotions after his team's championship victory.
Wilber said, "It was a relief and a spark of excitement to get back to a championship program again. After the 2010 season for career reasons, I had left the program and returned to it again in 2013.  I have spent this time getting the program back to a culture of winning for seven years as other teams have improved and made it a tougher task to win the sectional championship. By the time we got to the sectional meet, the physical part of (the) training was in place.  It was important to really focus on the mental part of racing and ensure the team understood what they all needed to do to accomplish our goal.  I also had to manage the nervousness associated with the unknown outcome.  We had to focus on what we could do and not what everyone else was doing.  After that, it was all on the team to make it happen." 
Even though the Cubs failed to advance farther in the state tournament by finishing seventh out of nine teams, the Lady Cubs were able to advance Traylor (22nd),  Spencer (26th), and Brett Cahall (27th) to the semi-state meet.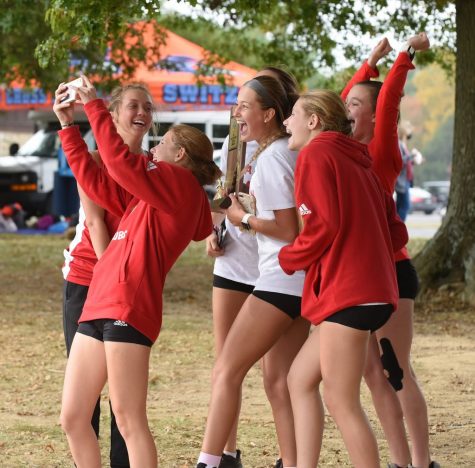 Senior Brett Cahall was able to break several personal records this season.
"It (winning sectional) took a while for it to sink in. It was something we had talked about, but for it to actually happen, it was surreal," the elder Cahall said.
Cahall has been to the semi-state meet all four years of her high school career. In her first three seasons, she was the only Lady Cub runner who advanced to semi-state, but two other teammates advanced with her this season.
Cahall said, "Being able to go to semi-state with two other teammates this year definitely made it more memorable. I wanted to have the whole team there, but that didn't go the way we wanted it to, so to at least have two teammates still made it special."
Senior Chloe Ferris has run all four years of high school. Ferris also reflected on her special senior season.
"To win sectional my senior year, it was really an indescribable feeling and experience. It had been something we had been talking about all season but weren't for sure if we could pull it off. But we did, and it was definitely worth all the hard practices and all the time that I had put into cross country my last four years," Ferris recalled.
Ferris's favorite memory was winning sectionals and always going to Taco Bell every Friday before a race.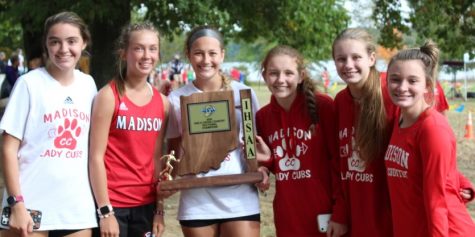 This is sophomore Traylor's first year running cross country in high school. She ran cross country in junior high school but took a break to play volleyball.
Traylor said, "My favorite memory is eating Taco Bell every Friday night before a meet…I made sure I was mentally prepared, and I ate Taco Bell the night before. I pictured myself with the trophy in my hand." 
Junior Isabel Wilber, who is also a cross country veteran who has run each year in high school, is looking to improve moving into next season.
"My hopes for next year are to be able to do a lot better individually and get into low 21's."
Spencer just started running cross country in the last couple of years. Spencer said, "My plan was to try my best. I wanted to win because we as a team trained hard for this race all season.
While Spencer advanced to semi-state this season, she has lofty goals for her running future.
"My hopes are to advance to the state finals and break a 20 minute 5k," she said.
The Lady Cubs runners have a young core with a bright future, with Wilber, Traylor, Spencer, and the younger Cahall returning next year. Hopefully, the Lady Cubs can continue their individual and team success well into the future.