Senior Spotlight: Ommen Proves Nice Guys Finish First
Class of 2021 senior Luke Ommen is not only a great student at Madison Consolidated High School, but according to many, is a great person as well. Ommen is a part of the varsity basketball and golf team, student athletic council where he serves as president, National Honor Society, and the JAG program. He has been a student at Madison Schools his entire life and has contributed to the school system in many ways over the past 13 years. 
From the endless amount of hours spent at Sun Rise Golf Course to the time spent at Conner K. Salm Gymnasium, Ommen has always been a hard worker. He even got to experience something that many athletes do not experience: going to the state golf tournament. The entire MCHS boys golf team qualified for state in 2018. He stated that the team accomplished this by "practicing really hard; we were at the range every day. We had good leadership from the seniors, and everyone put in work outside of practice."
"It was a great feeling and accomplishment with the whole team going, and it was even better because, at the end of regionals, we won a tiebreaker to advance to state, so it was even more hype," Ommen remembered. 
In light of recent events, it is hard telling what the future has in store for the Cubs' basketball season. The team is currently in quarantine right now, but Ommen is hoping for the best.
Ommen stated, "I just want to play a whole season. I know some of it's out of our control, but we have a great group of guys this year that can do something special. It was already going to be tough to play in our sectional, and the circumstances of 2020 will make it even tougher, but we all have a common goal of making a run in March, and that will really help us out."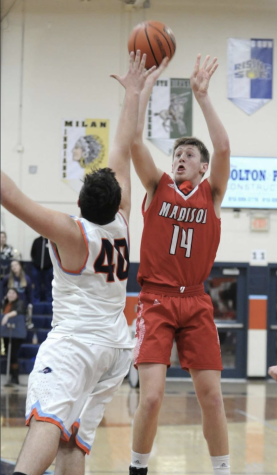 Ommen has really enjoyed playing for the Madison Cubs' basketball program over the years, and he has compiled many great memories from his time on the hardwood. Among them was a big tournament championship win in their own hosted tournament, the Jefferson County Invitational.
"The JCIT championship game my sophomore year (was a great memory). It was a great game going into it, and we kind of had a chip on our shoulder because of the Turkey Shootout. It was on Southwestern's court, and it was a cool environment playing for a packed stadium. The whole game we played together, and it was a great team win. It's one of the best memories I have playing Indiana high school basketball." 
Luke is a great asset to the basketball team. He is a hustle player and always gives it everything he has, no matter its situation. One of the basketball coaches, Assistant Coach Adam Stotts, even tweeted about Ommen unprompted in June or 2019: "I have coached a lot of kids in my life so far with school and travel ball, and I am not sure you can find a better one than @Luke_Ommen," Stotts tweeted.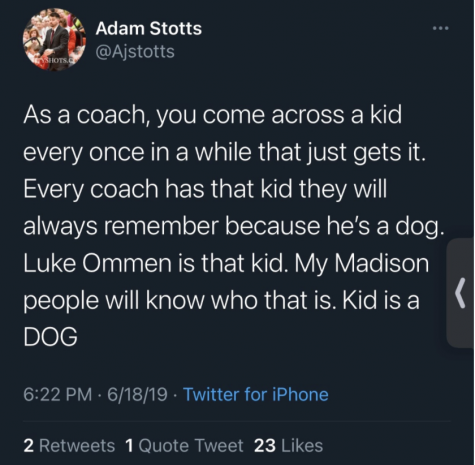 Someone who has inspired Ommen throughout his career as a Cub was one of his golf coaches, Dale Crafton. When asked about Coach Crafton, Ommen had effusive praise: "Dale Crafton was the coach I had during freshman year. It was a time where I had a lot of different things going on and he was a great guy to be around. I had a lot of individual interaction with Dale, and he was able to put me on the right path to have a successful high school career and be a good guy." 
Ommen is the son of Dave and Melissa Ommen. Dave Ommen's family is from Illinois, and he works for King's Daughters Hospital. Ommen's mother, Melissa's family, is from Madison, and she is a first-grade teacher for Anderson Elementary. Ommen also has an older sister, Olivia, who is a 2018 graduate of MCHS. She attends the University of Evansville. Luke enjoys spending quality time with his family and their dog Brinley.
Ommen has not looked too much into the future, but he knows some of the basic things he wants for the next few years. He plans to play golf in college, study business administration, and graduate with a bachelor's degree in business. Luke's plan to achieve these goals is to step it up in the classroom because he knows it will take even more effort in college.
Ommen stated, "Overall, I think I am a pretty self-motivated person, and I need to keep this attitude for the next four years of my life."
From personal experience of knowing Luke Ommen for the past fourteen years, there is no doubt in my mind that he will accomplish anything that he sets forth to do. 
About the Writer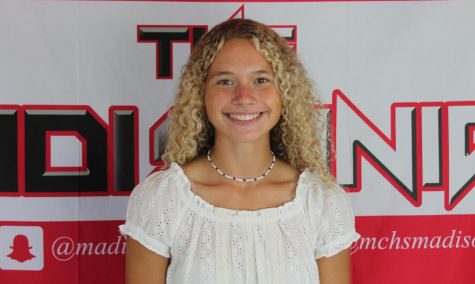 Jordyn Bilz, Staff Reporter
Jordyn Bilz is currently a senior at Madison Consolidated High School. Jordyn has served as an active member of the student council, and she is president...