MCHS Basketball Standout Jade Nutley Reflects on Her Career and Her College Decision
Jade Nutley, a six-foot standout center for the Madison Consolidated High School Lady Cubs,  recently committed to Indiana Wesleyan University to further her basketball career at the collegiate level. 
It is no secret that Nutley has dominated the basketball court in Connor K. Salm Gymnasium for the past three years. Nutley has been playing varsity basketball for the Lady Cubs basketball program ever since she arrived as a freshman in 2017. 
It was not long after her first game when Nutley started to garner recognition from colleges. Her freshman year, Nutley was named all-conference honorable mention for the Hoosier Hills Conference. Her sophomore and junior seasons, she was named all-conference. She has been selected for the All-Courier Area First Team for three consecutive years, also, and Nutley was also ranked in the nation for the ESPN class of 2021 top 100 recruits in the nation. 
From the Lide White Boys and Girls Club days to playing travel basketball for the AAU Indiana Elite squad, Nutley has always loved the game of basketball. Since she was four years old, the thought of college basketball has always been in the back of her mind.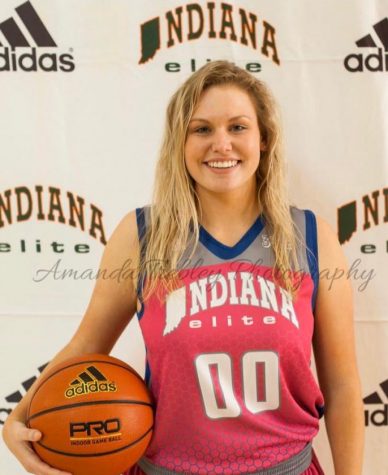 "Over the years I got involved with several teams and met many new people but with still one goal in mind, college basketball. I'd take a day off and I missed having a ball in my hand. This is when I knew I wanted to play college. I had many opportunities from D1 to NAIA and I could not be more thankful for the people who gave me the opportunity to get to know them and learn more about their organization," Nutley said.
Many people have supported Nutley throughout her career and many people have influenced her along the way.
Nutley said, "My biggest influences have been my mom and dad. I am so blessed to have two parents that raised me to be who I am today." 
Along with her mom and dad, her grandma, along with the rest of her loving family, always makes it a priority to show up to her games. 
Even though Nutley received interest from some Division I schools like Xavier, Nutley said that "Indiana Wesleyan has always been a place that has made me feel comfortable. The coaches went above and beyond to reach out to me weekly and see how I was doing to the point that the coaching staff began to feel like family. When it comes down to it, I felt like Indiana Wesleyan is where God wanted me, and I believe I will grow there." 
Another factor that led Nutley to make her final decision was her faith. Nutley grew up going to church and it was always a huge part of her life. Growing in her faith is important to her.
"I let God lead the way, and this decision could not have shown it more," she said. 
There is no telling where this season may lead to for Nutley, but she is hopeful that they actually will get to have a season with everything that is currently happening with COVID. While wins might be the top priority for her, she also has the opportunity to move way up the MCHS all-time scorers leaderboard.
Nutley stated, "If we do get a season, I am ready to build off of last year and improve. We just have to come together and play as a team. That is our biggest downfall right now. We have to overcome it or we will not be successful."
MCHS  Lady Cubs Head Basketball Coach Sonja Bowyer is also ecstatic for her player's recent commitment and felt it was the right move.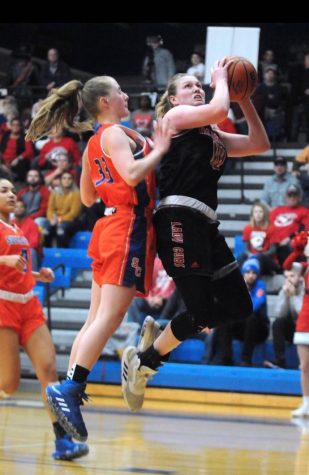 "I think it was a great decision on her part; I know she really connected with the team and the coaches. I think she is going to have a great career there and I am excited to watch. Overall, I think it was a perfect fit for her." 
Nutley has always been a hard worker on and off the court, but Bowyer brought up other elements of her personality that lead to her success. 
"Obviously she is a hard worker. she takes a challenge very personally when if she does make a mistake, it is okay and she can fight back from it. So I think that makes her a really good athlete and also a good student as well."
Nutley's career so far has already been one of the most successful in MCHS history. She has accomplished many things that not everyone gets the chance to do, and she still has a full season to go.
"This right here is the most memorable moment. I will never forget this ride. The experiences, opportunities, traveling, and lastly, the people. I have had many stay true to me through the years and never gave up on trying to make me the best I could be. I am very blessed for every individual that has pushed me to where I am. Thank you all."
About the Writer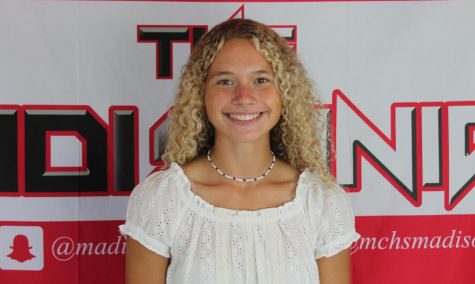 Jordyn Bilz, Staff Reporter
Jordyn Bilz is currently a senior at Madison Consolidated High School. Jordyn has served as an active member of the student council, and she is president...