Madison Cubs Soccer Teams Looking to Have Success in 2020
Madison Consolidated High School is in full swing with the 2020 fall boys and girls soccer seasons. Both teams lost quite a few senior starters from last year but still have hope for a successful season. As long as Covid-19 does not take a hit on the season, both teams will play in 16 varsity games plus their additional sectional tournament games. This past week, both teams made their debut in scrimmages. On Wednesday, the boys played Shawe Memorial High School and the girls played Scottsburg High School. 
Girls
MCHS girls' soccer coach Janet D. Hertz is looking forward to the season in hopes of another great year, even though within a short period of time they lost two of their returning starters. 
"It was a quick turn around for us in terms of some lineup changes, in terms of a student who felt like Madison didn't have the classes for her to succeed academically, so we supported her switch to Floyd. Then we had another one leave for basketball. It was a quick 24 to 48 hours where we were down a couple of starters… But it's a team sport, so hopefully, we can find the positivity in every situation."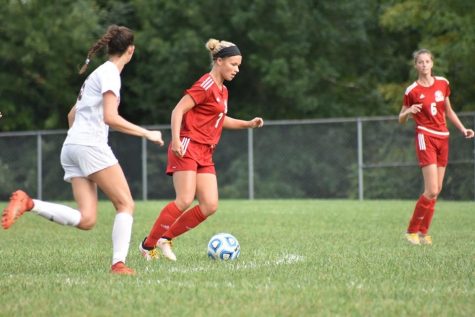 They have a returning Captain, Jordyn Bilz, who has been promoted to speaking captain this year. She is a senior who plays as a midfielder and a striker for the Cubs. Jordyn has made herself known on the field, ever since her freshman year. She and her returning teammates are coming back from a 7-9-2 season last year, in hopes of making it an even better year.
"I am looking forward to playing with my teammates and hopefully getting some dubs and just grinding out for her senior season. I would like to make the all-conference team and keep leading my team to the best of my abilities. As a team, I would like for us to win sectionals and place in the top four in the conference."
MCHS recently built a new turf field that soccer and football will be able to play on. This is a huge upgrade from the previous field. The girls' soccer team was supposed to play their first official game on the turf, but they were not able due to availability issues.
"The new turf field is one of those things where we are only hosting sectionals. Tonight the turf's not ready for us to play because of a broken goal and nonability to have benches. We were also supposed to play Providence on the turf, however, they scheduled a junior high football game, so the only games we are gonna play on the turf is sectionals," Hertz said.
The Lady Cubs had many players playing in new positions during the scrimmage, and they did not see the outcome they wanted. Coach Hertz feels that after the team gets acclimated with each other on the field, they will see a turnaround. The team lost the scrimmage 3-1. 
Boys
MCHS boys' soccer coach Kyle Bipes is setting the bar high again this year. Last season he coached the boys' team to a sectional title. They also won their first game in the regional tournament but fell to Evansville Memorial in the regional championship. 
"Losing seniors is always tough, so filling that void is a challenge I face every year. This year we have moved some boys around to try and find the best formation to be successful… I have a solid group of boys that can be just as successful, if not more, than what they were last year."
The boys also have a returning captain and Madison Courier Area Player of the Year in senior, Will Heitz. He has been an outstanding player all four years of high school. Not only does Will hold himself to high standards, but he also holds his team to high standards.
"My personal goal is to beat the scoring record and get another double-double. Our main goal as a team is winning sectionals because of the target on our back. Also, we are going for (the team) record (in) wins this season. I expect us to start where we left off honestly, and even when it comes to the conference, I think we will finish close to the top."
Unlike the girls' team, the boys will be able to play on the turf field. They are scheduled to play four games on the turf.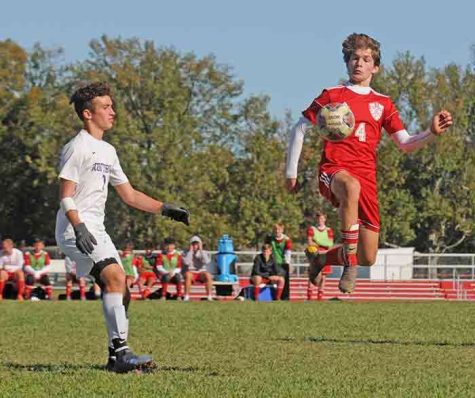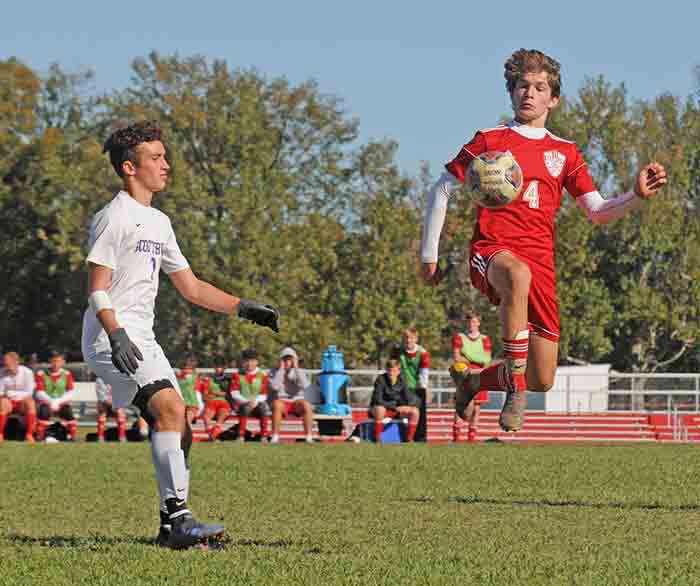 "The new turf is exciting for the whole athletic program. I believe it puts our athletics one step closer to being extremely successful. I wouldn't say I'm nervous about playing on the turf, but I am anxious. It is a change from natural grass but I know we can make the adjustment," said Bipes.
The boys were not sure how the scrimmage would go last week, but they were happily surprised with the results. With the challenge of COVID, they did not get in the same amount of training as usual, but overall still came out looking solid. The team won the scrimmage against Shawe 5-1. 
The boys' team has five home matches and the girls' team has eight, so there will be several chances to go out and support your Madison Cubs.
About the Writer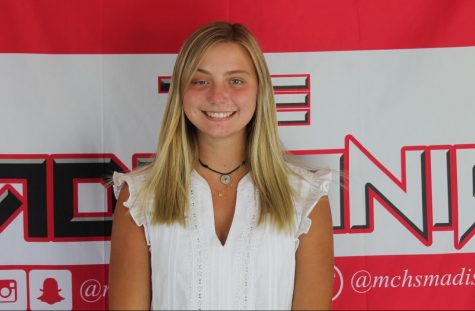 Alivia Brawner, Staff Reporter
Alivia Brawner is a current senior at MCHS, where she is involved in several different activities. Alivia is a proud member of FFA, Pep Club, and Student...