MCHS Documents Quarantine Life with Social Media Hashtag
Finding something to keep yourself busy is during quarantine is something thousands, if not millions of students, are having trouble with currently. Not only are students being challenged with not being able to see their peers, but they are are also advised to shelter in place due to the novel coronavirus. Many students are asking themselves, what can I do to keep busy during a time like this? 
Many Madison Consolidated High School students recently participated in #QuarentinedCubs, a social media project where students would document a picture or video with what they have been doing to stay active and then post it on social media with #QuarentinedCubs. Some students documented the daily activities that have been keeping them physically active such as their workouts and runs. 

The Madison Cubs Football Instagram page also participated in #QuarentinedCubs. A post was made showing daily workouts for our MCHS football players to participate in. The Madison Cubs Football Instagram page stated, "Don't let school being closed be an excuse to not continue working towards your goals!" 
Along with being busy during the week with online schoolwork, many students still find it hard to keep busy during this quarantine. Students at MCHS have a wide array of things they do to keep busy. Haley Trueblood, a sophomore at MCHS, said that her favorite thing to do during quarantine is to not only spend more time with her family but to use this time to master her baking skills. While freshman, Kaden Oliver, has been staying active by playing basketball during the quarantine.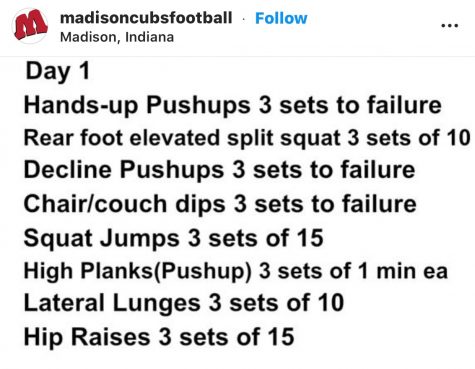 While everybody's quarantine situation is unique, it can be a challenge during staying active with the current shelter in place rules and guidelines. Focus on staying active at least 30-60 minutes a day to stay physically fit. You can take a walk or run, play ball, or even do home workouts. A quick Google search can provide many home workouts and "shelter in place" physical fitness ideas.