Mayor Courtney Sits down with 'The Madisonian'
Madison's newly elected mayor and 1981 Madison Consolidated High School graduate, Bob Courtney, recently sat down with The Madisonian to discuss his initiatives and the new adventures the elected position has already afforded him in the early days of his tenure.
Mayor Courtney said the early days of being mayor have been "unique" because of the sudden passing of the previous mayor of Madison, Damon Welch. According to Mayor Courtney, he is committed to honoring Mayor Welch's legacy by continuing with the important priorities Welch established. Due to the passing of Mayor Welch and a relatively controversial decision by the city to have Courtney act in the capacity as mayor during the election season, Courtney's first day in office was in mid-October. He was officially sworn in for the current four-year term on December 30, 2019.
"The staff at city hall and all of the city employees continue to work very hard to provide great service to the community; they have been very welcoming to me," Courtney said in response to how being mayor has treated him.
Courtney's key initiatives are community safety, economic opportunity, and quality of life.
"We've been building a leadership team around being able to successfully achieve all of those key initiatives," Courtney said.
"We immediately started looking at the Madison Police Department and it's resources, staffing, and leadership there. We're going through a recruitment process now for a new chief of police. I appointed Major Ben McKay as our interim chief of police to work with me on achieving some of these safety objectives until we finish the selection process. I've been working with our street department on sidewalks and lighting (and) our fire chief on fire safety and recruitment there. I would say the top priority that's going to help us achieve the other initiatives is public safety."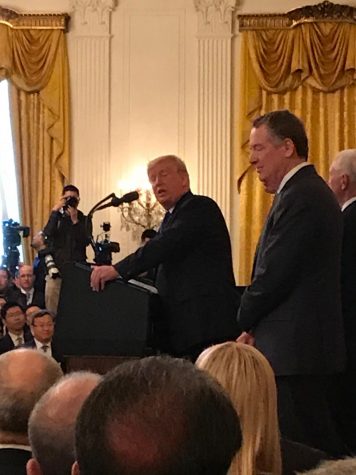 Courtney said he has always had an interest in improving the community.
Courtney said, "One way for us all to be engaged in improving our community is through the political process. One way to make a difference is to be involved in the policymaking part of the community. I had already been volunteering on different committees, working with the city council. I was the chair of our board, and a lot of that was policymaking."
Courtney continued, "I attended a lot of public meetings so that I can be better educated. What I really like about where I am at now is being able to take my professional career experience in finance, accounting, banking, economic development as well as organizational skills as a manager and utilize that now to help lead the city of Madison to be more prosperous, to do better economic development deals and to use those organizational skills so that we can achieve more and be healthier, wealthier, and produce a high quality of life for the residents that live here and those who visit here."
Among some of the perks of being elected mayor, even in a town the size of Madison, are the opportunities to travel and to meet new and interesting people. Recently, Mayor Courtney went to Washington, D.C., where he was able to attend the signing of the U.S. trade agreement with China at the president's invitation.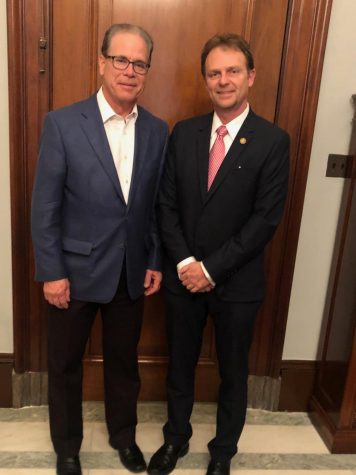 "It was fantastic to be in a room witnessing the president and the vice-premier of China execute a trade agreement that's going to have such dramatic economic benefit to our entire country," he said.
"Growing up on Walnut street and downtown and having spent some time at the Indianapolis statehouse, it was honestly a tremendous honor to not only be elected mayor and now work at city hall working for our community and serving for our community, but to now be in the white house and see our national government in action and see the things that it can do that affects all of us in a positive way."
Mayor Courtney has also already met with some of Indiana's leading politicians.
"I was able to meet with congressman Pence and our two senators, Senator Young and Senator Braun, and talk about things that are going on in Madison."
Congressman Pence was in our district, where he visited some constituents and learned about the veteran's needs in our community and volunteering at the Salvation Army.
"Congressman Pence has been a good advocate for the city of Madison, as has Governor Holcomb," Courtney added.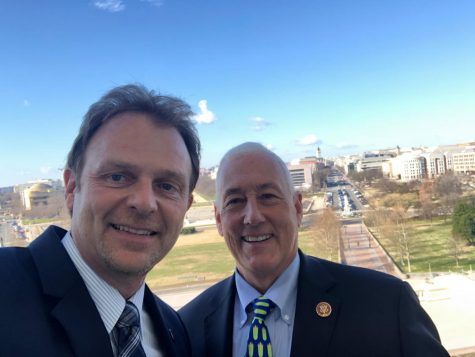 "What makes our community great and even better in the future is going to be all the partnerships we have between our educational systems, our healthcare, our industry, our commercial, our tourism and everybody who works so hard across our community volunteering literally thousands of hours to make our community better and I'm thrilled to be part of that. I have an open-door policy, so I love to meet people and learn about new ways of doing things that are going to make our community better."
"To be able to work and live in Madison is honestly a dream come true for me."
Mayor Courtney is still the current record holder of the 1,600-meter run at MCHS.