MCHS Student Explodes on Tik Tok with over 200,000 Followers
One of Madison Consolidated High School's own students, Nikki Gatke, a senior, has gained a tremendous following on the popular app known as TikTok. Tik Tok is a video-sharing social networking app where people of any age post 15 to 60-second videos involving comedy, drama, and even romance.
Teenagers, especially at MCHS, have recently become captivated by the fairly new app. Gatke tells us she downloaded the app because she missed a similar entertainment app from the past called Vine. The app went "ghost", and is missed by many people. Most will agree that Tik Tok has taken its place in the present.
Tik Tok has "influencers," which are the people that users of the app follow to view their videos. Gatke is one of them. She is standing currently over a whopping 220 thousand followers and a current "like" count of 3.1 million. She tells us that she created her account a year and a half ago, early on in the lifespan of the app, giving her more time to grow. Her following began to expand when one of her videos was featured on the "For You" page, a page with ever-changing content and popular videos about a year ago. When Gatke heard that Tik Tok was a new fad, she decided to immediately make an account and start making videos for fun. Later, she started gaining more attention from Tik Tok users.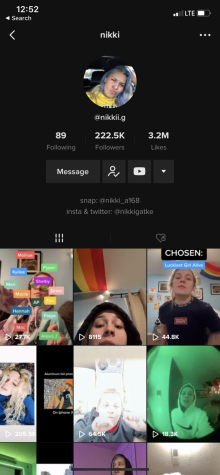 With her massive following, comes some hate or bullying at school, as many people would guess due to jealousy or unkind people. Gatke tells us that most of the bullying happens at school rather than online because most people are more supportive online. Gatke commented that she has been bullied at school for many things and that her Tik Tok following just added on to it. Online, there are many other influencers that make the same or similar content as her, so if anybody does show hate towards her, it just gets brushed away.
Gatke actually makes income from her account. The money mostly comes in through her doing live videos on the live feature, where people can send her "gifts", and she receives money from them. Followers can send gifts ranging from five dollars to fifty dollars. Gatke also has businesses reaching out to her for brand deals, where she can post about the brand to promote them to her following, and they pay her. 
Gatke states that she has met many new, really good people from the app. She has had an excess of viral videos and one can judge the video by looking at the number of views and likes the video receives. For example, one video from June of 2019 received over 600,000 views and over 60,000 likes. People will comment on her video telling her they see her on the For You page, which Tik Tok uses as an algorithm to showing more people your videos. She tells us that she thinks her maximum amount of videos with any type of virality would be fifteen.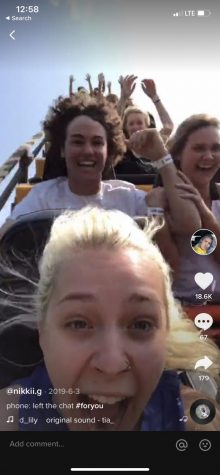 Her peak was through the summer of 2019, and she only expects to grow her platform in the future. Gatke tells us that followers really do not matter to her and that she just wants to be a positive influence on people. She is clearly making the platform a better place, and will continue to do that as long as she can!
Tik Tok was formerly called "Musical.ly" which was a hit around two to three years ago but was later changed when the company, ByteDance, renamed it because Musical.ly was always known for lip-syncing, and they wanted a fresh new name that would draw people to the app and represent people on the app better. A year and a half ago when a person heard the phrase Tik Tok, some, especially teens, might have considered the platform"cringy" and peculiar, but not long ago, the influencers and teenagers around the world have changed the perspective of the app and has gotten many obsessed with the trendy social media platform.