MCHS Soccer Players Reflect on Historic Season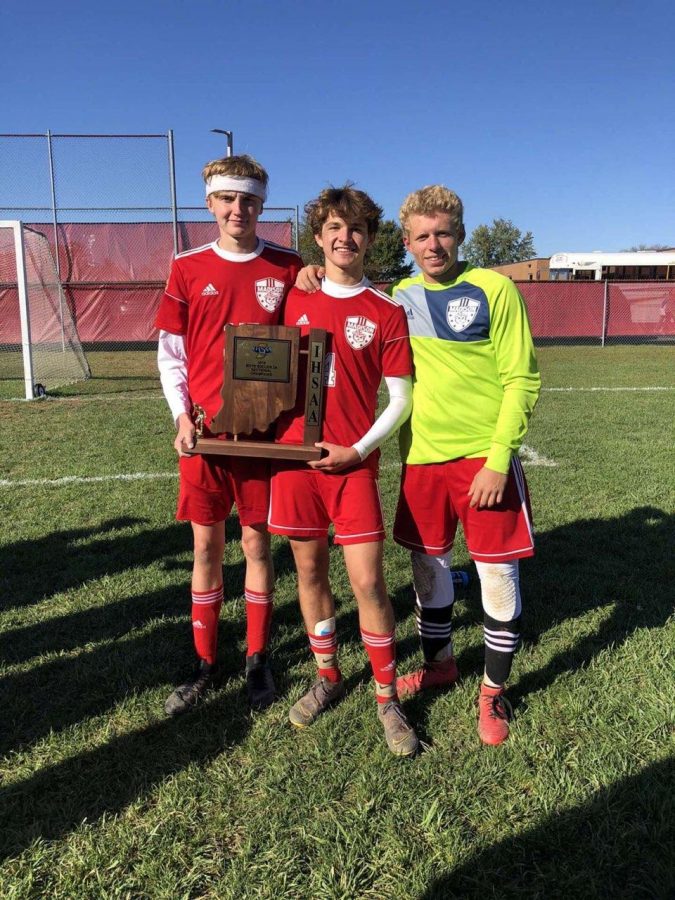 This year The Madison Consolidated High School soccer team made history. For the first time, the MCHS soccer team has made it to the Indiana state tournament regional championship. The soccer team won its first sectional since 2010 in a hard-fought overtime match with Scottsburg and won 12 matches for the season. Now with time for this season's accomplishments to settle in, many of the players reflected on their amazing run.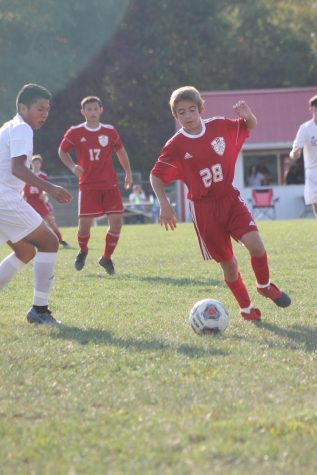 Junior midfielder and foreign exchange student Gonzalo Lobato scored 6 or 7 goals this season. He is going to miss practicing with his team the most. Lobato always enjoyed coming to the field after school because he knew he was going to have a good time. Gonzalo's favorite memory was when they won sectionals and got to play at regionals. Lobato always felt like he had been apart of something since he was on this team.
Junior Grant Smith played center defender.  Smith commented that his favorite memory was "winning sectionals with my bros," and that he is going to miss "his bros" the most this season.
"I couldn't have asked for a better season honestly. The sectional championship game was one of the best but scariest games of my life," Smith said.
Junior goalie Zach Forner played commented that his favorite game was the first game in regionals. He is going to miss the seniors most of all.
Forner stated, "Elias (Hanson) is probably the nicest person I have ever met. Carson is just so funny, and Luka – they are all just great people, and they put an impact on this team."
Forner also took a look back at the tournament run.
"Every game during sectionals was nerve-racking. No one wanted to lose, and you just gave it everything you had and hoped for the best outcome. Everyone wanted the win, and no one wished for defeat. I remember thinking about what this victory could mean for us and how much it would affect us. "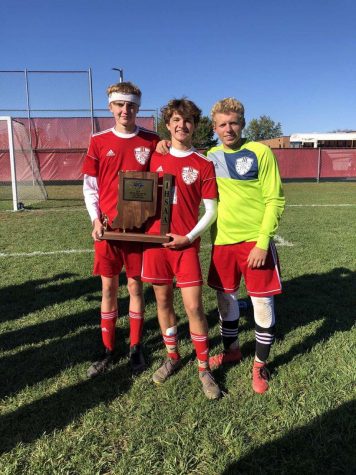 Senior Matt Ward is also going to have lasting memories from the Cubs' amazing season.
"I'm beyond proud of how far this team went this year. The amount of progress everyone made through the season is just amazing to me. I am beyond grateful for the team I got to spend my last year with."
When asked what position he played,  he commented, "bench with the coach because I was always injured, but no, I played wing because I'm a monster." 
Ward's favorite game was when they beat Southwestern and that his favorite memory was when coach, Kyle Bipes, took his clipboard and snapped it right in half.
"He punched right through it," Ward said.
He is thrilled to see what the future holds for him, but he is going to miss his teammates and assistant coach, Adam Jones.
Finally, junior foreign exchange student Guillermo Robledo's favorite game was also the 1-0 victory over Southwestern game that started a Cub winning streak. Robledo's favorite memory was when Forner stopped the third penalty kick in the sectional semifinal game against Charlestown. The Cubs ended up winning that game 3-0. Robledo is going to miss the bond he and his team share because "they are like brothers" to him.
Overall, the Madison Consolidated High Scool soccer team had an extraordinary year. Obviously, the players formed a brotherhood over the course of the season. The returning players are going to miss this year's seniors and foreign exchange students because they made such an impact on the team. The players are all extremely grateful for all of the opportunities they got throughout this season, and if they could, they would do it all over again. While the season is over, the future is bright going into next season as well as the Cubs soccer team returns many players including Madison Courier player of the year Will Heitz.