Former Cheer Coach, Smith, Passes the Spirit Stick to Oliver
The Madison Consolidated High School cheerleading team has recently hired new coach, Hannah Oliver, after former coach, Pam Smith, retired from coaching the cheer team for 25 wonderful years. Oliver stepped up to take on the responsibility of coaching 21 girls. Oliver was previously the head coach of the Madison Consolidated Junior High cheerleading team for one year and the all-star cheer coach for Madison Gymnastics World for five years.
Oliver hopes to incorporate some of her knowledge from that into this year's cheer team.
"I am looking forward for this year's cheer team to come together as a whole and really see what they are capable of," stated  Oliver.
This year, Oliver has already taken the girls to two days of a stunt clinic, a three-day Universal Cheerleading Association (UCA) cheer camp over the summer, and is now giving the opportunity to the cheer team to go to an Indiana University football game, learn a dance routine, and perform the routine at half time.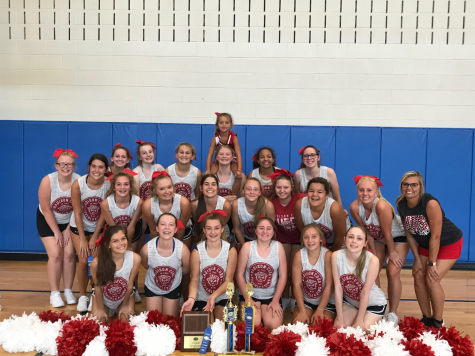 The MCHS cheer team is really starting to grow together as a whole and is advancing on to stunts and cheers almost every practice. The cheer team's improvements are difficult to ignore. MCHS sophomore cheerleader Alli Holcroft, was under the tutelage of both Smith and Oliver as coaches and explained the differences between the two coaches.
"I feel like Pam was more of a strict coach but not in a bad way. Hannah really develops relationships with us and she's like another mother figure to all of us."
Oliver talks about how coaching the MCHS cheer team is like having 21 more daughters. Change for the MCHS cheer team was inevitable but it turned out to be a good thing for both former cheer coach Pam Smith and current coach Hannah Oliver. 
Smith reflected back on her time as head coach and the hiring of Oliver, "It was a hard decision for me to leave, but 25 years is a long time. I started to get worried that I wasn't doing my best for the girls, and Hannah who was one of my cheerleaders who came along. I knew it would be a good fit for the team. Hannah is young and has a lot of energy and I just knew it would be the time.
"I would never leave them without someone I knew I could trust. Change is good. I sent Hannah all the stuff I have accumulated on my computer through all my years," Smith continued.
"It was 25 wonderful years," said Smith.