Rusk Set to Retire after 34 Years at MCHS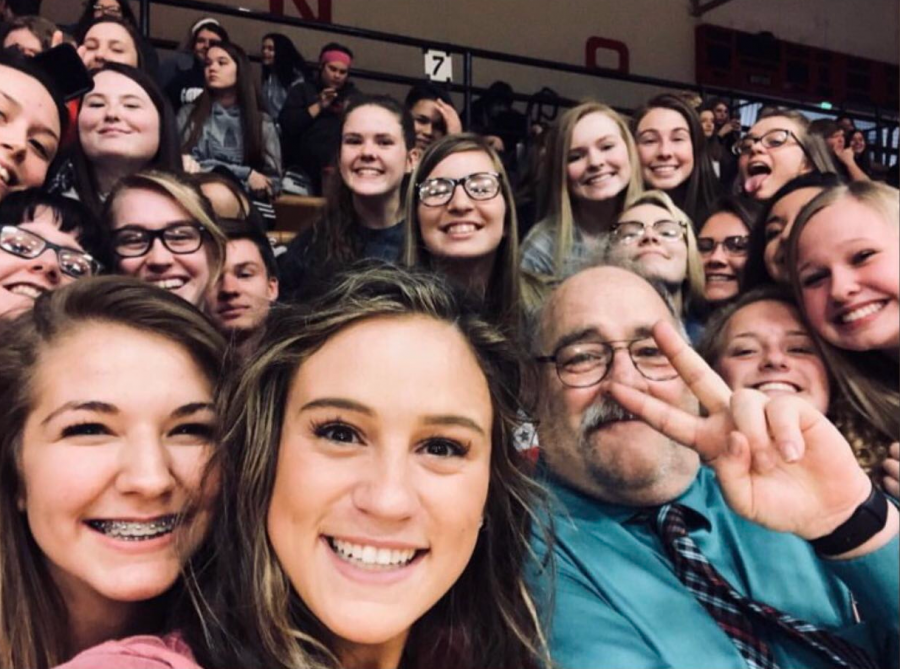 After 34 years of teaching and coaching at Madison Consolidated High School, Mr. Doug Rusk has announced that he plans to retire with the class of 2019. Early this April word began to spread of Mr. Rusk's retirement, and messages of heartfelt congratulations to the teacher began pouring in on social media. In a Facebook announcement, Mr. Rusk's family stated that after 42 years, "He's finally graduating," and anyone who wants to come to celebrate Mr. Rusk is invited to his retirement party at the Livery Stable on Saturday, June 22nd, 5-8pm.
In addition to coaching several sports earlier in his career, Rusk taught World History and U.S. History for a total of 42 years at three different schools. Mr. Rusk said he plans to continue supporting MCHS students in his retirement.
"I'm not going anywhere, I'm still part of the school."
When The Madisonian interviewed Mr. Rusk about his time at Madison, his outgoing and playful demeanor disappeared. He seemed to reflect on his favorite experiences at MCHS with great fondness.
"The thing I enjoy the most is the relationship with the kids. I have a lot of fun and they keep me young. I'm 64 going on 18. I enjoy going to ball games, going to plays, and that's why I teach: I like being around the kids. That's the highlight."
"My students have taught me that they wanna be treated like we're family," said Rusk. "I learned that my very first year of teaching. My first year I wasn't very good, and I apologized to those kids all year because I thought it was about me. It's not about me; it's about them. Once kids know it's a family, that you care about them as individuals, the success is pretty easy."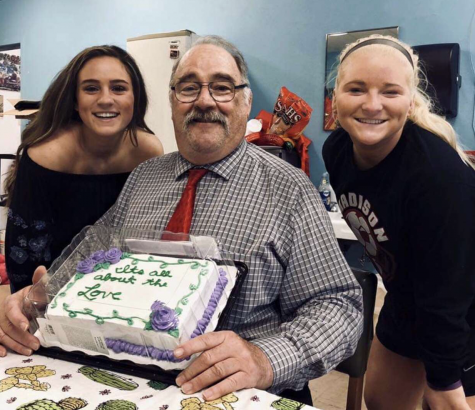 He elaborated on his teaching philosophy, as well.
"Open door, come early, stay late, it's all part of that, of letting kids know that I care about their success. Treating the kids like they're your kids. Any success I've had is because of someone else; I'm only successful because you were successful. How much of a part I had in that I don't know," said Rusk.
"I've been blessed, I've had great kids [in class] and great memories; I could go anywhere and I'll always see kids going, "Hi Mr. Rusk. 'How ya doin, Mr. Rusk?" People don't believe me but I do love every student. I want everybody to have a good experience."
While there is no doubt that Mr. Rusk is a humble and dedicated teacher, he is quite different one-on-one than he is in his classes. When his students or other teachers are around, Mr. Rusk is known for his animated personality. Over his 34 years at MCHS, Mr. Rusk has built up quite the reputation among MCHS students and staff. His students all love to do playful impressions of the way he mispronounces World History vocab such as "Tenochtitlan" and "Igbo" (which the students could not pronounce either).
They recall how he would lecture while sitting on his window sill or trash can and sometimes wax poetic about his disco pants and sock hops. He talked frequently about his wife and made sure his students remembered the wisdom: "If momma ain't happy ain't nobody happy." Another one of his very quotable mottos is: "It's all about the love."
Mr. Rusk's telling of colorful stories could be heard all the way in Mr. Barger's room because of Rusk's booming voice. He would tell stories about his college days in Alabama or as one student recalled, "slightly strange stories."
"One time he said he was the most lubricated man in Madison because his grandma used to make him eat Vick's (VapoRub) when he was sick," the student said.
Mr. Rusk is also known for affectionately picking on his students. He might give you a nickname such as Hanson's One and Two or Colorado, question your speedy driving if he saw you in the parking lot, or pick on you in class if he found out you had a boyfriend or girlfriend. The social studies teachers even call themselves the Sugar Police. You can always find Mr. Rusk between classes hanging out in the hallway with Mr. Barger and Mr. Whitaker at the east end of A-Hall where they enforce that no "sugar" is allowed in their hallway.
Mr. Barger and Mr. Rusk became such a famous, or maybe infamous duo in fact, that this year they produced and sold buttons for a fundraiser that featured a happy picture of the two of them on it. The buttons were wildly popular.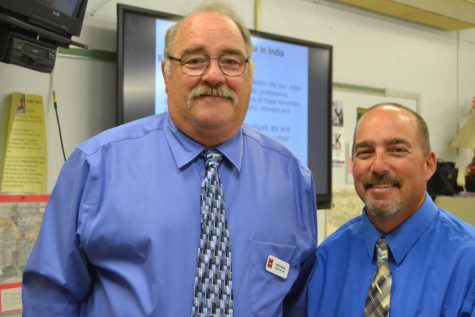 Rusk and Barger first met at a golf scramble in Brownstown, and have worked together for over seven years. They bonded through memorable incidents such as Mr. Rusk falling down a golf course, or more sobering incidents like Rusk having to take Barger to the hospital after suffering a stroke.
"At first I was shocked, because I know he still loves to teach," said Barger. "Obviously I was disappointed because we've been pretty close, but I'm happy for him. I know it'll be nice to be retired."
Barger continued, "We play golf together, watch sporting events together. When we're in Western Kentucky for AP training, it's just us the whole week, so we go out and eat every night. It's time to be with a colleague you respect and get as much information from as possible to compare notes. You know it's a bonding time. I'm going to miss him."
Mr. Rusk and Mrs. Diana Rusk married in 1979 and have worked together at MCHS for many years. Mrs. Rusk currently works as the Administrative Assistant in the guidance office at MCHS.
"I'm excited for him," Mrs. Rusk said. "I'm hoping he will get relaxed. He has worked very hard on teaching, AP especially. It's taken up a lot of his time and he loves it, but I think he's tired."
"I thought he was going to go one more year." However, now that he's retiring, Mrs. Rusk said Mr. Rusk won't just get to laze about.
"I have a 'honey-do' list. I want the house cleaned and dinner ready when I get home," she laughed. "I'm still working a couple more years. I like working. I like having a reason to get up, otherwise, I'll stay in bed and sleep in late. But he usually comes down during his prep, says hi, checks on me. We're still right together now, but it'll be different."
"He wants to find something else to do. (He'll) get a part-time job because he doesn't want to do nothing. But he'll get to play golf and go see his friends out of state. We'd like to travel a little bit. Mr. Barger lives close to Brownstown so they usually get together when we go to see our grandkids, and they see each other at sports. He loves going to all the home games he can go to, so they'll stay in contact for sure."
"We're going to be taking care of our grandkids," she continued. "We have a nine-year-old, a 13-year-old, a five-year-old, and a three-year-old. They live in Noblesville and Brownstown, so they already have lots of plans for Doug to help out. He's excited."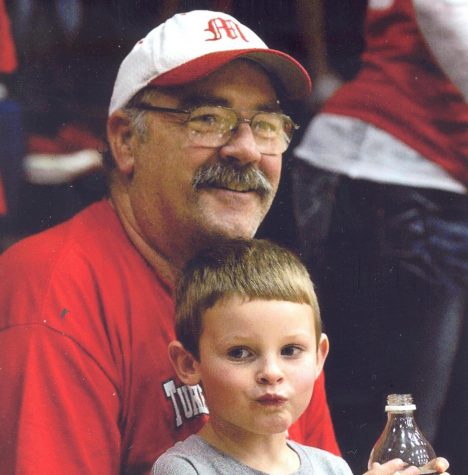 Mrs. Rusk's comments triggered a recent memory. "We got to see our granddaughter this weekend and she had a softball game. She hit her first home run and Doug was so excited he dropped his phone!"
"We still have our date night and time for us, but this is going be a new adventure, an exciting one," said Mrs. Rusk. "It's a new part of our lives. Just take it as it comes. (There) might be all kinds of things that come up that we don't know about."
Mr. Rusk had a similar outlook about his future.
"My retirement plans are, I guess, I'm going where the good Lord takes me. I'm a child of the sixties. You know, 'do your own thang.' I've been doing this for 32 years here. I love it, but I wanted to leave when I was sort of on top before people say, 'Oh, Mr. Rusk. He's sleeping behind the desk. He's not as good as he used to be.' I wanna walk out saying I've given everything I can to every student."
When asked what his wife thought of his leaving before her, Mr. Rusk said, "She said it was okay as long as I had the house cleaned and supper fixed when she got home, but there's a lot of Andy Griffith and Gunsmoke in my future."
After Mr. Rusk retires, Mrs. Gillette will be taking over AP World History, Mr. Barger will be taking APUSH (AP U.S. History), and Mrs. Lee will be moving into Mr. Rusk's room and teaching Social Studies full time.
MCHS Social Studies teachers are currently preparing to take on those responsibilities Mrs. Gillette told The Madisonian.
"I have to go get trained [to teach AP history], so I have a conference in Indianapolis for a week this July. Whenever you teach something new it's a lot of work, but once you get through that first year, you have something to work with. Even though I'll be learning it myself, I'm excited," Gillette said.
Barger added, "We're moving teachers around so that won't be different, but how do you replace a guy that's been here 34 years? He's been our AP guy, the AP guru, (and) he grew our department into what it is now. More kids take the AP exams with APUSH and AP World than any other department. The kids respect him. He's got discipline. He's still old school, but he's still one of the most popular teachers we've got. So that's going to be hard to replace."
Mr. Barger talked about how Mr. Rusk had impacted MCHS outside the classroom, too.
"He's always been a big part of the school. He's coached just about every sport there is. Golf, softball, basketball, football, you name it, he's coached it. That's what makes him old school is a lot of times, now, you don't have teachers that coach. He's always held kids accountable and to a high standard. He's a person of integrity, and he bleeds red and white."
"I got to coach a variety of sports here. We won some sectionals and got to go to state in golf," Rusk said.
Mr. Rusk coached the MCHS Girls Golf team from the mid-2000s to the mid-20-teens. Language arts teacher Jake Shockley, the current Girls Golf coach said, "Mr. Rusk had a big hand in building the golf program at MCHS to where it is today. Madison had a streak of 4 straight sectionals largely because of the program Mr. Rusk built." As far as Mr. Rusk's legacy, Shockley said, "His timely advice has been extremely valuable to me."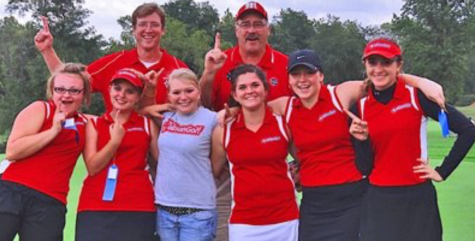 "[Mr. Rusk's room] was my room for at least 10 years," said Gillette. "I've been teaching regular World History for almost 20 years now. He's put in a lot of years too…he's probably ready to retire. This is a demanding job," she said. "It'll be good for him but still, we'll definitely miss Mr. Rusk, he's been like an institution around here."
Barger said, "He shows how much work you got to do for the AP students.  Because everybody thinks you got the smartest kids in the school, it's gonna come easy, and it's not. There's more preparation, a lot more you got to do to get ready for that big test. I never had study sessions before I came here and saw his. To see how much time he puts in, it makes you realize that if you want students to do the same things for you that they do for him. You have to put in that extra time. That's probably the biggest thing. He showed me how hard he worked to make time for each student."
Before he walks out the door for the final time as an MCHS teacher, Mr. Rusk has a parting message to his students: "Don't sell yourself short. You are the only person that sets limits on yourself, I believe it. I was the first person in my family to go to college. Don't hold yourself back."
He also had some words of encouragement specifically for his female students. "Women have been held back so long, and in my class, I've always said, 'Ladies, don't let anybody tell you what to do; strive to be whatever you want to. I know what my mother went through, what my sisters have gone through. If you dream, and if you put forth the effort, your dreams can come true."
"I'm living my dream," he said. "I've wanted to teach history and be a coach since the seventh grade. I've fulfilled the dream. It's whatever your dream is. It's not like you have to go to college. Only you decide what success is. If you want to be an electrician, a plumber, a brain surgeon, just be the best you can; then you're successful."
"Teaching was his calling," Mrs. Rusk said of her husband. "This year when he walks in with the graduating class he'll be walking out with them. You work all your life and you think I can't wait to retire, and now it's like, "Oh, my god. What am I gonna do?' I can't believe I'm getting emotional."
"Kids he's had in the past come back and talk about how great he was." said Barger, "And that's what every teacher strives for at the end, just to have somebody say thank you."
Mr. Rusk has students now whose parents he taught "back in the day" at Carroll County High School, Southwestern High School, and MCHS.
"I'm a child of the '60s. I wanted to change the world, and I wanted to change it one student at a time," said Rusk. "If I've had just a little part in helping you reach your dream, I'm successful."