Energetic and Spiritual New Science Teacher Joins Remade Science Department after Defections
*A previous version of this story incorrectly stated that Bryan Dewitt departed the school corporation. Mr. Dewitt, in fact, works remotely for the school system where students can still take Anatomy and Physiology with him.
As the second term of the 2018-19 school year rolled in, so did a parade of new science teachers at Madison Consolidated High School. Mrs. Gammons took the place of Mrs. Shaw as the school year began, and Mr. Dewitt, Sr. filled in briefly for Mr. Kempton during the first term. This year, MCHS also lost Mr. and Mrs. Flessner. Mr. Bryan Dewitt (the younger Mr. Dewitt) now works remotely for the school district as a teacher and tech coach. However, MCHS welcomes its new science teachers: Mr. Barlow, Mrs. Milowicki, and Mr. Sanders.
Mr. Chris Barlow resides in room A108 where he teaches dual credit Biology (Bio II). Barlow is a husband, father, small business owner, teacher, and a pastor. 
This is Mr. Barlow's first year of teaching, so his Biology II students were granted an enthusiastic leader for their second term. His favorite part of teaching so far is when a student finally starts to understand the material.
"(I love) that light bulb moment when it finally 'clicks,' or when the student is able to connect the dots. I love to see when a student learns how to think about a solution as opposed to reciting a memorized response," Barlow said. "I want my students to learn that there is so much more than just the world that immediately surrounds them, (and) that actions have consequences. That Grace is a beautiful thing, but is never to be taken for granted, and that Jesus loves them. Obviously, in a public school system that is something that has to be lived out by example not directly taught in a lesson."
"But above all, I want my students to know that although I may not know them well now, I do love them because God has given me a heart to love them and to sincerely care about what is going on in their lives. My door is always open to them."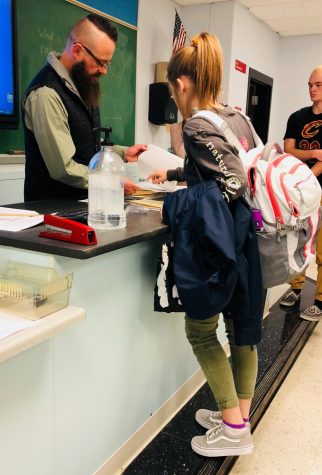 Also, his first impression of MCHS was positive.
Barlow said, "I was impressed to see how well the students treat one another."
Mr. Barlow hails from Gaston, IN, but gave the impression that he and his family have already come to like Madison:
"Madison is a cool little town," said Barlow. "My girls and I like to visit downtown often. We love stopping in at the Red Roaster, and the pizza at the Red Pepperoni is the best. As a town – beautiful scenery and a great history."
He said knew he wanted to teach because "God has brought me here for a reason." However, he explained, it has much more to do than just biology.
"I am here to teach Biology, but I pray my students learn much more than just that. I pray to make meaningful connections and make a life-long impact on their futures."
Barlow shared details about his family life, too, and even married his high school girlfriend.
"I married my high school sweetheart," he said. "I met her in the sixth grade on the school bus! She is my best friend. I look at her everyday and see what a wonderful mother and wife she has become, and just when I think she can't get any more beautiful, the sun sets, the sun rises, and she has become even more beautiful than she was the day before."
Beauty is not the only trait Barlow loves about his wife, though.
"The girl can cook too, so there's that!" Barlow said.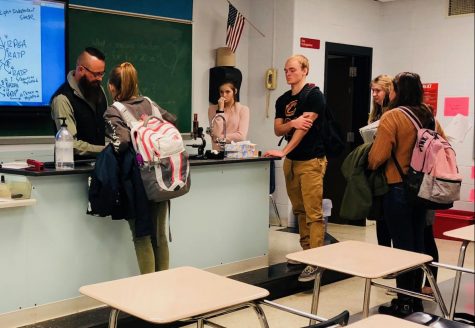 Barlow has one daughter, who is eight years old and full of life, he said. 
"She is a princess, but she is the type of princess who will go outside in her princess dress and high heels and muck stalls. She's tough. I've taught her how to throw a punch, because I want my daughter to know how to defend herself, and believe me, she's got a mean right hook. The girl knows scripture. She loves Jesus. My wife homeschools our daughter, and they do an excellent job.  She's just like her momma, beautiful! She is growing and learning. Hopefully, like the rest of us."
Barlow also is heavily involved in scripture and teaching Christianity.
"I'm a Pastor of a new, small church in Scottsburg called The Remnant. This is my passion and the calling on my life: to preach the glorious riches of the soul-saving gospel of Jesus Christ.  I would love to see students from Madison join us."

The Barlow family has two horses, Blaze and Champ, and a dog who answers to "Dumb-Dumb." Mr. Barlow's favorite book is The Bible; but within that, the book of Revelation.
"Fun fact about me: I'm color-blind.  Also, I have a really hard time enunciating these three words correctly: pull, pole, pool! I just don't get it!" said Barlow.

"I was a placekicker on the second-smallest school in the state to field a football team. I made the All-State team and got to go to Australia with Indiana All-Stars to play in the "Down Under Bowl."  My athletic career peaked with my being a third-string kicker at a Division III school, so, yeah!"
Barlow added, "I really, really, really like Chunky Monkey ice cream. I mean, it might be a problem!"