MCHS Reintroduces Student Council with Officer Lineup
Student Council, a hallmark of the high school experience, has not existed at Madison Consolidated High School in almost five years. For the 2018-2019 school year it is finally returning. Elections went quickly due to deadlines, but future elections will be held in April after a period of campaigning, so the council can hit the ground running in the next school year.
The student council will be taking on quite a few responsibilities at MCHS, including taking charge of homecoming week and this year's homecoming dance. They will be aiming to encourage spirit during the annual Spirit Week leading up to homecoming with hall decorating and daily themes, and the pep club will take over the actual homecoming game.
MCHS social studies teacher Tim Whitaker is now in charge of the council. He said he is also hoping to have the council do several service projects in both the school and community. From there, he said, their goals will expand.
"I see student council as a way for students to have a voice, a formal voice to sit down with the principal… and if there's concerns they have a formal way to do that," Whitaker said.
From there, a school board member will act as a liaison between the council and the board if issues need to be taken further than the principal and assistant principals.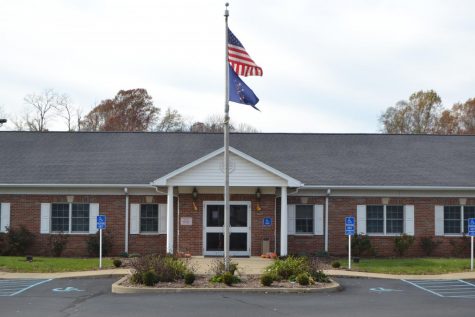 Officers will meet with Whitaker once a month during Cub Pride  time, and each grade's leadership will meet after school based on frequency of need. The levels of grade representation in student council will give their advisory board structure. Whether it is the junior class handling prom or the senior activities, it will have a starting point with student council. Any other interested students can join in.
"I want it to be an example of what happens when you leave here," Whitaker said, referring to how he is trying to make student council mirror real government as much as possible.
Whitaker wants council action to start with students having conversations and deciding to make a change. "We need to learn to have a conversation and not get ticked off and take your ball and go home."
A formal way for students to express concerns to the council is currently being developed. Whitaker said the first avenue for this will probably be something simple like a "complaint box" where students can leave letters with their ideas and concerns. In the future, a student round table is one possibility.
"We're trying to have more pride in what we do and I think if the students have a voice and can participate they're going to be on board more," said Whitaker.
Current Members of the 2018-2019 MCHS Student Council Include:
Student Council Officers: Isaac Hanson (President), Elias Hanson (Vice President), Wiley Gross (Secretary), and Kennedy Stidham (Treasurer)
Senior Officers: President Addison Hill, Vice President Taylor Rowlett, Secretary Macy Risk, Treasurer Peyton Holt, and Representatives Wiley Gross, Hope Miller, Mackenzie Gray.
Junior Officers: President Alida Flores and Representative Rachel Hoffman.
Sophomore Officers: President Jordyn Bilz, Vice President Devin Zhang, Secretary Olivia Spencer, Treasurer Logan Smoot, Representative Sebastian Biallas, and Representative Vy Huynh.
Freshman Officers: President Taylor Lynch, Vice President Danny Winters, Secretary Leighton Wielgoszinski, Treasurer Helen James, and Representatives David Powell and Nick Whitaker.
The final junior officer positions are still currently being filled.