Opinion: The NFL Takes a Knee to Take a Stand
President Trump can not stay out of the headlines when it comes to his impulsive behavior and saying whatever comes to mind. His latest outburst was declaring all National Football League protesters disrespectful and that they should be fired for participating in their first amendment rights. Not only did Trump make numerous tweets from Friday, September 22nd all the way to the 24th of September, but he also had a speech for the sole purpose of condemning the players and coaches of this well-respected sport. This speech has been deemed racist and very unprofessional by many and considered unbecoming of a political leader like the President of The United States.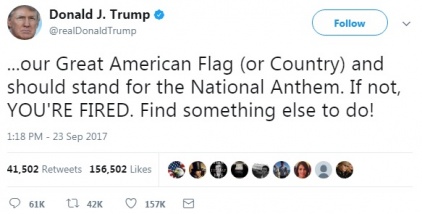 Trump stated in his speech that "our heritage" is under attack from protestors in the NFL The fact that 70% of the players in the league are African American is why many people may find his speech racist and unfair to much of the American population. This statement alone has possibly made the NFL and it's pro-kneeling advocates more unified. This would directly contrast Trump's contentious governing style. Nobody participating in the protests has done anything to deliberately to break any law or cause damage to others; all actions have been coordinated with the first amendment rights of the constitution.
"It is their first amendment right but they should find a different time to protest to avoid disrespect to the anthem or the flag which represents the freedom that they have to protest," said MCHS junior Alex Mason.
Many people are upset by the fact that the National Anthem has become a symbol to pay respect for military servicemen and women and other first responders who have lost their lives or made other sacrifices.  The counterargument is that we as a people stand with our hand on our hearts to give thanks for all of those who are brave enough to go into the battlefield, raging fire, or bank robbery.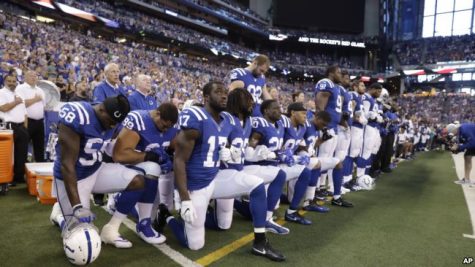 Last Sunday September 24th, the Cowboys seemingly found a middle ground by kneeling with owner Jerry Jones, who previously threatened to fire players who knelt during the anthem, before the National Anthem was performed.
MCHS football coach Patric Morrison agreed, "I feel that the Cowboys displayed a way to be unified as a team to show President Trump that they did not agree with his statements, but also to show appreciation for our national anthem."
"Honestly I think it's quite idiotic and very unpatriotic, if I had to stand during the National Anthem than they should too," said MCHS freshman soccer player and swimmer Luke Bryant.
There are many questions that the American people are asking themselves after this past weekend. For instance why is the president focusing on the knee taking of the NFL and not with North Korea? Also until Trump brought this up this past Friday, people had become blind to much of the kneeling taking place. Why did he wait so long to condemn the NFL?
Conversely, many athletes have gobs of attention on and off the field. Why did the choose such a controversial and divisive way to conduct their protests?