Cubs' Football Team Has Fellowship to Kick off the Season

Nathan Moore, Staff Writer
September 1, 2017
The Madison Cubs football team has kicked off their 2017-18 season. The Cubs held their annual Red versus White intersquad scrimmage this past Friday at Cub Field. This scrimmage takes place two weeks before the season opener, to basically give fans a little taste of what is to come in the near future.
Madison Consolidated High School started the Fall sports season off with the Fall Jamboree. All teams are introduced at Cub Field, with the Red versus White scrimmage following. The Cubs took the field looking to get better and give the fans something to be excited about.
The teams were evenly split by the coaching staff the night before. With the large number of student athletes that are playing football, the coaches were able to split the team into two balanced squads. These two teams were going to compete for bragging rights, while learning and getting better from one another.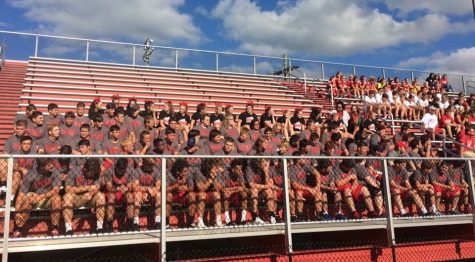 The Madison Cubs have been in the works of installing an all new offense playbook. This has proved both difficult and exciting for the experienced Cubs squad. Many of the players and coaches have shared their opinion on the development of their new offense.
"I think it gives us a lot of options to run through. It helps our team running the option because we have so many threats on the offense", Will Davis, Left Tackle and Senior at Madison.
"Our players have made great strides over the summer with the installation of our new offense. They are making the commitment to be able to take a big step forward this fall. Looking forward to an exciting season of Madison Cubs Football", Patric Morrison, Head Football Coach at Madison.
With the hype surrounding the Madison Football team in the preseason, many people are looking forward to the first official game of the year. The Cubs will play at home vs. Floyd Central tonight at 7:00.